Discover more from LetsGoWarriors
Informational & credentialed independent Golden State Warriors Website, Discord app (for paid subscribers), and YouTube channel for fans seeking positivity and knowledge! Not affiliated with GSW.
Over 2,000 subscribers
Can Jonathan Kuminga "change everything"?
[+notes/quotes/video from Warriors-Clippers/Hawks/Grizzlies]
One of the screens I display on every game livestream is the boxscore for Game 6 of the 2022 NBA Finals, Golden State Warriors at Boston Celtics. To me, it is the template for another championship run. It has to be until it is proven otherwise, because it has been proven. This is a tenet of basketball that the average fan doesn't seem to get. I'm sure I'll gather more information along the ways of this belief to explain in a little more detail as time goes by, but in short, just like in pickup ball, winner stays on until they're beaten.
Examples: Klay Thompson should not get benched until a season in which him starting has ended in failure to win a championship, at which point we may question the strategy of starting him. Jonathan Kuminga doesn't get to start until the starting wing or power forward isn't available and the ongoing strategy of not starting him has been proven wrong.
LetsGoWarriors is a reader-supported publication. To receive new posts and support my work, consider becoming a free or paid subscriber.
Here is the rotation of eight players (the ninth played one minute) from Game 6:
And so because the Warriors have lost three straight road games and Kuminga played well stepping in for Draymond Green at the Atlanta Hawks, then played even better the next night at the Memphis Grizzlies, plus the starters did not play good defense after tipping off at FedEx Forum, we might very well see him start in place of Donte DiVincenzo, because the team has lost three straight with DiVincenzo as a starter — not that it's Donte's fault; in fact, we analyzed and I heavily criticized Thompson's defensive effort that night — which fits the tenet of going with what works until it doesn't. But then again we might not see JK start in place of DiVincenzo, and if Kuminga doesn't, then I'll try my best to learn why (as opposed to being outraged).
But back to Game 6, with Andrew Wiggins out indefinitely, as I mentioned in a previous article, the lack of an athletic rebounder is the biggest reason for the current struggles. Ironically, it was after the previous game in Memphis that I was reserved to the notion that the Dubs probably aren't winning a championship if Wiggs is not playing:
Obviously, Gary Payton II is out too, but the assumption is he'll be available for the playoffs and therefore his spot in the rotation from Game 6 remains intact.
Originally I had Kuminga taking the place of Otto Porter, Jr. in the Game 6 template. But if he can rebound like he did against the big Grizzlies team, then maybe we have someone to fill the void of Wiggins, especially needed now with "must-win" games. But JK has to keep playing like this as I'm not sure if he was playing "unconscious" or as a flash in the pan or this is an inflection point in his young career.
Steve Kerr seemed to echo that sentiment, postgame (check the Grizzlies livestream notes and timestamps below, I declared JK as a possible Wiggins G6 template replacement as the game unfolded): "He played both ends, knocked down his threes, rebounded well. That was the biggest thing," Kerr said of Kuminga on the podium, postgame. "If he adds that his game consistently it will change everything for him."
It will change everything for the Warriors.
I should say that the template would still not be quite complete if JK could replace Wiggs. There's that Otto Porter spot. Here's hoping that JaMychal Green can fill in effectively. Technically, if we're moving chess pieces and again assuming no Wiggs, GP2 actually is in Otto's starting spot and J-Mike takes GP2's spot on the bench. This is assuming we eventually go small and Kevon Looney comes off the bench.
I should note that having a roster this deep to keep hope alive, i.e., even having a piece already on the team that could theoretically replace a two-way wing, an All-Star, is a Herculean task. Getting JK to peak in late March, especially on a championship roster, is a Herculean task. It would be quite serendipitous if Wiggs' absence led to fast-tracked development of JK.
This is where I have a foundation of abundance rather than lack which is the characteristic of all the outraged people on social media. Someone give Bob Myers and Steve Kerr (and Joe Lacob) some freaking credit. Btw, move Moses Moody up the depth chart to take Andre Iguodala's bench spot if JK can fill Wiggs' void. In a couple years we might be looking back at this time and shake our heads in wonderment that JK and Mo were thrust into more important roles sooner than later.
Below are some tidbits and then the notes, quotes and video from the last three road losses in Memphis, Atlanta and at the LA Clippers. The one caveat to the reverse chronological order (after a is that I decided to put the behind-the-scenes and ManningCasts at the top of each of ATL and LAC, just as a way to divide the content. And, yes, anytime there's a back-to-back, it's hard for me to post these entries on time…
WARRIORS-RELATED TIDBITS
• Very honestly, my sense of things is that having their best four players, Steph Curry, Andrew Wiggins, Klay Thompson, and Draymond Green missing a combined 79 games and counting, has been by far their biggest issue. (Beau Estes, NBA TV anchor/host)
• James Wiseman is putting up numbers for the Detroit Pistons, but what no one in WarriorsTwitter world is telling you is that Wiseman's W-L record during the last eight games is 1-7 — or 1-12 total in 13 consecutive starts, after two games off the bench upon arrival from GSW. To develop in the NBA, you need minutes and room to make mistakes and lose games. So don't drink that "throw Bob Myers and Steve Kerr under the bus" Kool-Aid:
12 PTS | 7 REB | 3 BLK
21 PTS | 5 REB | 3 AST
16 PTS | 13 REB | 1 BLK
16 PTS | 9 REB | 1 BLK
18 PTS | 14 REB | 3 BLK
12 PTS | 10 REB | 1 BLK
14 PTS | 9 REB | 3 OREB
22 PTS | 13 REB | 77 FG%
Averaging 16.4 PPG, 10.0 RPG and 1.4 BPG in that span. (StatMuse23)
PHOTO GALLERY OF LAST 3 GAMES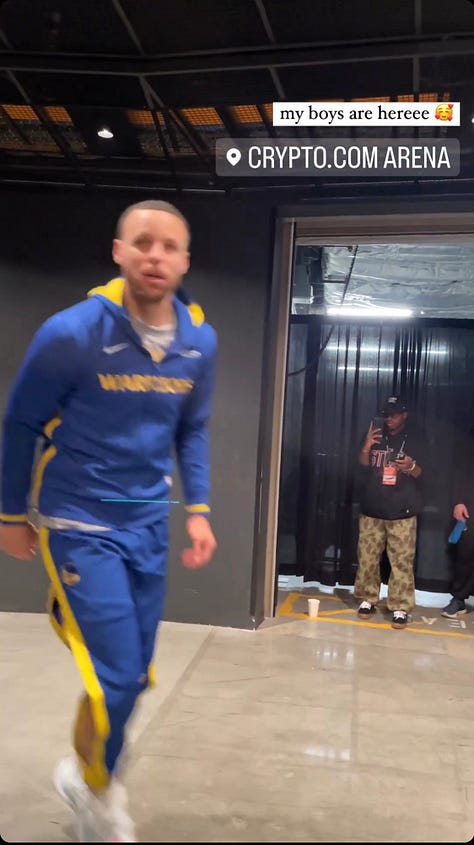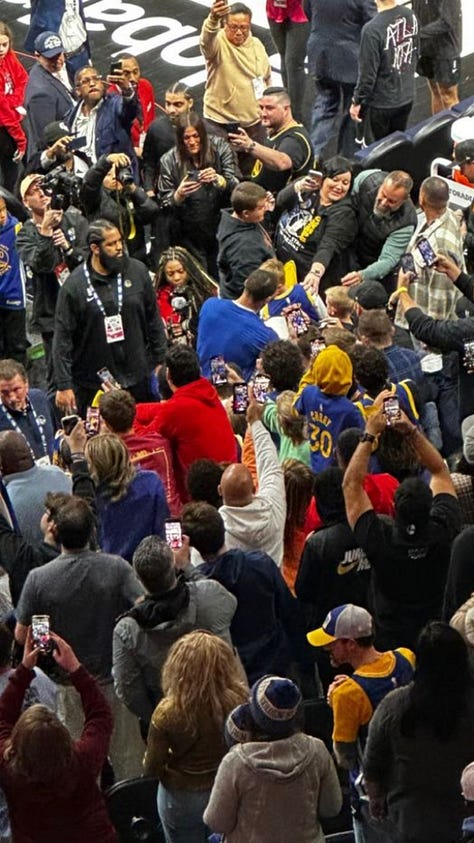 DISCLAIMER: These are all just notes for my main workflow of YouTube videos, mostly transcribed by me shortly after the interviews and during my coverage of postgame on our livestreams (!). Sometimes I'll just use what's tweeted by beatwriters, as listed. The links to the tweets are not available because sometimes I don't use the full tweet and just having a ton of tweets on this website imo isn't aesthetically pleasing and gets away from the main goal: transferring information (not so much entertainment) to the brains of DubNation asap.
• Dillon Brooks postgame on trash-talk with Klay: "He's got four rings. That's all he was saying. It's motivation to us. We want a ring as well. Being able to go through the process of steps that we did last year, we keep going and learning from it all. It's friendly trash talk, but I just hold a lot of real estate over there in San Francisco." (Evan Barnes)
• On guarding Steph Curry: "Just being obsessed with him… His desire to be the greatest shooter in the NBA, on this earth is the same desire that I wanna guard him every single night." (Evan Barnes)
• Klay Thompson postgame locker room on Brooks: "I don't care about Dillon Brooks. When he retires, I don't think anyone will ever talk about Dillon Brooks ever again. I promise you. It's sweet right now, but wait 10 years." (Evan Barnes)
• Steph Curry postgame on matchup vs Brooks: "We played the whole Memphis Grizzlies, not just him. That's my thoughts."
• On Kuminga: "The biggest thing is just competing… being decisive… there was no second-guessing… gotta make them pay for the way they kinda shade the rest of the side of the court… gave us a lot of life and energy… competing no matter who he's guarding… using his athleticism and trying to do it without fouling… made an impact and it was good for us."
• On the schedule catching up to him: "I felt fine. That's never excuse for anything… when you suit up you expect to play great… missed some shots which happens… Dillon does that a lot, 94 feet, has a lot of size behind him… couple more go down maybe things change a little bit… obviously we lost… physically felt great."
• On Grizzlies getting up to play them and not let it faze them: "We've experienced a lot over the course of these years… understand that environment, that intensity… haven't been able to get over the jump but nothing in the game really bothers us to the point where we're not prepared for it."
• Draymond Green postgame recap: "I don't think we slowed the ball down, got some pace in the game… got to the foul line… gotta keep it going."
• On JJJ: "He played hard."
• On the recap: "got back into the game by making simple plays… been fighting an uphill battle all night… we did that three or four times… you do that by making simple play after simple play."
• On Kuminga: "his growth has been great. He's right where you'd hope a guy would be… becoming more and more reliable, that's all you can ask for… who cares… everyone bobbles the ball… takes you longer to grow emotionally than from a skill perspective… appreciate the competitiveness… you can't allow it to take you off your square… It was a continuation from the fast break… then you continue it and get frustrated… just gotta keep on pushing."
• On the defense: "Open three-pointers usually come from breakdowns at the point of attack… bad offensive possessions against the team like that it's the same as a turnover."
• Steve Kerr postgame recap: "We could've done a better job early in the fourth… ill-advised shots… transition threes… give them credit, they got 18 threes… slipped away there the first five minutes of the fourth quarter. As you said we were one possession away."
• On Kuminga: "He played both ends, knocked down his threes, rebounded well. That was the biggest thing… if he adds that his game consistently it will change everything for him… he's a young guy so he's learning… making strides."
• On JJJ: "Played a great game… aggressive."
• On Steph struggling: "Schedule kinda caught up a little bit… third in four nights, a lot of travel… first game since he's been back that he didn't shoot well. Brooks did a good job… legs weren't there… gonna happen… at 35… flying cross country… he'll be fine."
Curry, Klay, GP2, Kuminga 💦 pregame workouts b4 Warriors-Grizzlies + Steph x Zach "Z-Bo" Randolph
14:00 Dillon Brooks = unintentional comedy, he's the dark side of Klay
17:45 TIPOFF! +JJJ misses opening 3 then Loon tiki via Dray
20:00 9m30 Steph should've reset and do tiki-taka
22:00 8m30 Loon misses 2nd layup in a row, he's wearing the KT8 as high tops! Makes both FTs
23:30 8m16 Klay blocking foul on Tyus, can we adjust? Or keep fouling
24:15 JK 3 immediately as Loon came out on the Klay foul
25:00 7m15 JP in for Klay, Klay not happy, JK hits a 3
27:15 next level for Steph: eliminate turnovers, lead by team resets, strawhats100: "go a little Chris Paul mode"
29:15 6m20 JK blocks JJJ credit Dray for the base
31:45 5m05 JK downhill vs Aldama no chance
32:00 4m40 JP can't decide but makes up for it baseline move vs Aldama
32:45 3m45 Steph sling pass JK
36:00 analyzing Dillon going by Steph: Dray could've given more room, JK could've reacted better and done better on the eventual help, has always been 0.2 to 0.5 sec late a la Wiseman to a rebound
39:00 JP good d but doesn't cut, stands at logo, Klay turnover, Tillman scores, Klay bad shot
45:00 analyzing last MEM play where Klay easily gets screened in the corner, Lamb tried to hold off Konchar
45:30 Dray to Steph Q2 opening play tiki
46:30 11m04 can Lamb steal another jump (from Tillman)? Yes!
48:30 10m30 good extra pass J-Mike with 5 on the clock
49:00 9m50 JP waved off the pass cut from Dray who attacks and scores
49:45 9m37 at FT, Steph vocally leads JP! Yes!
50:15 9m20 J-Mike oreb among 3 putback should've gotten a call just for the beast reb
51:45 8m30 Bane easily downhill this time vs Dray which is surprising
52:45 7m55 Brooks vs Moody, the art of the ref no-call is gone
53:30 7m40 Brooks yells at Steph after a jumper
58:45 teams in general wanna beat us more than vice-versa: see 3pp
1:02:00 4m30 left Kennard open after a made bucket (Klay on baseline inbound play JK pick)
1:06:15 William: "Curry should bring back his purple shoes"
1:07:30 2m55 bad pass Donte ATO alley to JK
1:08:45 1m40 somebody guard Kennard (missed open 3) Dray thought Klay would switch
1:10:00 1m05 Dray FT miss, when Klay does the practice shot that means we're losing
1:11:00 0m45 Kennard goes by Donte, ends up a J by Tillman
1:11:15 0m27 JK oreb, reminds me of Wiggs
1:11:45 0m10 Donte blown by by Tyus, Klay was pissed (he shouldn't be -- bad body language)
1:14:45 maybe the lesson we're being taught is the frustration part -- have we ever been through that? Not in 2020, 2019 was rightfully shrugged off as the dual injuries to KD and Klay
1:22:45 Wiggs POA is actually not all that great, it's the end-of-attack he's in a class with Giannis and LeBron on that
1:23:30 Percy Bedford: "constantly shooting contested 3s instead of drawing fouls when are in the penalty is the epitome of arrogance"
1:28:30 11m30 Donte defensively jabs and pays for it again (Bane)
1:32:00 9m45 Dray tov AND pf
1:34:30 8m45 Dray can't be arguing, Loon sulks to bench, but need JK for energy
1:34:45 8m33 tiki finally
1:36:45 7m45 Klay misses a dunk
1:37:30 7m30 JK decoy 3 baseline inbound
1:38:00 Steve should get some freaking credit for having the balls to sub Loon
1:39:45 if JK can continue to play unconsciously and out-of-his mind, we got a chance even w/o Wiggs (see G6 lineup)
1:41:30 6m45 did Klay miss a box-out vs Tillman, Brooks 3 then Bane 3
1:44:00 analyzing the oreb by Tillman to Brooks 3, Klay completely lost Tillman, is this the worst defensive game I've ever seen Klay play?
1:45:30 Tyus scores vs Dray on a spin, was JP at fault, but there was a double-screen set on him and he doesn't have the ability to read that yet to go under the screen 6m00
1:46:45 5m20 Steph subs out, critical moment with 24 mins played, Fitz says he's tempted to put Steph back after the Brooks 4th pf
1:50:00 4m25 JP gets downhill on Kennard, FTs -- for all the hate he gets on Twitter they should be thanking him for the last 5 points
1:51:15 3m40 JP again downhill after JJJ got switched onto JK again
1:53:30 2m59 youngsters do an oreb Warrior basketball JP corner 3 -- I'm proud of the kids!
1:54:45 2m35 JJJ 3rd pf, penalty, can we give the DPOY to a low-IQ player??
1:56:00 2m30 Bane goes by JK, who jabbed again, is that our game plan? Against Grizz, every 1on1 d should be containment, keep him in front, give a little space because they're not really, is it just the lack of containment in this era? Is it game plan?
1:59:30 1m45 JP settles for 3
2:02:45 0m30 Lamb good hold ground
2:07:30 11m45 patented Taylor Jenkins double-pick play to Tillman
2:08:15 11m20 Dray clutch 2
2:09:00 11m00 maybe if JP made the pass earlier, Klay wouldn't have rushed the shot
2:09:30 10m15 Klay one-legger
2:10:00 9m45 G4 Steph?
2:13:30 Derwin Gaston: "ball moves more with youngsters" -- I think it depends on Klay
2:15:00 8m10 JP two guys on him, too late to process, run-out tov to 3, sub Donte in?
2:18:45 7m40 Dray picks two guys for Steph 3
2:19:45 7m30 Steph and Dillon collide, which then is de facto pick on Klay, 3 ball for Bane
2:20:15 6m45 JK doesn't know how to take a charge on JJJ
2:20:45 6m20 Klay early 3
2:21:45 5m55 Klay early 3, after Klay didn't stay on Tyus in the bunch up with JJJ and Loon
2:25:15 5m30 Steph and Dray subbed out, has towel in mouth
2:27:00 4m30 JP charge -- art of the no-call is completely lost on refs
2:32:00 2m25 Moody dunk!!! Gigantic first step
2:37:00 0m17 Klay gave Dillon the four rings motion during the FT
2:38:00 Zion: "We keep giving Dillon reasons to be cocky"
2:45:15 literally do not want any panic-button-pushing people on the channel
2:49:00 why they are so bad on the road? Every team will hit 4, 5, 6+ threes out of the first 10 against the Warriors. Everyone in the league respects the 4 rings.
4:08:00 Dean Agan: we went 3-15 in the nine road b2b's
4:15:00 clowning Dillon Brooks and following tweets about his postgame, he's obsessed with Steph lol
4:24:00 Dillon Brooks postgame on-court audio: "I only got four hours of sleep"
4:26:00 Dean Agan: "I have a feeling Brook's room has a lot of golden state warriors posters, and he's got a framed photo of Klay on his bedside table."
4:27:00 Naye NYC: "Dillon is competing with ayesha for Steph's attention"
4:28:00 Robby Bautista: "i guess if they play again in the play offs brooks will propose to curry on live game."
4:30:00 Dillon with the "I'm not that type of guy."
GRIZZLIES PREGAME (NO VIDEO)
• Taylor Jenkins pregame Warriors says it's "business as usual" — they're not using playoff clinching or seeding as driving factors: "We're a ways away from finding our best basketball." (Parker Fleming)
• Taylor Jenkins said the Grizzlies are in talks with the league about getting Dillon Brooks' last technical foul rescinded. Jenkins said he didn't that one was warranted since Brooks was walking away from the confrontation. (Damichael Cole)
• Taylor Jenkins on minutes management at this part of the season, especially after high minutes from OT last night: No minutes restrictions, everyone "got a good night's sleep." Jaren Jackson Jr., Dillon Brooks and Tyus Jones each played more than 40 minutes last night. (Parker Fleming, Damichael Cole)
• On Desmond Bane: "de facto backup point guard." (Parker Fleming)
• On why Kenneth Lofton Jr. got rotation minutes last night: He wanted to reward Junior for hard work. (Parker Fleming)
• On ongoing conversations with Ja Morant which give him confidence he's ready to return, but will be an ongoing process: "It all starts with what is in between here (*points to head*) and what's here (*points to heart*)." (Drew Hill)
• Jonathan Kuminga is expected to play against Memphis. Entered the night listed as probable with right ankle soreness. (CJ Holmes)
• Steve Kerr pregame Grizzlies on the road problems: "Never in my wildest dreams did I see this coming. We've always been a good road team… the numbers say… approach each game with a defensive mindset… gotten off to much better starts and we've defended early in the game… bad spells… kinda reversed that quick start."
• On what they need to improve: "String together longer stretch… game before it was offensive boards. You just gotta cover all your bases… checking the boxes."
• On Team USA being interested in JJJ and Bane: "Those are things that are better left unsaid… they've got a lot of talented players (Ray interjects to stop him)… Raymond told me this is out fifteenth back to back this year and that's the highest total in the league."
• On everybody being available to play b2b: "we need everybody because we don't have several key players… it's a testament to the work everybody has put in… Klay… a lot of work, a lot of effort put into that… Steph… at 35… the endurance… we're hanging in there.
• On Jordan Poole: "The more talented the player the more possibility there is for a turnover because there's so many options for a guy like Jordan or Steph… when you're a young player… too much at their disposal… building game plans for him (opponents are)… that'll come… he puts in the work, wat he's film, coachable, wants to be great… it's all there."
Steph Curry x Trae Young, GP2, Klay, SplashBrothers, Just Us + more Warriors in Atlanta up-close bts
11:45 11m10 Q1 phantom bad screen by JK
12:15 10m45 Steph to Loon
13:00 9m55 Donte 3 corner via JK 2nd assist!
13:45 9m35 Trae take foul on Klay (these weren't called last 2 games in our favor)
15:00 8m50 tiki-taka Donte to Steph, before that Steph pointed for JK to do outlet
17:30 "WE NEED TO KEEP DONTE" trope in the comments: we can't! See salary cap table
18:15 8m30 nice quick outlet, later Loon besting Capela, he's not Zubac
20:00 7m00 JK POA vs JC bad
23:00 4m15 JK good POA vs JC
23:45 3m55 Fitz is wrong: J-Mike wasn't late on rotation, the JP POA was awful
28:00 3m30 ATO: JP bounces a pass to J-Mike that goes into the baseline (AAU!)
28:15 2m50 Klay another AAU tov bad pass, 2m25 Lamb oreb, reverse layup, 2m17 Bogey over Klay too easy, Klay sulked
30:00 1m45 JP steps on sideline (AAU tov)
30:45 1m05 J-Mike shouldn't have doubled Trae, Bogey 3, then JP gets blocked easily
32:30 as much as Steve gets blamed for this Q1 performances, there should be equal on Steph, this is like "Achilles heel season" = everybody's weakness this season has been exposed (it might be happening across the NBA), all these tests, for example Steph's weakness is his vocal leadership, for example Dray's weakness is too much vocal leadership which led to the punch (too much outward emotion)
35:30 JABS: "Steph doesn't have a weakness" -- no, everyone has a weakness, even MJ (not enough joy across the team)
36:00 11m15 Lamb dunk, as I've said before, he seems to me more valuable than Damion Lee and that's a compliment to both guys
37:30 just come out and say you're bothered about Lamb being accused of rape before you throw him under the bus for seemingly basketball issues, 10m15 scores!
38:00 9m50 Loon dunk putback
40:30 I think ppl don't like Lamb because he runs like a meerkat (JOKE!)
41:30 7m50 8th tov, Steph AAU run-out
42:15 7m05 Steph fires away, maybe should've just done this all season rather than try to get guys involved, the NBA2K solution -- tbh I think that is a difference between now and previously in the season (now meaning LAC, ATL)
44:00 I'll bet you WarriorsTwitter is carnage but it's different now because if this was early in the season and we didn't have Dray or Wiggs or GP2 or Andre, then this kind of performance we'd be able to stomach more, but the fact that we're so deep into the season and we're tired of losing on the road that is the basis of the outrage psyche -- the fact of the matter is we're winning championship without Wiggs, see Boston G6
46:45 JC only 25% 3PP which is why we left him open earlier
49:45 4m35 J-Mike jump hook
50:30 3m55 JK putback dunk even tho we went for 2 threes on the break
51:15 3m30 Klay JK tiki-taka, JK looks good in Dray's absence, Steph has a talk with JK (was it about the passing up of the layup?), glad Steph is talking to guys
52:30 Havok Strawberry: "other teams underestimating us" -- that is the silver lining in all of this is that it's gonna be hard to game plan us if we're healthy because there's really no game tape with us full squad
54:00 3m20 J-Mike block
54:30 3m10 Steve's livid at the timeout after Klay's airball on the break after the block, JK wide open
56:45 2m20 JK passed up the lane, eventually gets a goaltend
57:30 2m00 JK sort of didn't know how to drive a la JP on that one
58:45 we're doing the dumb tov (Q1` only) but at least our pace is good
1:01:15 Trae runner 0m0.9 Donte got crossed over too easily
1:02:15 "we're playing the champs" has a lot to do with locking in on game plan as well as hitting threes, I've said it before: it'd be nice to see the stats on the first ten threes taken by each opponent on the road
1:09:00 I've done the "bench a guy after a turnover" strategy: it does not work, it really hits the players on the mental
1:13:00 on Poole going in at 4m55 and subbing out at 3m25: I'm assuming he didn't do anything wrong, it was just Kerr bringing in Steph (and keeping Donte in for defense), I still maintain Steph ahd similar issues of tov and defense in Year 4
1:17:00 Klay 2nd tov argh 11m00
1:19:00 Elizabeth says GP2 will be back vs Pelicans
1:20:00 9m30 we're in zone, Capela dunk putback
1:20:15 9m05 Steph another run-out tov
1:26:30 7m15 Klay sticks with the program, cut via Donte
1:27:15 6m45 good team defense, Loon then Steph, shotclock violation
1:28:15 "we need a big man" = Capela? He makes $20M
1:29:30 5m40 JP has a lot of moves even w/o the ball but still doesn't know when to make the move, a sequence after Loon got a block on a pump fake
1:30:45 Bogey 3 over Loon, if we "need a big man" that big man gets scored on too 5m00 or so
1:31:30 J-Mike dunk tiki-taka 4m40
1:33:30 I don't buy into the "Steph carry us on his shoulders, someone step up" thing because when I scored 25 in men's league and lost, I never looked at it that why, I wondered if we could not have as many tov, play better D, and maybe I should've scored 35
1:41:00 1m10 Donte great pass to JP corner 3
1:45:30 11m45 Lamb kept Okongwu in front of him POA
1:46:00 11m30 dumb tov by JP
1:46:30 11m10 JP great no look bounce pass on fb to Lamb
1:47:30 10m15 JP gets downhill, FT -- refs missed a o goaltend on Bey before that
1:54:45 8m30 Steph AAU tov and no complaining
1:55:15 8m00 Steph quick release 3 corner
1:55:45 7m35 oreb for ATL soft rebounding
1:56:45 6m40 Steph hero vs two guys from hashmark
1:57:15 Donte incredible plays the last few mins, reverse layup here, timeout ATL 6m15 down 3
2:00:00 come out in zone, give Steve some freaking credit
2:01:15 Klay tov (5) then falls asleep, Hunter 3 5min20
2:05:00 4m50 Loon less than 60% FT
2:06:45 4m10 Steph poses after the runner oreb (don't mess with the basketball gods)
2:07:15 4m00 Donte has had the most mistake-free game tonight
2:08:15 3m25 JK late on Capela rotation alley, although he had to guard Bogey at the arc
2:09:30 3m20 JK having trouble reading the play, off by 0.5 like Wiseman used to be
2:11:15 Nicole: "they need to sit JK"; well, it would be Lamb which then WarriorsTwitter would go crazy about, can Steve get some freaking credit? Turns out Steve subbed out JK anyways! Incredibly ref calls common foul wow lucky
2:13:15 Steph no foul, good pass by Lamb 2m30
2:13:30 2m20 Klay steal wakes up! Good decision to go Steph on the fb
2:13:45 2m00 Steph causes tov on Hunter
2:16:00 1m20 Steph foul vs Dejounte, great D but called a foul
2:17:45 0m45.5 Steph picked by Trae
2:50:00 finished talking about positivity, no Wiggs/wings, Wiggs' wife, Internet rumors, Ja Morant, Anthony Edwards
2:51:00 Slater isn't on the road trip to ask the Steph b2b question
3:09:00 Dean: "we're still a 65-win team at home"
3:10:00 Dean on why we and they shoot the way they do: "intimidation factor of Chase", everyone in the West other than SAC has a losing record on the road, not cutting as much, shooting too many 3s (late in clock due to lack of movement), might have something to do with the youth
3:15:00 NBABeau: "Steph Wiggs Klay Dray missing a combined 79 games has been by far their biggest issue"
3:15:15 Dean on how hard it is to repeat and having hunger
3:15:45 me on how last year it was game-planning vs "Memphis beat them in the play-in" and this year "defending champs", they lock in
3:17:00 on Donte: he doesn't come out during intros
3:20:00 if Wiggs can't come back, is GP2 enough?
3:28:00 Dean with the De'Aaron Fox comp of Jordan Poole
3:31:00 on Wiggs and bad internet rumors, his wife, Sydel Curry's reply
3:44:30 MJ didn't take his wife and kids to the games in Utah, per Dean (Last Dance)
3:51:45 I seriously and honestly don't think Steve will do that anymore. Like, he knows that won't really have an effect. I don't think it would work (anymore).
3:57:00 John Collins takes the mic after the game and thinks they can build on this, such a great win over the Warriors:
4:00:00 Dean says we need to have 10 road wins to head into the playoffs, I say we only need to win the last two road games (SAC, POR)
4:08:00 Dean gratitude for Steph: "6-foot-2 35-year-old and nobody in the world can stop him", far surpassing Allen Iverson and Isiah Thomas
4:42:30 Justin Termine hates on Draymond:
• Steph Curry postgame locker room (no video) on the Warriors' shot-selection late: "One thought is that we were in the bonus and maybe we could find a way to get to the free throw line. But the way teams are guarding us, easier said than done... We just have to be mindful about how the game is flowing." (CJ Holmes)
• Donte DiVincenzo postgame recap: "I didn't think it was too bad… offensive rebounding and the fouling… we're getting better at competing, we just gotta put it together… on the road we get down on ourselves too quick… when shots aren't falling you gotta do the little things… we're trending in the right direction but we need to speed it up."
• On if it's mental: "I think it's more mental after the game… when they make their run we have to stay together… we're gonna make our run at some point…587($ when you have ten guys… we still have the firepower."
• On the recap: "We had some good looks… Steph had some good ones, we were getting some second-chance opportunities… but… get over that hump… stay together for the full 48."
• On what they need to improve: "Very similar to when we played them in Chase Center… difference is we weren't worried about making or missing shots… focus on the defensive end. We're competing. In the half-court tonight they could not score on us… you have to take the good with the bad."
• Kevon Looney postgame on if he'll play tomorrow: "Pretty physical game for me… overall pretty good, planning on it."
• On the game recap: "set the tone… important for me to be talkative and get a lot of boards."
• On what went wrong: "We had a lot of turnovers. That kinda fueled their transition. We talked about it before the game how they're pretty efficient off turnovers."
• On the assessment of this game: "As long we're playing the right way, but we still wanna win… losing always still sucks… building on better habits… playing decent playoff teams… gotta figure it out… win on the road."
• On standings-watching: "We check every couple days. I know these road losses aren't gonna help us, I know that much."
• On if it's mental: "I don't think it's too much mental… just the small details… missed box-outs, turnovers… small things like that… things you can get away with at home."
• Steve Kerr postgame Hawks, recap: "Their transition was hurting us… proud of our guys' effort… we had our chances… couldn't get anything to go… these guys are fighting… I believe something good is gonna happen with this group."
• On shot selection: "Steph and Klay shooting threes, we'll live with that… couple turnovers down the stretch as well… couple plays we'd like to have back but you can always say that… on to Memphis tonight."
• On if the problems are mental: "It's not mental. We're competing… played pretty well tonight and in LA for much of that Clipper game but it's hard to win on the road in this league."
• On the playoffs: "there's two seasons in the NBA… but you gotta get there… every season's different. Some years you're fighting for seeding… this year we're fighting to get in… I've watched this group win championships, I know what's in their heart… keep plugging away, try to get healthy."
• On leaning more on the vets: "It's always a collaboration, that's how I look at coaching in the NBA… that's how I was raised in the league… I observed that so that's how I approach it and I've been incredibly blessed… Draymond, Steph, Klay, Loon… let's see what happens."
• On Trae and Dejounte: "helluva game… we battled, our guys executed for quite a bit of the game… turnovers, 17 of them led to 21 points.
• On Looney: "Loon brings it every night. He's gonna battle, defending and rebounding and setting screens."
• On how this season has gone: "Every year is different… lineup combinations based on who's available, who's not… I know it's been a slog, it's been a struggle on the road."
• Here's the math on the Draymond Green 1 game suspension and how it impacts Golden State financially… 1 game: $177,976 = GSW tax savings: $560,169. The math on tax savings: $88,988 (50% of suspension) multiplied by 6.25 (repeater tax bracket- $35-40M over). (Bobby Marks)
• Draymond Green has more technical fouls on the road (10) this season than the Warriors have road wins (7). (Tomer Azarly)
• The Golden State Warriors are converting two-way forward Anthony Lamb to a standard NBA contract for the remainder of the season, making Lamb playoff-eligible, sources tell me and Anthony Slater. Lamb has developed into a strong rotation piece for Warriors. (Shams Charania)
• Anthony Lamb is expected to be available for the Warriors in Atlanta tomorrow night. He'd been ineligible recently after using up his 50 two-way contract games. (Anthony Lamb)
• Steve Kerr pregame Hawks: Steph Curry and Kevon Looney will warm up with the intentions of playing. (Madeline Kenney)
• Kerr on converting Lamb: "We definitely needed another wing with size to guard multiple spots. I'd love to have Ty Jerome, too, but we don't have enough spots. We could only pick one. So we chose Lamb based on a positional need but both guys really deserved to be on the roster." (Kerith Burke)
• Steph Curry is questionable for tomorrow's Warriors game in Atlanta with left thumb soreness. Kevon Looney is probable with lower back soreness, and Andrew Wiggins remains out due to a family matter. (Dalton Johnson)
• Steve Kerr just told Willard & Dibs that he expects Steph Curry to play tomorrow. (95.7 The Game)
• Steve Kerr started off by asking Willard & Dibs: "Can we not talk about the Arizona/Princeton game?", said he tore up his bracket as soon as the team's plane landed in Atlanta... They landed just in time for him to watch the final two minutes of Arizona/Princeton. (95.7 The Game)
• On rumors that Andrew Wiggins won't return this season: "We haven't heard that from Andrew or anyone else so that's just speculation." (95.7 The Game)
• On Draymond's 16th technical foul not being rescinded: "I didn't expect it to be rescinded. You know, that was pretty clear. If you throw a ball at someone, you're gonna get a tech. (95.7 The Game)
• On thoughts of the legacy: "We get caught up in the season. We're just trying to win the next game. I know that this has been a special era to be part of with the Warriors, and the whole thing has kept me [saying], 'How long can we keep it going?'… You watch last night's game, Steph sure looks like he's got plenty left in the tank… You watch the night before, and Klay gets 33 [points] in the first half. Draymond's play all year long has been really good on the defensive end, as well as getting us organized on offense… These guys still have plenty in the tank, and we want to keep this thing going as long as we can, but you can't get too wrapped up in that stuff. In our job, we just try to prepare for the next game and keep it going." (Angelina Martin)
Steph Curry 50-piece courtside up-close; Poole vs heckler; Soulja Boy; Draymond x Sonya from Chase
0:00 blocking negativity silently
2:00 3 refs I don't know well (uh oh)
4:00 one reason why I think Lamb hasn't been converted yet: maybe they're just negotiating dollars
7:00 Steph on Klay audio version (new)
18:15 Steve gives Lamb a pregame fist bump
18:45 LOONEY WINS ANOTHER TIP!
19:00 11m45 Q1 laser J open by Dray
19:15 11m20 Steph tiki-taka via Dray
20:15 10m35 another Steph tiki-taka of sorts
22:30 analyzing the play from 10m35: fooled Kawhi, 13-year vet cut -- JP osmosis
23:45 10m15 Steph box out, Dray lets Morris shoot
25:30 9m30 Loon Klay tiki-tak
26:30 8m40 4x swing but Donte misses the 3
27:00 8m10 more tiki-taka but Klay misses a layup
27:30 7m50 great lead pass by Donte but nothing -- credit LAC defense, but also Donte looks great and well-oiled, as opposed to Dray who throws the ball away 7m15
29:00 7m03 Kawhi goes past Klay top-block, bad help by Dray?
32:00 6m40 Russ too easy downhill on JP
32:45 5m47 Dray blocks Zubac
35:30 4m45 Steph reads, midrange left base pull over Zu, Dray
37:00 4m00 Morris fouls JP, goes to body bump him maybe not see if he's ok lol
37:30 3m52 JK tiki-taka pass J-Mike to the line
41:30 2m20 JK traveling inside
43:15 1m00 JP POA swipe again (fouls Kawhi) -- I don't like this 1v1 defensive strategy (move your feet, not your hands)
44:30 0m30 JP patience swing to Steph 3
45:30 0m10 Kawhi laser 3 vs zone (JP bit on the pump)
46:30 analyze Kawhi making JP bite: "matchup box-and-1"
50:00 11m40 Q2 HoF pass by Dray to Klay corner 3
50:15 11m10 JP downhill after PG J over Klay
51:00 10m40 Dray 3 after fake pass
51:45 9m55 JP lefty zing pass, Kenny gives Dray props, PG argues with Mann (could be a weakness of Clips, the chemistry, again S/O to Steve and Steph's positivity)
54:45 love Kenny telling Dray with arm motions how much he loves his passing and shooting
56:00 9m00 Dray nearly gets a tech, yells CALL A FOUL
58:00 7m50 awful AAU tov by JP
59:15 7m00 Klay AAU tov dribbled off foot, too much
59:45 6m42 Mann turns corner on Steph
1:00:45 6m00 JK "NCAA tov" forearm charge
1:02:45 4m40 Steph goat steal, JP fundamental finish
1:08:30 3m30 Steph goat layup use of body past PG
1:09:15 with all due respect to LAC, it may take a SplashBrothers run + champ DNA d to pull this out
1:10:00 2m40 Steph overhead pass 94 feet slam by Kawhi alley-oop 12th tov, we deserve to be down 8
1:11:15 silver lining: usually the bottom has fallen out by now, but we should be good
1:12:15 2m05 good baseline play design even though Donte was open, to get Steph corner 3, credit LAC good d
1:13:30 Kawhi unbelievably passes to Russ after turning corner on Steph, gets us a 3 in transition via Donte to Steph 1m00
1:14:45 0m45 Dray got a tech by doing a rulebook violation, wasn't even an altercation with ref, getting shoved by Russ, knowing you have 15 techs, just CANNOT throw the ball at him
1:20:30 halftime down 3, I guess this is progress? 12 tov, strange shot selection after being in tiki-taka for like 9 mins
1:22:15 Steve has been jinxing us: in the summer comes and coins "Foundational Six', then he also said per usual that he's never seen Dray step over that 15th tech line
1:36:00 Dray holding his right wrist before 12m00 Q3
1:37:00 11m35 Steph stepback on 3 Clippers
1:38:00 10m35 Klay top block, Donte make up with good d, Steph goat layup
1:39:15 Donte 3 forgiven! 10m05 Ben Conant: "DONTE'S INFERNO", via Klay via Dray seal
1:51:30 holding off on Lamb could just be to wait and see with that 15th spot going into the playoffs
1:53:15 Zu dunk vs zone 5m45
1:54:00 4m55 Steph goat fade 2 base right
1:54:30 4m33 Steph goat layup past Kawhi
1:57:15 4m00 Steph goat 3
1:57:45 3m35 Steph nuclear
1:59:15 3m05 g4 layup, should've been a foul on Batum
2:00:30 bad reffing knee on knee foul on Batum back then
2:01:30 1m45 and1 not called later slo mo shows not a foul
2:02:45 1m05 JP 3 via JK jump pass wow
2:04:15 0m35 JP 2for1 permission by Steph
2:05:00 0m10 again no call on Steph scoop
2:08:15 I saw Steph get fouled by a knee at least 2x so is fouling by sticking your knee not a foul?
2:09:15 11m45 I'm actually mad by a J-Mike and1 because the ticky tack or force of it is the same as on Steph
2:10:00 11m30 JP gets Mann-handled for an and1, reminds me of old school Filipino tourneys when the directors used to hire refs for like $15/game
2:14:15 9m30 Klay POA vs PG
2:19:15 ATO 9m00 Donte slip screen
2:23:00 7m05 Klay TD via Steph after dunk Zu (Dray off?)
2:23:45 6m33 steph 3
2:24:00 6m15 steph transition stepback 3
2:31:30 5m15 Dray foul Zu, Dray was trying to help on Kawhi
2:32:15 5m00 Donte nerves of steel corner 3 via Steph
2:34:00 4m00 Steph POA no good, Steph push shot
2:35:00 2m45 Karl Lane calls a block, he and Eric Dalen should just go home, I'd take Kevin Scott solo
2:41:30 cool graphic: Wilt 7, Steph 7, MJ 6 = times scored 50 after age 30
2:47:00 Positives: JK getting better every game, if we get back Wiggs and GP2, and we survive play-in or get 6th, how many teams in the West beat us in 7?
2:49:00 Blasian: "Wiggins coming back is 50/50 at this point…" -- my guess is as good as yours, so I'll say 80/20
2:57:00 be good to look at game tape to see if Loon could've done better against Zu, maybe Lue had LAC doing some stuff that got Loon in the wrong place at the wrong time
2:59:15 Financial Freedom: "Steph needed help" -- also needed POA defense
3:02:00 even on paper without Wiggs & GP2, Clips are the better team in terms of athleticism
3:05:00 season like this hasn't happened, gonna take patience, loyalty, all of us 1% of 1% would be in favor of building a statue for Andre instead of tearing him down
DEAN CHAMBERS JOINS US
3:09:00 better performance on road than other games this season
STEVE POSTGAME AUDIO
3:16:00 KEYS: fouling, offensive rebounds, not getting to the line ourselves and turnovers
3:18:00 good news on Dray's tech is we play ATL next
3:24:00 Well, I mean in general, my thesis is that that is a part of Dray's personality. Same with the turnovers with Steph. EMBRACE THEIR PERSONALITIES. That's part of why we love them.
3:26:00 DRAY POSTGAME AUDIO
3:32:00 Dean on Steph's greatness with all-time 50-point games (12)
4:02:00 MORE DRAY POSTGAME AFTER MORE STEPH
4:09:00 on 95.7 The Game, Nicole: "lately I've been watching the 95.7 station live on YouTube and noticed that they are very VERY negative towards the Dubs.. is that normal? Is like they do not support them AT ALL.. very odd... they are VERY PESSIMISTIC.. it's kind of cringy.. hard to watch."
4:15:00 Warriors off-day got 101k views vs 20k is a good night for local news in SF
4:19:00 Dean gives an example of Draymond teaching his son DJ something, be on the side of do-ers
4:22:00 Dean on full creative control in the arts, which is what LGW is like, when you're not able to follow what you love, it makes you angry/bitter, Draymond on his podcast: having a little grace (episode: JaVale)
4:31:00 Dean: are the refs just worried about giving Steph points?
4:33:30 Dean: JP is doing a great job of getting to the line and drawing contact
4:38:30 Dean with the "SC" acronym: "Stable Chaos"
4:51:45 Dean predicts De'Aaron Fox will win Jerry West Clutch Player of the Year award
4:55:00 MVP talk: Jokic, Giannis
0:00 • Tyronn Lue postgame on Steph: "when a guy like that explodes, to keep your composure… we kinda tried to take him out of what they were doing… Steph just made a barrage of shots. We tried to blitz, we tried to fire, he split it, he dribbled around it, made some tough shots, some scoop shots falling down. He had it going tonight… our offense was really good… really executed… didn't get stagnant… 30 assists… only one turnover the second half… six turnovers for the game for us is huge… our offense really carried us."
3:40 • On Zubac: "usually when they go small, teams try to go small with them and sometimes it can be a death trap because now they're driving to the paint, you have no shot-blocker, no rim protection."
5:15 • On if he tells his guys anything when Steph goes off: "I've seen it a lot of times. The biggest thing… we're still up seven (from 13). We call a timeout: 'Listen, he's gonna make some tough shots. We know who he is.' So, just keep our composure staying with the game plan. And we didn't want to overreact too much… guard him straight up a little bit too, so we're giving up twos instead of threes… Klay and Jordan Poole on the backside, it's tough to just try to blitz Steph the whole game."
• Draymond Green postgame recap: "you're always frustrated after a loss. We did play better but at the end of the day… figure out a win. You gotta give them credit, they played well."
• On still having problems after 69 games: "You're gonna lean into what works… figure out all the extra things around it."
• On the defense since the ASB: "We're competing a little better on that end. Sometimes game to game they're different things… rebounds… the second chance points hurts… tie it all together."
• On looking like he'll have a game suspension due to technicals: "I expect something to change. I got one tech this year because a ref yelled at me. I said, 'If I yell at you, I'll get a fine.' I got a tech for it."
• On what to do on the court when Steph gets hot: "Figure out what it is that he does… stay active… can't just go boxes and elbows on him… keep the defensive occupied while he's doing what he's doing."
• On witnessing Steph go off: "I enjoy watching it… the level of difficulty… the small gaps… mixture of trying to do something to free him up and… give him the space he needs."
• On Kawhi looking like himself: "Constantly getting closer and closer to Kawhi. I think he's there… last 20, 25 games."
• On Westbrook: "He made some shots he missed. I thought he did a good job of not solely standing all the time, but he made some shots that he missed last time."
• On the differences of this year to last: "Every team is different… year to year… your chemistry can be one of your strengths."
• On if they still feel confident: "Oh yeah, we're always confident."
• On the locker room after Steph goes off but they lose: "It sucks… what more could I have done to help… find ways to capitalize on it but we didn't."
• On reading defenses: "The more I play you just kinda see more. It's like anything in life… learn how to read and react better… see the plays before they happen but that's a great team coached by a great coach so there's deception involved… you study study study basketball… I watch basketball for fun as well… try to be ahead of it."
• Steph Curry postgame recap: "Y'all know me. It's nice to play well… frustrating when you can't get over the hump and figure out a way to get a win especially where we've been all season on the road. Our job is to keep playing, keep competing at a high level… what I expect to do."
• On finishing at the rim: "understanding how leverage the shooting ability… use counters and get in the paint and finish all different type of ways… whether calls go your way or not… be efficient at it. Also I got stronger to be able to take the contact."
• On what went wrong tonight: "Periods in the game where we fouled too much. Tonight it was offensive rebounds… Kawhi and PG… they got to the free throw line 32 times to our 15… have to play bigger than what our stature is… when you foul and give up easy points on the free throw line… tough on the road."
• On the struggles: "It's the ultimate tease. We're good enough to win whoever at home and had some self-inflicted wounds on the road… frustrating… You're always trying to put together wins and performances that give you confidence that come playoff time, you can beat anybody no matter who the matchup is… I still have it (confidence)."
• On what they need to do: "Gets a reset every night. We're still in the playoff chase… just try to win the next game, that's all you can do… in the NBA you gotta turn the page quickly… Atlanta… that's all we can worry about is the next 48 minutes."
• On Westbrook: "He's starting to figure out his roll if that makes sense, impact their team no matter who's defending him… think creatively… one thing about Russ he competes… something you can't teach."
• Steve Kerr postgame recap: "I'm actually not frustrated… loved our effort… Clippers played a great game… 30 assists and 7 turnovers… their offensive rebounding was a huge factor… we're missing a lot of key guys, we're vulnerable… Steph was just sublime, incredible."
• On showing signs on the road: "Yeah it's always about the process… are we connected… that game felt right… we made plenty of mistakes, but it's a game of mistakes…. clippers we're too good tonight."
• On having only 9 guys next game with Draymond out; "We'll see how it plays out."
• On what the vibe is with the standings the way they are: "Our vibe is really positive… defending NBA champions… a lot to look forward to… hoping to get some guys healthy… be stronger physically and health-wise… vine is good."
• On what they do when Steph gets going like that: "Like when a guy is throwing a no-hitter, just leave him alone… stunning watching that show… play-making… so lucky on so many levels… this ranks right up there with some of the great individual performances I've seen from him."
• On what he's seen from the team since All-Star Break: "the main thing is the connection and level of competition. We came out with a great mindset… certain things within the game that are crucial… they shot about fifteen free throws in the third quarter… the effort was there."
• Warriors forward Andre Iguodala will undergo surgery next week for a fractured left wrist. Iguodala suffered the injury during Monday's win over the Phoenix Suns at Chase Center. An update on his status will be provided following the surgery. (Warriors PR)
• Steve Kerr pregame Clippers on Andre's broken wrist: "huge loss… It comes at a tough time when we're heading down the stretch run. So we'll see what it means roster-wise. We'll see how things play out, whether we use the last roster spot on one of our 2-way guys, or if something else comes up." (Kerith Burke)
• Kuminga was already out on the court before Kerr's pregame availability began. He looked fine, was moving around well. (CJ Holmes)
• Jonathan Kuminga (right ankle) will warm up with the intention of playing. He's missed three straight games entering tonight's matchup against the Clippers. (CJ Holmes)
• Anthony Lamb and Ty Jerome are inactive again tonight as the Warriors keep 15th roster spot vacant. Steve Kerr continues to hint it'll be filled soon: "We'll see how things play out. Whether we use the last roster spot on one of our two-way guys or if something else comes up." (Anthony Slater)
👍👍💛💙
LetsGoWarriors is a reader-supported publication. To receive new posts and support my work, consider becoming a free or paid subscriber.