Discover more from LetsGoWarriors
Informational & credentialed independent Golden State Warriors Website, Discord app (for paid subscribers), and YouTube channel for fans seeking positivity and knowledge! Not affiliated with GSW.
Over 2,000 subscribers
Confidence that Steph Curry can keep the group together + "faith in ourselves"
[+notes/quotes/video from Warriors-Nuggets]
The big news from today as you're reading this is Andrew Wiggins' official return to the Golden State Warriors, as he took the podium before tonight's game versus the Oklahoma City Thunder, with Bob Myers on his side. But with much less fanfare, Myers also released another episode of his burgeoning podcast on ESPN's YouTube channel and together with Wiggins' rejoining the squad, there's a sense of, well, togetherness. And with Steve Kerr as the guy answering Bob's questions on his pod, I'm much more confident the Warriors will sign Draymond Green to an extension this summer, as Kerr repeatedly credited Stephen Curry as the man who has kept the franchise together all these years. I have a few other notes, listed below:
9:00 • Steve and Bob joke about Steve's ability to be self-aware and collaborate (inside joke about not agreeing about James Wiseman or playing a center if Myers brought one in via the buyout market?)
LetsGoWarriors is a reader-supported publication. To receive new posts and support my work, consider becoming a free or paid subscriber.
10:30 • Steve says they're a family that bickers but it's all about Steph: "kept this afloat because of the power of his own humanity… reminds me of Tim Duncan."
11:00 on culture and values and hiring people and getting this from Pete Carroll via Bill Walsh: competitiveness, mindfulness, compassion and joy
26:00 "the joy you give to people", Steph understands his power
35:45 on being off Twitter and Wiseman
53:30 Kerr credits Steph for keeping the group together
I should also note, as mentioned in the notes below for the game "ManningCast", I had a fun dream about being in the presence of Green when he signed an extension. It ended up being a four-year deal — which I was made aware from a commenter that Draymond said on his podcast he wants to play four more years — worth $30 million, then declining to $28, $26 and $24 million to close things out. I just figure Joe Lacob would be better off, especially seeing the performance against the New Orleans Pelicans last week, just rounding up to an un-bicker-able thirty (which has a nice ring to it, considering Curry is often referred to by his teammates as "30") from the $27.5 million his player option this summer happens to be worth. And then the declining figures so that Green ends up in the middle of the pack by the last season, 2026-27. By then, Wiggs' increasing year-by-year salary will take him to $30 million and Jordan Poole will be making $35 million. Not a far stretch to think Wiggs and JP will be more important to the franchise than Dray at age 36-37.
And that's what it boils down to: to really feel the positive vibes of this "family", which Bob and Steve referenced a lot as well, you really have to dig deep into this introspections such as a general manager sitting down with his head coach and opening up, plus the knowledge of the salary cap tables. And that is the essence of what I do, my YouTube channel and this website. So, when you get a chance especially this summer when Draymond's contract becomes center stage, please go peruse 30 NBA salary cap tables. You'll learn so much and have a newfound appreciation for what the guys have built over these years.
Speaking of which, yes, I know that the team's remaining performance this season, including tonight's pivotal game, has potentially a direct effect on Green's opt-in or -out decision and so on and so forth. But just what I've seen from Steph's postgame in Denver (see below), Kerr chatting away with Myers, Wiggins' return and their podium visit (also see below), I just feel a lot more confident that Curry will continue to keep this team together, no matter what the results are.
Below are the notes, quotes and video from Wiggs & Myers, then also of course the loss to the Denver Nuggets with the courtside video and game livestream notes first. Other than that, generally speaking it's all in the usual reverse chronological order:
WIGGINS (w/Myers): "family's always first for me & it will always be that way", pregame Warriors-OKC
PICTURE GALLERY SINCE DENVER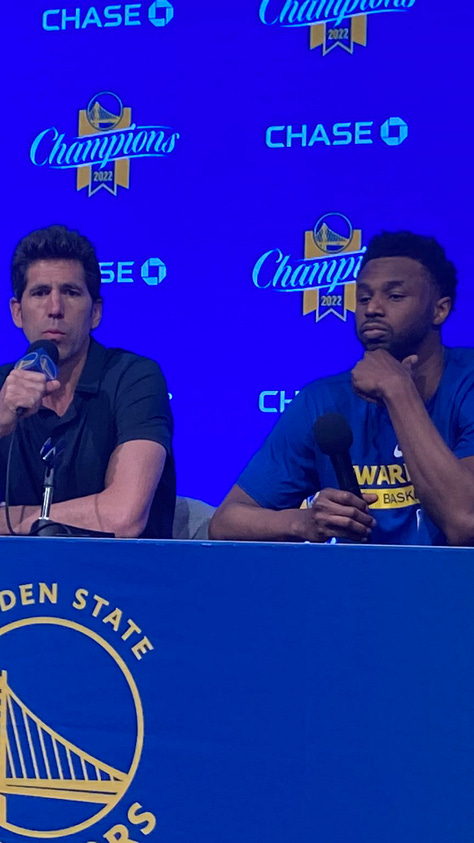 Wiggs x Bob, Shohei Ohtani wearing a Warriors straw hat at the Anaheim Angels vs Oakland Athletics game, JP in yet another commercial with Dockers (he has a new one with Coke Zero, too), the Woj bomb when he tweeted Wiggs would be coming back this week, and a few shots from Ball Arena in Denver where their mascot Rocky likes to to climb decks!
Courtside Warriors-Nuggets; Steph Curry pretend surfing; GP2 blinds himself; Denver mascot Rocky scales Ball Arena
0:00 on me having problems with Kerith Burke's optometrist referral lol
4:45 new CBA: it just took a half a day for the pro-player nuances come out and they came out after Draymond's tweets, there are some things in there designed for parity (loss of the MLE which we used for DiVincenzo and Otto Porter) but it's a reflection of there being more small-market owners than large ones like Lacob and Ballmer
8:00 when is Wiggins coming back? We'll see. Just wait around until they tell us, but his wife did post on IG Stories from her neighborhood on the Peninsula.
9:30 I've thought that we can win the championship with JK instead of Wiggs on the Game 6 template: https://www.letsgowarriors.com/p/can-jonathan-kuminga-change-everything
11:00 Jokic is out (bad calf, legit injury per Mike Malone pregame podium) and Looney will start even though the Nuggets are small, they're gonna start Jeff Green at the 5, but I think this is all to just keep everybody fresh and on their heels
12:45 in our latest bts video, both Donte and JK *again* did not come off the bench for their intros:
16:30 our ref crew: John Goble, Tre Maddox, Lauren Holtkamp -- watch out, Draymond!
19:00 Loon lost a tip!
20:00 good tiki by Klay, Loon tip-in, Steph gets a gimme block thanks to Loon stopping AG
21:00 Klay-Dray tiki 10m15
21:45 Steph good charge on AG post-up 9m45
22:30 Donte physical foul on KCP screen, can we stop those asap, ruins pace 9m20
23:15 nope, Klay hand-check on Jamal although good initial POA 8m40
23:45 AG left open misses, strategy? 8m30
24:00 Klay heat check makes it 8m10
24:30 Donte steal then misses 3 which I don't mind due to the steal and mid-shotclock, we're always looking for tiki action in the first 6 mins+
25:30 Blasian: "Donte has been solid" -- one thing I talked about with Coach Nick of Bballbreakdown is that Donte sometimes goes a little off the rails and we both agreed that that's where you kinda limit Donte's mins so it doesn't become an in-game habit and with GP2 you have that luxury
28:30 Klay tiki gets blocked then hits a 3 -- organized chaos! 7m00
29:00 MPJ 3, Steph says my bad 6m30, but Donte again tiki with Dray
31:30 good job Lauren to call a block on AG vs JK, 5m30
32:15 Jeff Green: only 30% 3PP, making $4.5M via MLE, who knows, maybe we can nab him next season -- between JaMychal and Jeff, which one do you pick? Jeff has 15 more lbs
35:00 JK made both! After the timeout
35:30 JK corner 3 in and out and in 4m45
36:15 JK cut! JP dime 4m15
37:45 Bruce Brown enters the arena in a cowboy hat and short sleeves:
39:00 Dray yells out at Lauren, be careful! After the non-call tov to Lamb 3m00, nice tiki Klay to Lamb
40:15 JP blows past Jeff but takes a step-back swish 2m20
41:30 and-KCP good rotation by JK, bad one by Dray oddly enough 1m40
42:45 sure enough, GSW gets a stop, JP outlet downhill, Lauren calls it yay! 1m10
44:00 precision pass Dray tiki Donte another one! 0m40
44:45 Lamb draws FTs vs Bruce Brown with 1.5 sec left
46:00 best halfcourt offensive execution I've seen in awhile by GSW
48:00 good to see the team locked in, but Draymond said as much when he boarded the airplane, you can see that on Warriors IG
49:15 Steph gives up 3 to Reggie, mad at himself 11m22 Q2
52:30 Malone was yelling at Peyton Watson on the timeout call 10m10, Watson came back on defense and inadvertently set a pick on Reggie for Steph to take to the hole, so many things happening: 1) you have KCP writhing in pain, 2) Malone is furious at Watson, 3) Steph is mad because he wanted a foul
55:00 Dray oreb to GP 9m25, also I loved how Lamb made an extra pass from the middle, very hard to teach
57:30 Lamb tov 8m45 trying to be too unselfish
58:00 GP excellent close out on Jamal 7m45
58:15 Steph G4 layup 7m30
59:15 Steph throwing up some rocks 6m45
1:00:15 after switching onto MPJ, GP2 mad at himself, but I like how he got mad at himself
1:02:30 Malone with another old school timeout when he's mad and acknowledging things are wrong lol 4m20
1:05:45 ATO Dray gets up and yells at team, but GP2 commits 5th team foul, things don't always go right in the heat of the battle
1:07:15 MPJ over late close by JP 3m35
1:09:00 Dray throws the ball to Jamal 3m05
1:09:45 Steph G4 layup past MPJ 2m55
1:10:45 Steph passes to the other team after MPJ another oreb 2m10
1:12:00 Dray bad pass, good steal, tic tac toe TD Steph Klay, MPJ exhausted 0m55
1:20:00 analyzing the last Gordon rebound over JK, Steph and Klay just standing there, nitpicking on Steph's lack of focus and "fun" aspects where he should be bearing down, showing grit, yelling at Klay to not stand there, etc, but that's not really who he is -- pounding the rock, though
1:29:15 Klay unselfish but Loon pushed off
1:30:00 Steph top-blocking MPJ 11m35, I think Dray should know it's early Q3 and they're likely to call those
1:31:30 Steph bad behind-the-back 10m50
1:35:30 Steph finally gets MPJ on the 3 exchanges 8m30
1:36:30 Steph in a 3-pt contest, later AG dunk 7m45
1:37:15 replaying the last few plays: Steph says my bad on the Jamal 3 as Klay throws his hands up, Klay missed open 3 corner but late on getting back which leads to Jamal POA double by Dray leaving AG so that Loon has to recover on AG which then leaves Jeff wide open corner, Steph 3-pt contest attempt, Dray thought he would get help on AG as he showed vs Jamal on Loon and Dray wanted Klay to drop but he didn't even hear him
1:42:15 Klay 3 on a possession we didn't deserve 5m45
1:44:45 Loon tells JP to stop yapping after the Kerr tech 5m15
1:46:45 JP downhill 4m30
1:48:00 JK and JP 3m45 don't know who is covering Braun
1:50:45 MPJ career 3PP is 41.7%
1:51:30 strawhats: "MPJ is what PBJ may become"
1:56:15 Bruce Brown down the lane for a dunk, unmolested 1m10
1:58:00 JP getting downhill 0m30
2:00:00 JP just doesn't know where to be when he rebounds, on the Braun missed putback, just standing there. If he's two feet shifted to his right, he's in the right place, spatial awareness on rebounding is at zero
2:03:00 great extra pass by GP to Steph 11m30
2:05:15 couple bad tov by Lamb -- should've played J-Mike! (against his former team)
2:06:00 JK and JP have never been taught how to box-out, sadly
2:09:00 JK gets downhill finally with 8m20 to go
2:09:30 JK tiki to Dray impressive clutch 7m45
2:10:00 Watson goaltending, why did Malone bring him back in?
2:11:15 Donte talks strategy before Dray's jump ball 6m53
2:13:15 we charge into them twice in a row 6m15
2:14:45 JP bad D on Braun 5m15
2:15:15 not bringing in Steph with 4m57 ball inbounds
2:20:45 Brown oreb bad spatial awareness by Klay 3m30
2:23:00 1m55 trapping a little, should've done that earlier probably
2:24:15 1m35 Donte incredible scoop
2:30:30 0m25 Klay 3 then saunters on defense
2:31:00 0m13 Loon jump! Good job Klay and GP not to foul
2:32:00 sigh, wish we'd lost the old way
2:43:00 main thing I've learned: Steph in his 14th season, Klay is in 12th, Dray in his 11th: It's hard!!
2:44:30 I'm at the point where I'm hoping the playoffs are a different animal so that the Warriors will focus better on the road
2:45:15 DP: "Kerr said all good things come to an end" -- also, Foundational Six
2:46:30 Dice The Plug: "where is the Mamba Mentality"
2:50:00 STEVE POSTGAME AUDIO
3:00:00 DONTE POSTGAME AUDIO
3:05:15 Here are my thoughts on the standings: 🤯
3:12:30 Cholo: "That worries me a lot. when people can't handle frustrations. They freak out. But life is full of frustrations..."
3:14:00 me giving some examples of how Kerr would've done stuff differently to prepare the old guys: betting if they come with focus and loser does push-ups?
3:15:00 HOT TAKE: It's time for Keve Sterr (actually Led Tasso strategy didn't work)
3:18:00 or maybe hire Will Ferrel or Jeff Sudeikis to show up at the next road game
3:19:00 the problem with making any permanent changes is that we don't have Wiggs, i.e., this is not our actual team (yet)
3:27:30 strawhats: "I think this CBA nonsense will increase Dray's liklihood of re-signing with the Warriors" -- funny thing, I had a dream last night that I was there when Draymond signed his extension for specifically $30M, $28, $26 and $24. (Somebody told me last livestream that Dray said on his podcast that he only 4 more years and he's done)
3:34:00 strawhats: "Wiggs, Steph, Dray, Klay, Loon, JP, GP2, JK, PBJ...hopefully Donte but he'll possibly leave for more money (2023-2024) roster" -- can we backload a Donte resigning? The new CBA is getting rid of the MLE for high taxpayers like us, so then the incentive is for us to retain Donte for the Bird rights, and then can we back-load him?
3:37:30 Christian Leon: "Lol Social Media saying Donte threw shade at the team and Steph" -- he should lol, but tbh I'm not frustrated because if Steph wants to lose focus for a game, fine, he won us four trophies and two other nice Finals runs
3:41:00 MORE STEPH POSTGAME AUDIO
3:50:00 it was funny with the CBA announcement yesterday because Draymond was tweeting about how crappy everything sounded and then suddenly Shams drops the bomb that they get the opportunity to become co-owners in WNBA and NBA franchise, plus the whole marijuana being legalized in the NBA thing
4:03:00 Cal jerseys on Tue vs OKC
DISCLAIMER: These are all just notes for my main workflow of YouTube videos, mostly transcribed by me shortly after the interviews and during my coverage of postgame on our livestreams (!). Sometimes I'll just use what's tweeted by beatwriters, as listed. The links to the tweets are not available because sometimes I don't use the full tweet and just having a ton of tweets on this website imo isn't aesthetically pleasing and gets away from the main goal: transferring information (not so much entertainment) to the brains of DubNation asap.
• Steph Curry postgame recap: "just being mindful… point a finger at what went wrong… if we knew what to do about it we wouldn't do it… being mindful… maintain our momentum… the grit and the fight allows us to be one shot from the game we had no business being in… if we're gonna win (in the playoffs) a game like tonight can't happen."
• On what happened to the good start tonight: "Picked them apart, really… we missed some shots… couple turnovers, couple open looks in transition, offensive rebounds, fouls… then it's just a ball game of a shot here, a shot here. On the road you never wanna be in that situation."
• On if they just need a jolt: "Vibe of how it's been on the road for us all year… four or five minutes stretch where the wheels fall off… give them the thought of they're supposed to win this game… I sound like a broken record, but still have faith in ourselves that we can figure it out."
• On if this season has been tougher: "Sustaining our level of play for 82 games… championship target on our back… playing above their numbers when they're playing against us… can't find a good momentum/rhythm on a nightly basis… even when we're winning (hard to sustain)… confidence that we can beat anybody on any given night and show up on a playoff night."
• On the next steps: "We need to win, control your destiny, protecting our home court… sense of urgency on these last three games… the vibe that you create going into a playoff series… finishing strong… sense of purpose… feel good about yourself when you turn the clock to the playoffs."
• On if that's tough to swallow for tonight: "We knew that and you also know that the way we started the game gave us a clean lane… frustrating for all those reasons… gotta be able to move on, not let it bleed into how we play on Tuesday."
• Donte DiVincenzo postgame recap: "With them not having Jokic out there… kinda let your guard down… like Coach said the game is really in that second quarter… we have it in us… we have to put together a full 48… that's how it's gonna be in the playoffs… everybody just has to be ready… the one thing we can control is our effort."
• On who they look to when things are not going well: "ultimately you gotta look at yourself in the mirror… (can't really on someone else to) get your head out of your ass… a lot of responsibility on those four guys… sticks together and uplift them as well."
• On if they feel it when they are stagnant: "It feels like that in the moment… make adjustments… we have to turn down good looks to get great looks. At home it's a little bit different… on the road… gotta settle down more… they were pushing in transition, getting offensive rebounds."
• Steve Kerr postgame recap: "middle of the second quarter we had control of the game and we just lost focus… mindless possessions in a row… shot turnovers… handed that back to them, then it's a game, we gave them life."
• On why they had lack of focus: "Yeah, I don't know… wish I could've done a better job of getting them locked in… tried to take a couple timeouts… last five or six minutes of the quarter were really a mess… guys really fought in those last four minutes… we were mindless, we weren't tough enough… didn't deserve to win the game."
• On standing around after good offense: "I felt the same way… good flow and then the flow stopped… as I said some really mindless possessions… or threw it to them."
• On shot selection: "Not great… taking quick ones, we weren't trusting each other… not sharp… get the ball to the second side and get a better look… 15 turnovers that turned into 17 points for them. We had only five in the first 18-20 minutes."
• Michael Malone postgame recap: "You know they're gonna make a run… we have Christian and Peyton out there against guys that have won multiple championships… we leave Klay open… Jamal's wherewithal… saves the game… you hold that team to 40% from the field and 9-of-42 from three."
• More Steve Kerr postgame, on how he feels after that loss: "frustrating… controlling the game…stopped doing the things that got us to that point."
• On if they have to figure it out: "We just have to keep going, keep pushing. This season has been like this all year. It's been stops and starts. Just when you think we got some momentum, we give it back… there's no sense looking backwards… assessing all of that… watch the film tonight."
• On if this has been a challenging season: "Every year is challenging… you just go with it. I love coaching this team. It's a great group of guys. I have fun every day coming to work, so is it frustrating? Yeah… every year you go through stuff. It's a big part of the job."
• On the home-road disparity and if he has any theories: "No."
• On Steph's performance: "Just a bad night. He's entitled to those. Had such an incredible year… done so much for us. Just a tough night, that's all."
PREGAME NOTES (no video)
• No Nikola Jokic for the Nuggets tonight against Golden State. This will be his third consecutive missed game as he deals with right calf tightness. (Kendra Andrews)
• Mike Malone pregame Warriors: "Allows us to do something where we're not concerned… extra-cautious… he realizes playing 82 is great but if you wanna play deep into the playoffs… but this is not us resting him. There's really an injury there… worst-case scenario is he plays and it creates a much bigger issue where he's out for an extended period of time… we're only gonna go so far."
👍👍💛💙
LetsGoWarriors is a reader-supported publication. To receive new posts and support my work, consider becoming a free or paid subscriber.