Poor Man's Commish is a long-time credentialed reporter following the Warriors behind the scenes for years. The next couple of DubNation Diaries will follow him as he travels to the East Coast, meeting the Warriors on their recent road trip.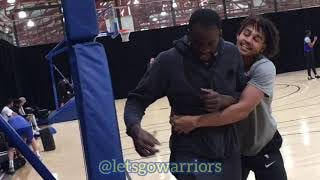 Miami, FL. February 2, 2020.
So recently over the past couple weeks I tacked on a trip to Miami on the way to New York which was to see our Golden State Warriors face Kevin Durant's new team, the Brooklyn Nets.
The airfare wasn't that far off from just going directly to NYC and I used SkipLagged.com to book an $80 one-way from Miami to LGA. All in all, one of the best decisions I've ever made, despite the horrific San Francisco 49ers results on the field for Super Bow LIV.
Heartbreak Hotel
First off, super-fan @benz1no and I bumped into Warriors hype man Franco Finn at the entrance of Hard Rock Stadium. Ben was carrying a couple bottles of Hennessy and they did a shot (and then some; I don't drink, btw). We walked around, took some pics, found a giant TV screen, hung out with some Spanish-speaking fans, then figured out that for safety reasons, the Super Bowl people weren't going to have the big outdoor screens show any of the game.
So we figured out that a great place to watch the game would be the Hard Rock Hotel in nearby Ft. Lauderdale. As we were waiting (and waiting) for our Uber, we managed to catch the fly-by by the fighter jets. Awesome spectacle considering the beautiful weather and sunset.
The Hard Rock Hotel over there is shaped like a guitar and for the long end of said guitar, beams a light upward reminiscent of the Luxor in Las Vegas. And inside, you definitely felt like you were in Vegas.
Unfortunately the crowd was about 65% Kansas City Chiefs fans, but we were actually the rowdy ones. Their tomahawk cheer got annoying and Ben came up with the best come back, mocking the chop and replacing all the harmonics with "Blah, blah, blah! Blah, blah, blah!"
Incidentally, when we both got back, Finn and I did a podcast (click here for iTunes, Spotify, or other) and he told the story of how he got in at the last minute with tickets from Jerry Rice's section. That literally happened a few moments after Ben and I saw Franco at the entrance of the stadium!
The cheap flight up to New York meant I had to stay an extra night, and I ended up never really setting foot in Miami proper, but Ft. Lauderdale offered a nice suburbia version of the region. I found a mall with a fun-looking slide. There was also a CVI.CHE 105 restaurant right there, famous for its ceviche ganador fresh mixed seafood dish.
On my first night, thanks again to Google Maps, I discovered a Honduran hole-in-the-wall. I just love the culture of the city. And so Miami has leap-frogged The Big Apple on my "Mt. Rushmore" of favorite metros-that-are-not-necessarily-vacation-spots in the world: Barcelona, Paris, Madrid, and Hong Kong are the others. I've never been to Amsterdam, but I'm told to keep a look out for it.
So I'll be looking at more Miami pit stops on the way to East Coast road trips. I love blending in with the people and spending a day or two in the life. The few times when it might be better not to be NBA star is to experience the city as a local.