Discover more from LetsGoWarriors
Informational & credentialed independent Golden State Warriors Website, Discord app (for paid subscribers), and YouTube channel for fans seeking positivity and knowledge! Not affiliated with GSW.
Over 2,000 subscribers
Evidence Wiggins "looks good"; Looney/Bogut lineage
[+notes/quotes/video from practice b4 SAC & Warriors-Blazers]
Oops, things kind of piled up this last week. Let's try and catch up. According to YouTube, this past month we had six digits of hours of watch time on our channel, so aside from a flat tire adventure earlier in the week, I've been busy uploading.
The key takeaways from all the Golden State Warriors practice coverage before Game 1 of the opening round of the playoffs, not to mention that of the Sacramento Kings (see YouTube, ofc):
LetsGoWarriors is a reader-supported publication. To receive new posts and support my work, consider becoming a free or paid subscriber.
Andrew Wiggins looks as ready as he'll ever be. Throughout all the time I watched Wiggins shoot around, I don't think I've ever seen him hit 12 straight or reach a clip of 25-for-28 (which was also 24-for-25) on threes. He even had Stephen Curry pausing from his workout on the adjacent court to watch for a moment. Also the casual 360 dunk! As Steve Kerr told 95.7 The Game late Friday: "He won the genetic lottery." (Unfortunately I didn't take notes for that one, but check the aforementioned videos below.)

The lineage of Kevon Looney: Absolutely love the anecdote Looney gave of Leandro Barbosa (scroll below, ofc) forcing him to pickup Andrew Bogut to take him to practice back in Loon's rookie year of 2015-16. That got me wondering about that "need a big man" spot as a backup to him, now that James Wiseman is with the Detroit Pistons. This summer should be interesting. Of course, the first domino is still Draymond Green and a possible extension for him, but does Bob Myers buy a second-round pick (I think there's too many good wings in the Draft to nab with GSW's natural first-rounder), or what's the strategy at the 5 going forward? Btw, we should have pretty good Draft coverage in June thanks to an insider we know.

And finally, as it pertains to this Warriors-Kings series, I should remind people as they do their needy predictions — and, unfortunately, credentialed journalists going to Twitter to throw other journalists under the bus for their predictions — that there are two types of six-game series. There's the type where you go up 3-1, lose the close-out game on the road but take care of business at home in Game 6 (see the Memphis Grizzlies series last year), and there's the grind-it-out type of six-game series such as, oh, going down 2-1 and winning three straight (see Boston Celtics). Also, often times people forget that a five-game series is sometimes called a "gentleman's sweep". I see this Kings team as better than last season's Denver Nuggets or last season's Dallas Mavericks, both of whom were handed 4-1 defeats by our Warriors. I'll just leave it at that because I don't really do CRAP (comparisons, rankings, awards, predictions).
The rest of this post are all my notes (APB: Jordan Poole talked for a record 18 minutes!), including the final regular season win at the Portland Trail Blazers, 95% of which made it to YouTube. Everything in this "data dump" is mostly in reverse chronological order — you obviously don't need to digest everything all at once; feel free to come back after Game 1 to catch up…
Andrew Wiggins 💦 12 straight 3s (25-for-28) plus post-up moves from Warriors practice b4 Sacramento
Warriors practice: Wiggins casual 360 dunk 🤷🏾‍♂️Gary Payton II GP2 🔨 Poole 💦🎙️ Steph Curry 🎞️
DISCLAIMER: These are all just notes for my main workflow of YouTube videos, mostly transcribed by me shortly after the interviews and during my coverage of postgame on our livestreams (!). Sometimes I'll just use what's tweeted by beatwriters, as listed. The links to the tweets are not available because sometimes I don't use the full tweet and just having a ton of tweets on this website imo isn't aesthetically pleasing and gets away from the main goal: transferring information (not so much entertainment) to the brains of DubNation asap.
• Andrew Wiggins after Warriors practice Friday: "feeling good… working hard for my guys" and says he hasn't heard if he's starting or coming off the bench, and coming off the bench would be different, but is open to do whatever the team needs him to do. (Dalton Johnson, Kendra Andrews, CJ Holmes)
• On if he's been told he'll come off the bench: "Nothing I know of yet… I'm feeling good… whatever the coach and the training staff think is right, that's what I'll do."
• On if coming off the bench would be awkward: "It'd be different… I'm down for whatever that helps the team, whatever we need."
• On last time when he came back: "It's kind of different because before I was coming back from injury… I feel normal… refreshed… don't feel like my body's gonna hurt."
• On his rhythm: "Tbh I'm not sure… it would be the same thing… executing, whether I'm starting or coming off the bench."
• On how long he expects to be reintegrated: "Soon as I step on the court… feeling good… right where I left off."
• On if he views himself as an X-factor, a stabilizer: "everyone's back. Perfect timing, but I'm feeling good. Like I said I'm feeling good… they trust me and I trust the guys."
• On the vibe this year compared to last year: "The vibe is kinda same… the work we put in… traveling not as far but we're feeling good."
• On his main emphasis right now: "Probably just conditioning… getting back to it and making sure I'm at an NBA level."
• On if the defense will help his offense come to him: "Defense is all about effort… offensively, sometimes you can't help miss shots… but you can help determine your effort on defense."
• On if he's had more emphasis on conditioning or skill work: "Nah, not really… nothing specific… here and there."
• On the rebounding last playoffs, if it's will or physical: "It's kinda both, just will, hard work and also conditioning… tapping the ball back to your teammates (if you're a little tired)."
• On conditioning, if the last time he came back from injury was the first time he felt winded: "I'm getting a little bit older… after those first two days… not exactly up to speed, but you're close."
• On if there's more to fill in the tank: "Right now I feel good… training staff… great workouts."
• On the team's confidence: "We know it can work, that's what makes this energy around here so positive… it's on us… we have the fans for it, so it's on us."
SACRAMENTO & PRACTICE PHOTOS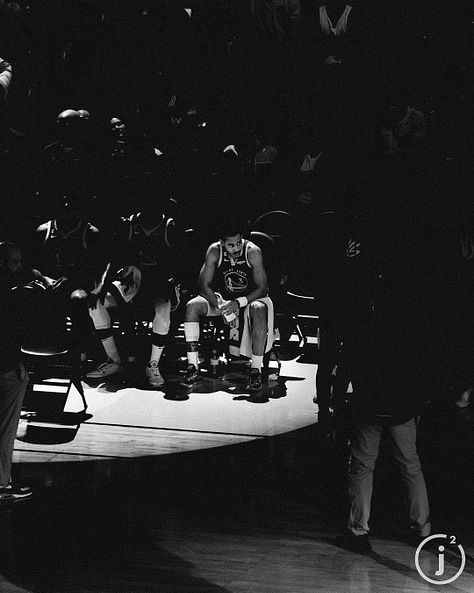 • Andrew Wiggins, exclusively to Monte Poole of NBC Sports Bay Area after Thursday Warriors practice, on coming off the bench: https://www.nbcsports.com/bayarea/warriors/andrew-wiggins-following-steph-currys-example-embracing-coming-bench
"I've got to wait and see," he said after practice at Chase Center. "But I would get it if (coach Steve Kerr) said he wants me to come off the bench. I wasn't here for a long time, so I would understand. You can't say anything about that.

"I mean, Steph came off the bench last year. What? Steph can do it, but I can't?"

Wiggins cracked a broad grin, which quickly evolved into full laughter.

He paused, grinned again, and then laughed harder, presumably at the absurdity of anyone on the Golden State roster trying to justify prioritizing their ego when the team's superstar is willing to submerge his ego for the sake of the team.

…

"Steph set the bar high," he said. "I can't be mad at that."
• Kevon Looney after Warriors practice Wednesday, on not having seen the best version of this team yet: "goal was to get to the playoffs healthy. Took a long time to get there… reach out full potential."
• On Andrew Wiggins: "He looked amazing today… when the shot clock is down low we can throw him the ball and he can get a bucket."
• On Donte: "I didn't know much about him… Villanova… how good those guys are coached… (kept an eye on him when he was in) Milwaukee… I didn't know how good of a defender he was… 50-50 balls… toughness and grit."
• On Sabonis and Fox being unique: "both of them being left-handed is a little bit different… find guys… DHO… makes them unique… Fox… athletic… both of them play with a lot of speed… feel them out, get a feel for them throughout the entire series."
• On helping with the Draymond punch of Poole: "I take a lot of pride in that. Our culture took a hit… stay confident… testament to our team and our character. Our best times are ahead."
• On achieving 82 games again: "They already knew I was all in… I felt good all year… no time when I had those talks with Rick (Celebrini) or Steve."
• On his relationship with Mike Brown: "I'm not in touch with Mike Brown, he's he opposition now." Says they might connect at an offseason UFC fight but "he's not a friend right now." (Janie McCauley)
• On Mike Brown: "Everything I learned on defense is from him and Ron Adams… he's real tedious on film… terminology, how to learn pick and rolls."
• On Brown's impact on Kings: "no surprised… someone I can lean on… getting guys to buy in and build that trust… good at establishing culture."
• On what makes a good transition team: "four or five guys who can start the transition… Draymond can push it and Sabonis can… getting back on defense… Kenny's been on us about it."
• On the Kings' transition prowess: "They got a lot of speed… I know Mike Brown is probably cussing at them to get back."
• On why Kerr gave him credit for helping with the Draymond punch situation: "I always have a pulse… make sure guys feel comfortable… being able to talk for them… check in… people don't think I talk… when the lights shine… my name kept coming up so that's probably why I got the credit… as a big you gotta talk to everyone on the team."
• On his favorite Leandro Barbosa story: "I had to go pickup Bogut… Bogut was hurt or had a headache or something or couldn't drive. Barbosa really wanted him to come to practice… Bogut didn't like it. He told me, 'Get away from me, rook'… I didn't like driving… I didn't know if my car was big enough for him."
• On Sabonis (via interview with 95.7 The Game on Thursday): "Me, Draymond, and JaMychal have been doing this all year, playing against a lot of good bigs and we usually hold down the fort. Sabonis provides a problem but I think we got the answers." (Willard & Dibs)
• On Wiggins: "He's been looking really good. Looks like himself. Looks like he hasn't missed a step, like he's been here the whole time. I'm excited to go out there and go to war with him on the court." (Willard & Dibs)
• On listening to the noise: "That's what Steph, Draymond and Klay do. They hear all the noise...You don't think they do, but then they do a press conference & talk about stuff from 6 months ago. I don't even know how they saw it. Those 3 are definitely the 'petty kings.'" (Willard & Dibs)
• Kevon Looney's mentorship of James Wiseman and other younger Warriors players, by Marcus Thompson of The Athletic: https://theathletic.com/4400314/2023/04/13/kevon-looney-warriors-playoffs/?source=emp_shared_article
"I had guys that really helped me get to that next spot," Looney said. "So I wanted to do all I could to help (Wiseman). I really wanted him to succeed. So I was kind of bittersweet about that. Like, 'Alright, they trust me to play. They ain't giving my spot away like they probably would have earlier in my career.' But I wanted to see the young guy succeed and take that step."

…

Loon likes the role of mentor. He remembers himself as the young buck and empathizes with the newcomers into their crazy world. He's the first one to tell them it will always be their fault when they're on the court with the four All-Stars, so just get used to it. He, like them, used to come to the bench wondering what he did wrong. Iguodala and Shaun Livingston would assure him it wasn't personal, that the NBA hierarchy just works like that. Now, Looney does that for the youngsters.

He warns them about film sessions and how the criticism tends to skew away from the stars. He tells them to do their best to avoid the kind of mistakes that end up in film sessions. Because they will end up in film sessions.

"Even when it wasn't my fault, they chose me," Looney said, laughing.
• Gary Payton II (see Wiggins video above) after Warriors practice Friday on keys for the team: "Just be us, be solid, take care of the ball, come up with 50-5 balls."
• On the Warriors' defense: "Stop the ball… Fox likes to push it… don't leave shooters and take care of back doors, all the little things they like to do."
• On if the Kings offense is similar to the Warriors: "No. Different personnel. Nobody's like the Warriors. They just have different people."
• Steve Kerr (see Wiggins video above) after Warriors practice Friday, on how similar this playoffs is with Wiggins coming back like they did Curry in 2022: "Yeah it feels very similar… last year we got off to a great start to the season and had some cushion… better position seeding-wise… end of the season there was a similar vibe, last year we win our last five to get to the 3 seed… healthy at the very end… last year we felt like we were rounding into form and that's exactly how it feels this year."
• On still having more to work through, per Draymond at the end of the regular season: "This group has been together for a long time… a ton of road games together. I'm not concerned at all about our road record this year… I expect that to continue (history of winning on the road)."
• On the importance of coming out strong in the first quarter of Game 1: "It always helps but it doesn't guarantee anything… strategic changes… figure out on the fly, but the beauty of seven is there's a lot of time… we lost at home against Boston last year, everyone said 80% of teams that lose the first home game in a Finals lose. None of that matters."
• On if there's a plan for Andrew Wiggins: "There is but I'm not willing to share it this time."
• Harrison Barnes is at practice today and on the floor with the team. We'll have more on his situation soon. (James Ham)
• Mike Brown on all the love he's been getting from Warriors: "It's a setup. They want to kick my ass, trust me. I've been around them enough, it's a setup. Don't fall for it & I'm not falling for it either… Screw you guys until this is over." (John Dickinson)
• Mike Brown said he will go with a 9 or 10 man rotation against the Warriors. (James Ham)
• Draymond Green after Warriors practice Thursday, on the Kings: "great offense… take care of the ball… not play against them in transition… what we do on the offensive end will be very critical to what we do on the defensive end."
• On what happened in the regular season, if that wasn't the Warriors, and playoff reputation: "totally different energy now… issues that we had… they don't just go away… focus level is totally different, focus level… you lean into the know-how… a lot of these teams don't know."
• On Stephen Curry getting better over time: "watched him grow mentally and get sharper and sharper… how to thinks about things… his will and desire to win… if anything it's gotten stronger… a lot of time you see guys lose the love for the preparation… I've watched that get stronger. You've watched guys take shortcuts."
• On what makes Sacramento great in transition: "De'Aaron Fox (is) fast… fastest guy in the league… if nothing is there, they have an incredible playmaker… Sabonis… a lot of that comes off the secondary break."
• On what makes the Kings' transition defense good: "Mike is very crazy on transition defense… giving up the fewest transition points… defense sometimes comes down to a particular skill set. Some guys don't have that skill set… transition… coaching… what's happening on the offensive end."
• On the newer version of Klay: "how much more consistent he's gotten… working yourself back, doing it night in and night out… been a part of his journey back… we've seen him have fifty… forty a few times… being Klay Thompson every single night."
• On Wiggins getting back to that level of last year's Finals: "definitely what you expect."
• On what he misses from Mike Brown: "His voice… he's super-intense… Anyone that's held you accountable to something in your life, you feel that to a different extent than to someone who just let you give up… some people have that knack where you just hear their voice all the time… years ago… when he would start talking about defense he would start dripping sweat… passion."
• Jordan Poole after Warriors practice Thursday, on GP2 returning to the team: "It was good news especially at the trade deadline… helped us majorly with the run (last year)… different level of competitiveness… burst of energy."
• On what Mike Brown meant to him: "Mike helped me a lot my first couple years. I was able to ask him questions, offensively, defensively… exciting to see what he's done with the Kings… ask me in a couple weeks, I can probably give you a more in-depth answer (on what specifically Brown helped him with)."
• On thriving in chaos, playoffs: "intensity would be higher… different level… controlled chaos… you feel it more than you see it… possessions matter… fouls… feel the magnitude… it's like a good feeling… you're excited… those who like to play in the bright lights thrive."
• On having the experience this year vs last year: "(vets have) been in this situation… so many times that it's almost like an overload… ask anything and they'll have an answer to it… we (youngsters) got our own lessons that we were able to learn last year… really good to have a year under our belt… playoff run really helped."
• On Kuminga: "we know how talented JK is, everybody knows… development just comes with time, opportunity… what it's like when he's a focal point… plays that he makes, but it just takes time to develop… it's only up from here."
• On if he's changed anything on entering the playoffs: "That's a great question because last year was my first year… comfortable… foundation of what I want to do… I may ask a few questions… insight and experience… stick to my basics… fundamentals… maybe tweak it… I'm not sure, ask me in a couple days. Great question."
• On the bus ride to Sacramento: "only an hour as opposed to taking a thirty-minute bus ride to the airport, two-hour flight, thirty-minute bus ride to the hotel… you can't recover for those two hours (after a flight)… probably not getting to bed until 1:30, 2:00… couple extra hours to settle down (with a bus ride)… in the playoffs whenever you can minimize travel you really appreciate that."
• On if Steph's celebrations have rubbed off on him: "I've always interacted with the crowd… different in school… gotta abide by the rules… in the league… entertainment aspect… shake a fan's hand… always been like that, been electric… COVID… seeing everybody on the court, makes you appreciate it."
• On if he ever experienced it as a fan: "I could never get seats that close, but I would wait after the game… like what the kids do now… sweaty handshakes… big Michael Redd fan… Brandon Jennings… Charlie Bell. A lot of throwbacks."
• On Kevon Looney: "he's just extremely steady… people don't realize how long he's been here… part of this as much as anybody… being a leader… the things that he's seen,,, important games… takes on the Big Brother aspect, the enforcer role, steady… a lot of people go to him… good outlet for us… on and off the court."
• On the Milwaukee workman's mentality he shares with Kevon Looney as they each played all 82 games this season: he told Iron Man Loon he'd have done it last season too had it not been for a bout with COVID "for those six games… six inches of snow outside, negative ten degrees (in Milwaukee)… if we're available… we'll be out there… just the way we grew up." (Janie McCauley, me)
• On Klay Thompson: "Lol the thing. That is what he's doing, is the thing… the chip that he plays with… find ways to stay motivated. There's nothing I love more than people shutting other people up. And Klay did that the entire year. People were talking down on his name… I never once was a doubter… support him since Day One… make people eat their words."
• On the playoffs: "We have a lot of guys who have… a competitive edge… Klay come in and lock in… see how laser-focused he is in the third quarter, fourth quarter… a lot of guys on our team who are ready to step up."
• On Andrew Wiggins: "It's fantastic to have Wiggs back, that's my guy… I will not be the person to tell you how he's looked behind-the-scenes the court, but I am excited to be out there on the court with him."
• On the biggest thing he's learned from Steph (body, mental, being 35): "How meticulous he is… how consistent he is… over and over, daily, never taking days off… body, recovery, performance… you can't skip any steps if you want to be great. (Unsolicited, saying he that as only told he'd be on the podium for five minutes:) It's a scam."
• Steve Kerr after Warriors practice Thursday, on Andrew Wiggins' status for Saturday: Much lighter day today for the Warriors, "A lot of halfcourt stuff, but no scrimmage today. Andrew looks great. Feeling good and is ready to go." (Madeline Kenney, Janie McCauley, Kendra Andrews, 95.7 The Game)
• Warriors forward Andrew Wiggins is cleared to play in Game 1 vs. Kings on Saturday, his first game since Feb. 13. Golden State is leaning toward Wiggins coming off the bench in a 20-to-25 minute playing time role. This is similar to how the Warriors reintegrated Steph Curry last playoffs. He missed the final month, returned in the playoff opener and came off the bench the first few first round games against Denver as his minutes creeped upward. (Shams Charania, Anthony Slater)
• On having motivation from (inaudible): "No, to be blunt. Where we are… after a decade of this it's just about another opportunity to win a title… circumstances are different every year… no need for any motivation… trying to go back-to-back is all the motivation we need."
• On assistant Bruce Fraser: "Q just has a way with connecting with people on a deeper level… he and Klay share a lot of the same interests… outside of basketball… bonded in Baja… All-Star Break… outlook on life."
• On Kuminga's development: "started playing basketball late in his life… championship team with a lot of expectations… improvement has been consistent… he'll be dramatically better a couple years from now… where he is now, he's somebody who can help us win… on-ball defense has really taken a leap… guard big wings in the league… nuances of guarding the best players, understanding their tricks…. What's happening before his opponent can actually draw that foul."
• On Sacramento road trip: "it doesn't change our routine… huge relief not to get on an airplane… cross timeline… jet lag… always feel a little bit better when you don't have to go on an airplane."
• On the young guys having last year under their belts: "Playoff experience is always important… even for the younger guys like JK and Moses and Gary, going through what we went through last year… ups and downs… stay ready for the next game, the next series."
• On Mike Brown's intensity on defense: "takes great pride on the details… passionate… huge help on the offensive side as well… not afraid to laugh at himself."
• On Wiggins having a normal workload, 30 minutes: "I gotta talk to Rick… On the one hand, Wiggs is one of those guys who doesn't seem to fall out of shape … on the other hand he hasn't played in 10 weeks."
• Harrison Barnes suffered a tweaked ankle and sat out yesterday's practice but completed practice. Today he was held out as a precaution. The injury is not believed to be serious. He is expected to play on Saturday. (Sean Cunningham, James Ham)
• Mike Brown was clear that Harrison Barnes tweaked his ankle near the end of practice yesterday, but finished practice. Brown said that Barnes is fine and ready to go on Saturday. (James Ham)
• Stephen Curry after Warriors practice Wednesday, on how Andrew Wiggins looked: "played most of the action that we had. Didn't really look like he lost a step… looked pretty spry, fresh legs."
• On pace and transition factoring into the series: "they like to get up and down, so do we… playoff atmosphere will be pretty chaotic at first… settle into whatever pace it will be… focus on taking care of the basketball and not feeding into their transition… D.Fox downhill is a problem… have our defense set."
• On the importance of getting Game 1: "lower seed… make your presence felt… everybody says try to steal Game 1… get off to a good start… first quarter… we have to win one up there to win the series… another level of focus and intention… they've been a great team all year. Mike B. knows us well, we know them well."
• On Kevon Looney evolving as a communicator: "Coach called him the moral compass of the team earlier this year which is pretty accurate… true veteran but closer in age to some of the younger guys… back and forth at the G League… spot minutes… Finals… Iron Man Loon… amazing perspective to all those different parts to our team… making sure everybody's locked in (pregame)… does it in a unique way… fabric of our team culture."
• On expecting strategy from Kings: "you are who you are and you try to be the best version of that… IQ… adjustments that are necessary … but you don't try to outsmart yourself… game plan… just execute it… you're not gonna play your A+ game every night."
• On getting surprised by box-and-1 in 2019: "wouldn't be surprised if Mike B. does it. We did it a lot (here)… all that's in the memory bank to go back to… respond to whatever the defense is throwing at you."
• On the officiating changing in the postseason: "as long as they're consistent… we can play any style… never really worried about that. The biggest thing in the regular season, it's a lot easier to get consumed by the refereeing… it's frustrating when it doesn't go your way, but it's less of an issue of consuming your energy (in the playoffs)… momentum swing… whether it's physical or it's ticky tack."
• On this year's playoff run compared to last year: "Last year was different… kinda what Wiggs is going through right now… playoff basketball is physical, emotional, the craziest adrenaline rush… playing against the scout team that's playing like the other team… game to game, there's a lot to think about… in one aspect it's a lot easier because you're only focusing on one team… can you execute?… that's the fun in the experience."
• On having good numbers: "even if my numbers weren't like that I'd assume thats what (the Kings will do)."
• On if he's reflected on everything yet: "That started in training camp… it's all about the goal at the end of the year… chase another one… stay in the moment and enjoy what's in front of you… can't fast forward to the end of the race… stay right here… pretty comfortable locking in on Game 1 even though it sounds boring… how we accomplish greatness."
• On Gary Payton II's return: "seamless it is when he's out there… hawk the ball… very comfortable… how he plays within our system… don't have to tell him much."
• On Leandro Barbosa: "All the videos we used to do on the plane singing that inappropriate song ('I'm In Love With The Coco')."
• On if he ever thinks this could be the last run: "That it's not the last time but it doesn't really matter right now… Draymond said the other day we're measured by how we play in the playoffs… emotional roller coaster all year… we've had tremendous success… let our play speak for itself… this business is what it is, a lot that's thrown at you… what could be or what might happen, but when we win everybody gets rewarded and that's what our goal is."
• On if there's indication the Kings can take it up a notch: "they've invested a lot into that journey… playoffs are different… just gotta win four games… cover that they're gonna come out and play extremely well because they've shown that all season."
• On talking to Mariah Stackhouse of the LPGA, what he's most excited about the KMPG tour with Underrated Golf: "they all come here to the Bay in August. Mariah… amazing ambassador… she's walked the walk that they're on… give back… gonna be awesome… only in Season 2… amazing momentum."
• Steve Kerr after Warriors Wednesday practice, on how important shot selection is vs Kings: "we can't cross the line turning chaos into turnovers… clean and efficient with our possessions… double-figure 3pt attempts… can't give them any easy stuff the other way."
• On the Kings' offense: "high-powered… (some reporters walk in late)… Sabonis at the top of the key, shooting all over the floor… number one in the league on offense."
• On seeing his team whole: "changes the dynamic of our team athletically… this is all we wanted… did a lot of things to persevere during the season."
• On Andrew Wiggins' status for Game 1: scrimmaged yesterday and today, but they will "play it by ear"; there are "positive signs… A little bit like Andre Iguodala, just doesn't seem to ever fall out of shape. He never seems to get tired, just a thoroughbred. He's so gifted athletically, that with the size and the length he can impact a game in a lot of ways… He looks really good in the scrimmages and we'll continue to give him more (work) each day and then we'll we'll get a read on it… He's really looked good this week. He's ramping up the conditioning. I talked to him today, he said he's a little sore from yesterday." (me, NBCSBA, CJ Holmes, Monte Poole, Kerith Burke, Janie McCauley)
• Kerr said there's a practical difference between the weeks Wiggins missed with injury/sickness earlier this season and this last 7-week absence, mostly because it's easier to get prepared to play again in the lead up to the playoffs rather than midseason. For instance, as opposed to midseason, now Wiggins and GSWs have had the chance to get in these back-to-back scrimmages and still have a few days to assess how it went physically and mentally before Wiggins' return to action. (Tim Kawakami)
• On Andre Iguodala's status: "Andre's a ways off, it's not even something we're thinking about right now." Andre's wrist is still in a brace and he has not practiced. Warriors say next update will come April 21. (Kerith Burke, CJ Holmes)
• On Draymond saying that the 73-win season taught them the playoffs is more important: "every season is incredibly unique… 73-win season… there was no way we were slowing down (in 2016)… seven years later, we've been on this journey a long time… it's a different vibe… taken us awhile to get to this point… we have things kinda falling into place."
• On GP2 guarding dynamic guards in the NBA: "winning in the playoffs is all about two-way basketball… really good feel playing off Draymond… those guys are worth so much."
• On Klay's 37 points being a religious experience and his factor this series: "nobody had ever done what he did… the way he did it, just how hot he was… the crowd… the team's emotion, Steph running up and down the sidelines… Klay's had a great year… really really consistent two-way performer… lucky to coach him."
• On Kuminga: "Yeah, JK's a key player for us… on-ball defense in particular… playoffs are always interesting because everything can change one game to the next… depending on matchups, depending on injuries, so we're gonna need everybody… JK will be a key part of that."
• On Steph getting better and better: "contientious about his workout routines… recognizing his body is aging… streamlining his workouts… always looking for new information… he loves the process… training… he loves collaborating… Brandon… Rick."
• On Draymond: "so unique as a player… powerful."
• On facing Mike Brown: "We texted when the matchups came out. I think everybody in our building just feels so happy for Mike and what he did for us while he was here, how much he contributed to our championships here and our culture it was just a great, great partnership…. You express your love for each other, and then the gloves come off and you wait until after the series ends to communicate again." (Kerith Burke, Janie McCauley, NBCSBA)
• On the playoffs being officiated differently: "You're getting the best officials… understand that players are gonna try to trick them… inexperienced officials aren't ready for that (in the regular season)… less of the phantom calls that you see in the regular season, frankly… a little more physical… feels like you gotta earn everything."
• On fast break points: "We just have to be sharper with these guys… we turned it over and took bad shots quite often… point of emphasis for us… they're gonna come right back at us."
• On GP2 affecting transition: "One more lob threat."
• On if Mike Brown told him anything about sitting his main guys the last meeting: "he's gotta worry about his own team… 30 different players in the NBA had their career high... gotta protect your guys… I would've done the same thing."
• ESPN Sources: Houston has received permission to interview Golden State associate head coach Kenny Atkinson for franchise's coaching job. Atkinson helped rebuild Nets into a playoff team and accepted Charlotte job before changing his mind and staying in Golden State a year ago. Atkinson has a strong history of creating an environment for young players to grow into winning professionals, including both as Brooklyn's head coach and as an assistant in several stops. (Adrian Wojnarowski)
• Ron Adams on 95.7 The Game: "We're going to scrimmage in the next couple of days but I think the moment will also really focus Wiggs and hopefully we'll see a good version of him. It's not simple to be away from the rhythm of the game and then be thrust into it again." (The Morning Roast)
• On Klay's defense: "I think lately [Klay's] been okay. He's had kind of an up and down defensive season, but he has shown that he can play at a high level defensively still. And I think the playoffs have always brought the best out in Klay." (The Morning Roast)
• Bob Myers on 95.7 The Game on Andrew Wiggins: "Scrimmaged yesterday, he looked good. All indications are he'll be able to go, but not sure how many minutes he'll get." (Steiny & Guru)
• On joining Wiggins at his returning presser: "Some part of life is just showing up and standing next to somebody when life is hard." (Steiny & Guru)
• On Kevon Looney leading the NBA in O-REBs converted into second-chance points: "[Looney's] rebounds are Rodman-type rebounds, outworking somebody." (Steiny & Guru)
• On the Sacramento Kings breaking their playoff drought: "It reminds me of when the 'We Believe' Warriors made the playoffs after a long time... I love seeing a fanbase get rewarded for their loyalty." (Steiny & Guru)
• On Mike Brown: "Mike coached LeBron James, Kobe Bryant, he coached against our teams in the NBA Finals. You can't be happier for that guy. He knows us well so I'm fascinated to see the coaching battle." (Steiny & Guru)
• On travel to and from Sacramento: Warriors will bus to Sac Friday and stay over between G1-G2 Sat/Sun and bus back after G2 on Monday night. Treating it just like any other road trip/series with bus instead of flight. (John Dickinson)
• Draymond Green on Marc Stein and Chris Haynes' podcast, on investigating who leaked the video of the punch: "I didn't want to get to the bottom of it... if I do find out, what am I gonna do? Am I gonna sue the Golden State Warriors? Ofc not...I did it...face the music... One of my worst moments as a pro...accept it, it got leaked and you shouldn't have done it."
• [Not in the video, but on the audio podcast:] Kerr can go "apeshit" at practice and lay into everybody (context: those things don't get leaked but his punch got leaked).
PHOTO GALLERY FROM PORTLAND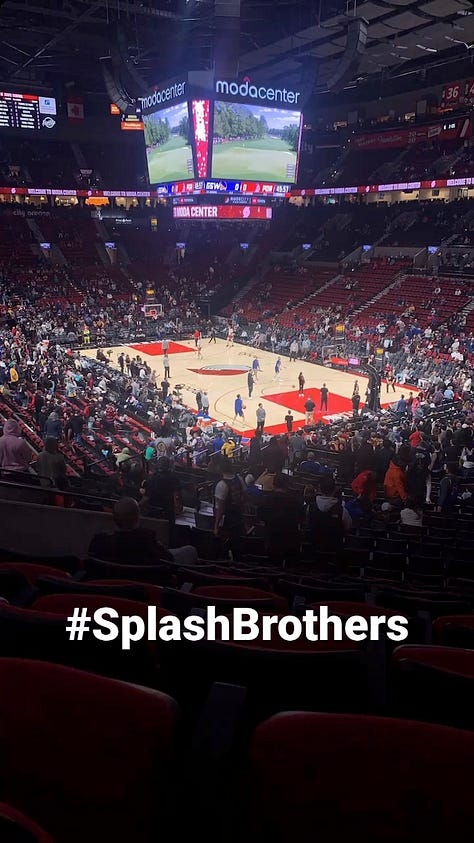 Friendly reminder: there's more pics on our YouTube Stories, accessible via the YT mobile app.
KUMINGA DUNK from different angles; "smile dammit!" to Klay; Steph Curry 💦 Portland courtside bts
0:00 the background and thumbnail I have, I googled "Drew Eubanks Warriors" Anthony Lamb, although Blazers PR just announced Eubanks is out as is Cam Reddish, among 11 players that are out (is that a record?) -- anyways, I found the silly picture from 2/28/2023, the box-and-1 Lillard game, DEFINITELY a tank job
4:30 Lamb is signed to just the rest-of-season contract, I had speculated many times in the past that he would get some kind of non-guaranteed multi-year type thing, possibly at a discount (?) -- not the case! This summer he's a RFA. More speculation: good chance Lamb will be back next season because why would any other team bother offering him more than the vet min if he's not really worth more than a vet min.
7:45 behind-the-scenes from SAC https://www.letsgowarriors.com/p/klay-visit-anta-china-september-chinaklay ...Poole arguing with Vereen, Andre stepping in; Klay told ESPN China postgame that his China trip will be in September #ChinaKlay
10:00 Klay 3 to open the game (tipoff was not shown, so I'm guessing Looney won the tip again), then another 3 next possession 11m10, Donte to Klay TD but Klay crafty around the rim 10m30
12:15 Klay another 3 10m05
13:30 Klay another 3 9m30
14:45 went through some Kerr pregame on Wiggins' ramp-up and I'm thinking Steve ought to mention things like "zero excuses" or "ideally we would win this game" as the anti-jinx to lack of focus
17:30 Klay steps on sideline and actually can't believe the ref called it lol 8m35
18:00 8m10 Dray to Loon tiki
18:45 7m30 Klay again! 300
19:00 7m05 Klay airball, someone on the bench is at fault for not yelling at Klay that he had 300, someone make sure to ask him about that postgame!
20:30 6m05 Dray Loon Donte tiki
20:45 5m45 Steph turns around on the 3 that hits front rim, the gall!
24:00 5m00 Steph GP tiki gravity
25:00 4m15 GP steal inbound, JP 3
25:45 3m30 GP steal again, leads to Moody to Steph 3
26:45 2m48 JK checks in, my theory on how he survived the fall (PJ Dozier non-FF at SAC): landed on the left padded elbow sleeve
27:45 2m35 good job Klay didn't get into landing space
28:15 2m15 Loon oreb to Mo to JK cut
30:15 I'm glad I woke up early for this barn-burner, the reason why we are playing all these games early today Easter Sunday is because the play-in teams are gonna rest before Tuesday night, so the earlier the better
35:00 11m30 JP gets downhill again (with a fake pass)
35:30 J-Mike is playing!
36:00 I wonder if Nike Hoop Summit guys are at this game? Maybe they have practice right now, not sure
37:30 Kelenna: "Don Nelson thought I was an alcoholic beverage"
42:45 JP again downhill 9m20
45:30 Bruce helps us figure out the Clippers need to beat the Suns today (lose tie with NOP)
46:45 Kelenna says Steph takes a cold shower before a must-win game (?)
48:15 JK top of square? alley-oop via Steph 5m10
50:30 Loon to Dray tiki 3m45, making mince-meat of their young defense
51:00 Steph scores among 3-4 guys 3m30
52:15 2m15 random Warriors chant! Never forget, it's so great to be a Warriors fan, where else or what other team are you gonna hear a random chant of the opponent name in an enemy arena? DubNation!
57:00 0m35 Steph over Shaedon, nothing he can do
59:00 I'm changing my mind even though I said two nights ago (with Dean) that we don't care, because Klay talked about it on the podium and the behind-the-scenes video from Sac
...where I noticed that it was like 30-40% Warriors fans, Klay saying there's no flight travel, I do want the Warriors to face the Kings
1:00:30 Kings are not gonna have homecourt advantage as the NBA normally knows it
1:04:00 I think it's commendable that the Pels will be over .500 without Zion for a majority of the season (29 games played)
1:05:00 if I may say so, I do love our SAC bts video, those are hard to do, three traunches of locked-in work needer per
1:06:45 we'll definitely go live for another playoff game anytime the Warriors have 2 or more days of rest
1:13:15 Donte immediate steal start of Q3
1:13:45 11m10 Dray bad pass, good job by Klay not to do the take foul! 2nd time Klay has avoided a rule that was put in place after he got injured
1:14:45 Steph and-one 11m00 but it feels like JP and Klay have more points, it's just that he scores in so many ways
1:15:30 Steph 3 after Donte steal: 24 points in less than 27 minutes elapsed! 10m45
1:18:45 Dean comes on! Lawler's Law (90%), Lawler's Corollary: overtime first team to go up by four probably wins
1:21:45 Dray 3 7m30
1:22:00 Dean thinks Dray's release has improved, let me check with Travis Walton
1:23:15 Klay 3 hits 100 7m00
1:26:45 Dean also says one reason to have all the games today at the same time is to kinda prevent tanking
1:36:30 JK baseline dominant dunk 1m00
1:37:15 JK good unselfish dime to Moody 3 on an opportunity to do a Kawhi fade 0m40
1:38:00 JK Wiggs' like dunk end of Q3, the bird's eye view does no justice, just the regular TV view is good enough wow!
1:41:45 I wonder what the norm is for a guy to go minutes in a row, we shall see when JK GP JP check out, they're getting a chance to keep playing now
1:43:00 JP great move smashing two Blazers together 10m50
1:46:30 JK and GP still in there, but all under 20 minutes
1:48:30 9m45 PBJ in for JK, Steve talks to JK
1:53:00 we talk about why ppl hated Lamb, Ty Jerome, Damion Lee, I think it's when they're not athletic-looking, Dean has a problem with people never doing mea culpas online, which is why LGW is super-different
1:56:30 wondering why Ty Jerome isn't in for GP2, might be that GP and PBJ need to play the 4-5 vs two tall lanky Blazers
2:02:00 on why JK is still in: I'm thinking JK is in because the Blazers have two tall guys at the 4-5. So the 4-5 on D is PBJ-GP-JK, rotate those guys. Also Dean says it's good for JK to get mins at the 5
2:14:45 if we play the Suns, will we play a tribute video for KD? Yes
KERR PODIUM AUDIO LOVE LOON!
2:39:00 Dean and I rave about Looney, had "baby Durant" high school career, doesn't need to shoot the 3 anymore even when we the media in the KD era joked that he should, knows his role, sets such a high bar, he's the future, the young backup to Draymond
KLAY PODIUM AUDIO
3:04:00 Dean: every time Klay gets going, we've played well
3:06:00 Draymond tweets "Insecurity is always loud...", what Rudy said 10/7/2022
3:09:45 Dean: 7th seed has the least the gain, LeBron now has had this twice (won their game in 2021)
STEPH POSTGAME AUDIO
3:34:00 Next livestreams: Tue 4/11 7pm PDT MIN-LAL, Fri 4/14 7pm battle for 8th seed, Sat 4/15 530pm WARRIORS-SAC
3:37:00 revisiting the Gobert punch of Kyle Anderson
3:40:00 Dean on the Warriors in the playoffs
3:40:30 Dean: "Draymond is a superstar"
3:41:00 me: "he does everything that a usual superstar doesn't, he's like the anti-superstar"
3:54:45 Nicole: "I want to see Psycho Dray"
4:00:00 Bruce: "I just think that warriors should have appropriate fear and not inappropriate arrogance against the kings"
4:25:00 I will do a breakdown between now and Saturday's game
4:28:00 Bruce: "not gonna lie I am feeling as stressed as I used to feel when I was watching MJ." -- eventually we will all feel the championship DNA at some point again, at every level of basketball I've ever seen and I've seen a lot, the championship DNA of veterans always comes out
• Klay Thompson postgame on making 300 threes: "I think it's cool to lead the league in threes made… dark times turned into some beautiful moments… I'm usually right about things I say. People don't give me credit, but they usually come true."
• On what he's referencing: "What am I referencing? Just in life. You speak facts."
• On entering the playoffs: "We're excited that we don't have to play the play-in game… I've learned in my time in the NBA that you can't hope to play anybody."
• On facing the Sacramento Kings: "Oh, that's who we're playing?… Kings fan will be excited… great for Northern California… great for us, we don't have to travel very far… flying across the country every other day (takes it toll)… You can boat from the San Francisco Bay to Sacramento. Don't test me… worked out very nicely. That's a team we greatly respect."
• On Wiggins and GP2 coming back: "Gary's great on offense too. I like where we're at. We're all healthy… we've tended to be a great playoff team… best time to be a basketball player, professionally."
• On how to get to Sacramento boat: "(After throwing paper airplane less far than desired…) You go up the Sacramento River. There's a deep river channel."
• Steph Curry postgame on avoiding the postgame: "control your own objective. Make sure you get a week off… nice to have a week off… gonna take everything to beat them four times (Sacramento)."
• On the historical matchup vs Kings: "That's more for everybody. For us, understanding what it takes to beat them four times… just nice to be officially in the playoffs with a week to prepare… the narratives and the excitement and the historical context of it all is just a part of the time of the year… nice to know that we're back in the fray."
• On things are lining up: "We know there's another level to get to… the focus is just on how you're playing (the last two games)… two things for us… taking care of the basketball and rebounding. Our defense has been a lot better… the biggest adjustment… Wiggs… we can hopefully rely on last year's success as a template… just a matter of how we can do it."
• On how hard it is for Wiggins to reintegrate: "I went through it last year… first game was Game One… a lot of adrenaline… Wiggs is an extremely pivotal part of what we do… the way that he plays is easy to integrate… defending the primary scorer… (minutes) might be the biggest adjustment… he understands what (the system) looks like… doesn't matter (starter or off the bench)… on the same page."
• On the advantage of facing Sacramento: "90-minute bus ride… Draymond talked about it on his podcast, it doesn't really matter… but it's helpful."
• On the easy wins: "You don't wanna grind it out… Moses to play 30 minutes… JK… GP… getting their legs under them… game experience… everybody's ready… least stressful path… we accomplished that."
• On if the regular season doesn't matter anymore: "because of what we accomplished and there's an expectation that we're built to win in the post-season… reputation we love to have but it's not easy getting through an 82-game season… we've gotten everybody's best punch… emotional roller coaster all year… disappointing losses, big wins, our road troubles… another playoff series that we thrive on."
• On if this was a tumultuous season: "wait until the end of the year."
• Draymond Green postgame on the Kings: "well-coached… young talent… downhill… shooters… tough challenge but every series is."
• On now entering the playoffs: "I was on a team that won 73 games… no one talks about that team… moral of the story is it does not matter… judged by how you do in the playoffs… they won this many road games, nobody cares… not make some of the mistakes we've made this regular season."
• On Wiggins coming back, GP: "lining up for us for sure… work out some kinks… really been since the All-Star Break since we've practiced… a lot of slippage."
• Steve Kerr postgame recap: "won eight of our last ten… our guys were locked in right from the beginning. They knew what was at stake… hopefully that carries over to next week… tumultuous season… into the playoffs and we've got a chance."
• On Klay getting 300: "I pulled Klay aside… let it happen… you don't need to chase anything… ok, no problem coach and he made five threes in the first five minutes… but they were great shots… I told him after the game just how proud I was of him… devastating injuries… win a championship… complete season, playing back-to-backs… testament to Klay… love for the game."
• On what he told the team: "been a rough year… they should feel really proud… adversity… I also singled out Loon and JP for playing all 82… bumps and bruises… be there for us every night… Loon, I believe, led the league in offensive rebounds… such a valuable cornerstone for our team. Everything you hope for when you draft a player… development, work ethic, approach, maturity, the leadership… hip surgery… on the other hip… quiet dignity… product of his family… upbringing… character."
• On the team watching the Suns-Clippers game as if it were selection Sunday: "I was watching the Masters… we were just trying to figure out… the fate of four or five teams are literally up in the air… sixth seed in the West region."
• Draymond Green postgame on-court on reaching the playoffs: "very refreshing… when you get to the playoffs, none of that matters… the real season starts."
• On winning road games in 27 consecutive playoff series: "done it over and over again. Gotta channel that… focus… mindset."
• On getting Wiggins: "It's a huge week for us… get some rest… tie up any loose ends… we know we can fix… we haven't practiced much."
• From Trail Blazers PR, INJURY REPORT 4/9 vs. GSW (1/2):
OUT
Badji (L Knee Surgery)
Grant (L Quad Contusion)
Johnson (R Fifth Finger Fracture)
Lillard (R Calf Tightness)
Little (L Ankle Sprain)
Nurkic (R Knee Soreness)
Simons (R Foot Soreness)
Thybulle (R Knee Effusion)
Winslow (L Ankle Surgery)
• Klay Thompson has made a career-best 295 3-pointers with 1 game left.
Unless Hield makes 14+ and Klay gets blanked today, Klay will lead the league in made 3s for the first time in his career. 5 more makes will get him past Harden's 299 in '19-20 for sixth most in NBA history. (Tim Kawakami)
• Another game notes gem: The trio of Steph, Klay, and Jordan need 6 three-pointers between them to have the most 3-pointers by a trio of teammates in a single season in NBA history. (Kerith Burke)
• Chauncey Billups on Gary Payton II: "Gary's done what he does. … He just knows how to play." Billups emphasized how much GP2 helps Steph, Klay and Jordan Poole . (Dalton Johnson)
• Steph Curry (right hip contusion) and Jonathan Kuminga (right toe contusion) were listed as probable for Sunday's regular-season finale in Portland, and are good to go per Steve Kerr pregame. (Madeline Kenney)
• Andrew Wiggins went through "some" 3-on-3 work yesterday and "a little" 5-on-5. Steve Kerr pregame Portland said it's be "irresponsible" to throw him out there before he's ready: "Ideally we would win the game today and have these next five or six days to prepare, which would include some scrimmaging and getting Wiggs back in the fold with everything we're doing scheme-wise and execution-wise and he gets another week." (Dalton Johnson, Madeline Kenney)
• Kerr on the must-win vs Portland: "We just gotta go win today. And that's a great situation to be in, all things considered the way this season has gone. It's been up and down and we've been through an awful lot but here we are, and so the ball's in our court. We're ready to go. We just have to take care of business." (Kerith Burke, CJ Holmes)
• On Klay chasing 300 threes: "I am definitely concerned (laughs). My message will be you're much more likely to get it if you don't try to get it and that's the truth."
• On a pair of the team's iron men: "Loon and Jordan Poole are going to play in their 82nd games today. That's incredible. The durability, the availability each and every night." (Kerith Burke)
👍👍💛💙
LetsGoWarriors is a reader-supported publication. To receive new posts and support my work, consider becoming a free or paid subscriber.