Discover more from LetsGoWarriors
Informational & credentialed independent Golden State Warriors Website, Discord app (for paid subscribers), and YouTube channel for fans seeking positivity and knowledge! Not affiliated with GSW.
Over 2,000 subscribers
Klay: "it's basketball man, it's hard"; Poole praise from Ant Edwards + more
[+notes/quotes/video from Warriors-Sixers/Timberwolves]
My efforts to get caught up on the notes, quotes and video game by game got seriously derailed by an illness this past weekend, so here we are. Let me take you on a recent journey of journalistic discovery to get you to the point at which I'm at, which is that I'm not all that worried about the Golden State Warriors. But then again, for each individual person that may just come down to how much of a worry-wart they are. 🤷🏻‍♂️
On Sunday night, grinding through a play-by-play on a scratchy throat (thank you, inventors of Chloraseptic), I noticed the Warriors were struggling in the midst of, no surprise, a slowed-down pace against the twin-tower lineup of the T'wolves. With less than ten minutes to go in the fourth quarter, a commenter named Jo Jo mentioned the turnovers by Draymond Green and the missed shots by Stephen Curry, adding, "The starters played bad overall this game. I hope they can crawl through this."
LetsGoWarriors is a reader-supported publication. To receive new posts and support my work, consider becoming a free or paid subscriber.
Well, "crawl" isn't exactly the Warriors' brand of basketball, but my top observation at the time was that it's hard to suddenly adjust to good play by the dual seven-footers Karl-Anthony Towns and Rudy Gobert — who had smacked Green in the face at least a couple times by then, perhaps spared a second FF1 by the referee crew due to the playoff implications of the game — not to mention the squad had just won three straight tough games, and we've seen the ebbs and flows of Curry before. I repeated to the audience, as a response to Jo Jo, "It's just hard. The NBA's hard, so that's basketball for you. It happens."
Almost two hours later (yes, my postgame coverage seems to end up being as long as or longer than the game itself sometimes), Klay Thompson finally hit the podium at nearly the fifth hour of our usual game livestream on YouTube and was asked by Monte Poole if he was surprised that the team threw the ball away twice in the waning moments of the loss to the Minnesota Timberwolves, especially in the wake of the urgency of the standings and the coveted non-play-in-bound sixth seed at stake.
"No," said Thompson. "It's basketball, man. It's hard, sometimes doesn't go your way."
If you look at the last four games as a seven-game series, the loss to Minnesota hardly seems like the time to jump off the cliff. In that analogy, it means we're now up 3-1 with a chance to close out against the New Orleans Pelicans. Of course, it's not really like that, the Pels are another game, a different team to game-plan for on your off-day and gameday walkthrough, and you could look at every matchup from here on out to Game 82 as a "must-win". Sure.
Anyways, I spent Monday catching up on the behind-the-scenes ("BTS") footage from the win against the Philadelphia 76ers, then started compiling the clips for the Minny loss, to finally coming across a snippet from the Timberwolves locker room back in Minneapolis; it's at the start of the BTS upload, so I'll just paste it here:
Based on my research, the video of Anthony Edwards praising Jordan Poole's shot as "automatic" was filmed by someone working for a new app called Heir. Heir seems to have booked a few athletes already for some behind-the-scenes stuff and Edwards is one of them.
As a journalist, I'm always wondering not only where something came from but when. So a quick look at Minnesota's recent schedule revealed that their last game at home was on 3/22 with the Warriors game at Chase on 3/26. These guys had three days to prepare for the SplashBrothers! With the NBA grind, that is an extreme advantage. In any case, I concluded that it is likely the clip was taken the night of 3/22, assuming it was in the Target Center locker room (the Timberwolves logo on the carpet is good enough for me as confirmation). Usually players are chatting it up like that after a game and the mood seems light, which is what you would expect after a good one-point win that night against the Atlanta Hawks.
And then I come to find out just hours ago that someone I know has been chatting with Steve Kerr about some of the problems the team has faced all season long. One ongoing joke is that the Warriors play much better defense at home when they use the dark wood flooring (yes, that is the case for tonight against New Orleans, whew!). My response:
This season is so crazy it could be anything, so yeah throw that in there. But I just realized this morning Minny had a whole three freaking days off to prepare for GSW. Plus KAT-Rudy with Jaden McDaniels on your best defensive player takes some getting used to. As far as this season you got a league-high fifteen back-to-backs, of them nine on the road, the schedule has been so supremely stacked against old guys like GSW this season it's laughable, but as a former Commish of a men's league, I get it. I mean, it worked! Also every game, it's something. Either Steph Klay Dray or Andrew Wiggins has been out for now nearly 90 games! But I'm not sure a lot of it was solvable. I've been around the game a lot, seen a lot of things esp scorekeeping twelve men's leagues games every Sunday for about a decade. I think the main thing is the NBA is a lot more difficult these days and, let's face it, you're talking about 12-year vets needing to be motivated throughout the regular season. You'd have to have some serious psychological skills and acumen or Zen to change the course of fate/time/destiny. They're doing the best they can. Also silver lining with Wiggs being out so much is the development of Jonathan Kuminga.
I keep going back to this: The NBA is so hard to figure out. The curveball it's sending this season to a lot of teams in the West is gonna demand a lot of strategy with rosters and the Draft — which we actually have a preview for coming up when the time is right. And so, whatever happens, it is truly a fascinating time and fun to figure it out, should we be unable to repeat. We have the best trio of management on the planet to figure it out and maintain a sustainable winning culture with Joe Lacob, Bob Myers (okay, Lacob's gotta figure that out soon, too), and Kerr.
With that, let us proceed on catching up with all the notes, quotes and video below in the usual reverse-chronological order (the exception being the BTS Philly video already posted above)…
WARRIORS-WOLVES PHOTO GALLERY
Friendly reminder: there are more pics on our YouTube Stories only available with the YouTube app. Substack image galleries are limited to a maximum of nine photos.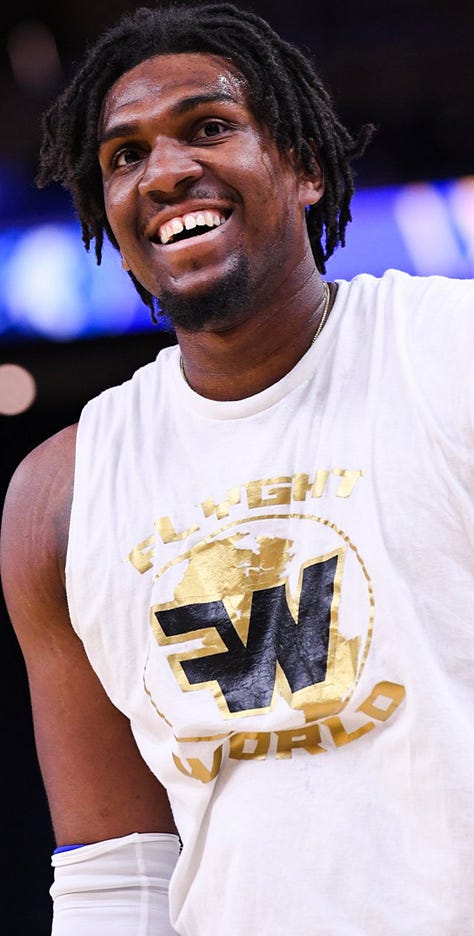 DISCLAIMER: These are all just notes for my main workflow of YouTube videos, mostly transcribed by me shortly after the interviews and during my coverage of postgame on our livestreams (!). Sometimes I'll just use what's tweeted by beatwriters, as listed. The links to the tweets are not available because sometimes I don't use the full tweet and just having a ton of tweets on this website imo isn't aesthetically pleasing and gets away from the main goal: transferring information (not so much entertainment) to the brains of DubNation asap.
• Steph Curry postgame on hardest part about the loss: "Nobody likes that feeling at all. We had a good streak going, found a lot of different ways to win… until KAT hit that three… walk off the court, nothing to show for it but we'll bounce back."
• On the bad fourth quarter start: "Three straight turnovers… I missed a layup in transition on 3-on-1… highly competitive, grind-it-out type of vibe."
• On over-passing: "it was more a feeling of get to space, run clock down, as I knew they only had three fouls. At first it felt like they were trying to take a foul… thought it was a little early to shoot… kicked it to Draymond… everything up until that point was just trying to run time off the clock."
• On 11 of 22 points off turnovers for Timberwolves: "they used their size, they tried to feed me, Klay, JP down in the paint… force you into those tough midranges… a couple possessions it was a little rushed for no reason… just the way the league goes and you just gotta take your pill and swallow it… if you can grind out a win… you obviously wanna play better."
• Klay Thompson postgame on what bothered him the most: "I don't think anything bothered me… let one slip away."
• Game recap: "I didn't take very good shots to start the second half. We just didn't get into a great rhythm. What else? Give them credit, they're big… I didn't get into a great rhythm… missed all of my two-pointers."
• On if he's surprised with this loss given the urgency: "No. It's basketball man, it's hard."
• On GP2: "It was great having Gary back… great part… champs… do that again for us this year."
• On what he liked about GP2: "Gary's a great cutter… gonna add so much value."
• On what makes him confident about Poole after costly turnovers tonight: "Right there (points to "champions" on the board)."
• Steve Kerr postgame on the late possessions and over-passing: "the final two minutes, we didn't execute… had a chance for a layup… turned it over… we didn't deserve to win… they outplayed us."
• On what hurts the most in the last 40 seconds: "I don't need to rank them… I gotta help them, I gotta do a better job myself… executing… couple possessions in those last two minutes… they hit the big shot."
• On late season late-game miscues: "of course it's a concern… you know every game is gonna be close."
• Gary Payton II halftime on-court on the crowd reception: "always love, nothing but love here from DubNation and the Bay."
• On how he feels: "Starting to feel like GP… get my reps in."
• On rebounding: "You know what it is down here, banging with the big guys and the trees."
• Gary Payton II "good. Felt like I was out there shorter than I was. 16 minutes. There's a lot of gaps in there."
• On the hardest part of the loss: "That we lost. Turnovers here and there… dancing around, not being on the same page… eventually ended up being a decider."
• On expectations for checking in to the game: "I didn't have any. I already knew there was love since I was back in DubNation… I mess with DubNation like that so it's all love."
• On how he felt: "I just felt like myself, move around, do what I need to do."
• On if it felt the same with Donte: "I've had multiple teammates throughout the years… he was like what you wanna do, full-court? I said absolutely… he already knows what I'm on… not hard to get adjusted."
Ant Edwards on Poole: "That n— automatic…watch his college highlights"; return of GP2; #Warriors-MIN
9:00 Looney wins another tip
9:15 push shot Dray via tiki
10:00 Klay maintaining strong center of gravity vs Gobert 11m30 Q1
10:45 Klay mad at himself for the travel 10m55
11:15 Steph bad habit of pushing people, talks about it with bench 10m40
12:15 Dray HoF pass to corner 3 Steph 10m15
15:45 Steph can't help it, hits Slo-Mo's elbow, subs out for JP 8m15, Kenny and Jama shake their heads!
20:00 commenters are saying we're not playing well: 1) Klay 2 tov, 2) Steph 2 pf, 3) maybe some early shots by Klay, JP x2
22:00 6m30 Donte got double-screened on the Ant 3
24:00 4m40 Donte great pass to Klay 3
26:00 Klay held ground vs Reid good D 3m50
27:15 Slo-mo dunk down the lane, again that JP forgetting the open man 3m40
29:00 Hil Milo Snowball: "why is there always 1 player on the other team that has a career night against the Warriors?" -- because it's the Warriors!
32:00 1m20 JK up-fake dunk
34:45 0m30 review of JP Reid FF1, Bill Kennedy we hope does not say it's a high-five
36:15 the problem with refs this year is that you always go, "Are they gonna screw this one up?"
38:15 GP2 coming in to guard McLaughlin seems anti-climatic 0m24
44:15 10m10 Q2 Dray thinks ball was kicked on the transition
45:45 9m30 Dray yells for and-one to ref Ray Acosta... be careful! Has now yelled at 2 refs
49:45 8m55 Alexander-Walker so open, Steph and JP messed up the coverage
51:00 7m30 GP2's first defensive impact is traveling on Ant
53:00 6m25 Lamb 3, spacing not great, GP2 in there
53:15 5m55 GP2 TD layup
54:00 5m20 Steph razzle-dazzle, Gobert yells at teammate to not leave him on Steph lol
55:30 4m45 GP2 again affects the play on D, switching onto Conley
1:01:30 2m45 Loon oreb tip team reb
1:02:15 2m20 Loon floors Conley on the screen, Steph good
1:02:45 2m00 Donte steals Conley, Dray dunk! The Dray exultation!
1:04:15 1m20 Steph tiki-taka DHOs galore!!!!
1:05:30 1m00 at FT, Donte love-tap to JP, Steve love-tap to Donte
1:13:45 Tim Roye at halftime: "Minnesota was held to 1 point in the last 5:03 of the 2nd quarter as the Dubs closed on a 15-1 run. GSW 55 Minnesota 53 at the break with 4 Warriors scoring double figures and Gobert has 12 boards for the Wolves."
1:14:15 Kerith Burke at halftime: "272 threes for Klay at halftime. Career record for a season is 276."
1:25:15 straight up charge McDaniels vs Steph, no complaint 10m10 Q3
1:26:45 9m15 Dray exquisite pass to Steph but turns into nothing
1:27:15 9m07 Dray says "all-ball" to Bill Kennedy, gives an eye roll
1:28:45 funny how NBCSBA is running a poll on Twitter (eye roll)
1:34:30 Kennedy's funny in announcing reviews: 8m28
1:38:45 Klay poor rotation, NAW easily past him for the lob to Rudy fouled 6m50
1:40:15 5m56 JP in for Donte, maybe do that earlier next time we get into 4-min droughts, Klay not a good shot (15 on shot clock)
1:41:45 5m00 Slomo amazing 3 but that was JP's fault for gambling and making the possession become chaotic
1:44:30 3m35 Loon finally makes a mistake, KAT 3 too easy
1:44:45 3m10 good change of direction by JK bucket
1:45:45 JK steals from Reid in post 2m20
1:46:30 J Dub: "Gobert keeps pushing Dray in the back" -- Dray and Klay maintain their base very well in the post
1:49:45 1m30 good help by JK on Rudy
1:50:30 0m50 JP downhill saves the day
1:53:15 we're gonna have to come back 3x in this game
1:56:30 JP saves the day on non-tiki 11m40
1:57:30 Steph bad tov, Dray bad tov, JP fouls Prince after pinning him
1:59:00 Naz Reid is 33.5% 3PP on the season, had some confidence looking down at his fee the play before last on the 3
2:00:15 Jo Jo: "also steph and dray makes mistakes the starter played bad overall this game i hope they can crawl through this" -- Conclusion: the NBA is hard (to bring it every single night)
2:02:30 9m52 LGW chant at Chase
2:03:00 Steph gives the ball up 2x vs KAT 9m05
2:03:45 GP2 changing the game: 3 then tov by Slo-mo 8m50
2:06:45 Vitor isn't happy with the NBA refs in general -- Idk that it can get any better. If there were more Dick Bavettas who have fun with the game, but that's hard to scale. Teaching them to be more like robots. Refs need reps too.
2:08:15 Klay to GP2 baseline, changing the game again 7m55
2:09:45 looked it up: last 2 games vs GSW: 30 pts, 20 pts
2:11:00 6m40 good D by Lamb and GP2 on Reid at rim
2:11:45 6m00 Klay needs to switch off Conley to stop POA Slo-mo
2:13:15 5m00 GP2 pass to cutting Loon!
2:15:00 JP looking for the hero ball over Gobert -- Steph and him will usually choose the flair over logic
2:17:00 Steph and Klay ugly shots 3m15, but the NBA is hard
2:19:45 Klay clutch again 2m40
2:20:30 DPOY vs Rudy swinging elbows on the drive 2m20
2:23:15 like I said earlier, non-FF1 on Rudy is epitomized by "are they gonna screw this up?"
2:27:00 Steph's fault for not anticipating the screen by Slo-Mo for KAT 1m40
2:28:00 JP 3 clutch via Klay 1m30
2:28:45 more great team d Steph Dray JP 1m00
2:29:30 Finch kept Rudy in, misses FT 0m30
2:30:30 0m15 Dray tov, Klay besides himself (before that, yet another JP 3 over Rudy that was short)
2:32:15 0m04 Steph says his fault on the tov by JP
2:34:15 0m02 Klay wasn't paying attention as pass to Jaden went too far
2:35:15 0m02 should McDaniels have missed the 2nd FT on purpose?
2:35:45 I think we're seeing the mortality of our big three tonight: Steph Klay Dray
2:37:15 smart play by Conley fouling Klay with one to give 0m02
2:37:45 Steph didn't even catch the ball properly
2:41:00 This is not a 7-game series. So just because JK didn't play as much in this game doesn't mean in a 7-game series, he'd become a non-factor.
2:50:00 we still have the best coach, the best goat, owner, GM and roster, I'd still rather be the GSW than any other franchise -- I always go back to gratitude, unlike NBCSBA who likes clickbait with their "Tough loss, how are you feeling DubNation?" ... Twitter would bully me for putting out gratitude
2:54:30 I forgot track the first 10 threes, but Conley was on fire, so I tip my hat to them
2:56:00 if under-estimating the opposition was a bad habit, like we've seen a few times this year, then I'd be concerned, but the under-estimating happens in basketball, even in a 7-game series (DEN MEM DAL) between Games 1 & 2
2:58:30 whatever the issues were tonight (I don't even care), they are not viral, they'll be fine
2:59:15 if Wiggs doesn't come back, there is an opportunity still for JK to take the mantle (not easy) or even GP2
GP2 POSTGAME AUDIO
KERR POSTGAME AUDIO
3:39:00 on whether or not anyone else besides GP2 and Kerr will come to the podium: Looney after another loss? Be funny if he just stonewalled Raymond
3:41:30 hopefully Dray is ok after multple blows to the head
3:42:15 was Gobert's non-FF1 not called because that would've ejected him from the game
3:44:00 Monte: "dray had to go against joel, kat, and gobert damn"
3:45:45 need a new nickname for Slo-Mo as NBCSBA replays all the turnovers and Anderson was in the play for at least 4 of them
3:50:45 I did it again: Klay says "basketball is hard, man", EXACTLY what I said postgame
3:56:00 I'm mostly not worried about "wear and tear" and whatever panicky reactions there are to this game because we've just won 3 playoff-like games in a row and we've shown before that we're liable to have a brain-fart game every four games (DEN MEM DAL), I'm not even including being down 2-1. You don't think when we were down 2-1 in Boston, that people weren't saying "Oh, we look worn down?"
3:59:00 "we take lemons and we make lemonade", if we knew what really happened to Wiggs, I bet we tell him, "man, take two years off!" Same thing if people knew my true story on building LGW
4:02:00 Nicole: "I think the Warriors should make a little celebration at the end of the season and give Loon like a "team MVP" award.. they can call it "The Iron Man Award""
4:14:00 Rich Linehan: "everyone is under wear and tear"
• Steve Kerr pregame Timberwolves on the status of Gary Payton II: "Gary is good to go. We're excited to get him back. We'll plug him in and it's been a while since he's played, so we'll see how he looks and see how he feels and go from there." (Warriors PR)
• On Klay's three-point production this season, best of his career: "He'll be able to do that till he's 90. He's always going to be able to shoot, but I think the main thing is just the durability. The fact that he's playing back-to-backs now, playing heavy minutes, he's just put in so much work to get to this point and to overcome the two injuries, and now to play at such a high level, everybody is thrilled for him." (Warriors PR)
• On how he addresses the team about rotation changes: "I say it. I say it out loud to the group. I think the one thing every player wants is clarity and honestly. Having been a player before, everything is much easier when you know what the coach is thinking. I always try to share with our guys what we are looking to do and with Gary coming back it means that some minutes will obviously be taken away from other guys, but it's hard to tell really who those minutes will come from, because a lot will depend on what combinations are working. This is a different team from last year in a lot of ways. There are a handful of guys who Gary hasn't played with before, so there is still a little bit of experimentation ahead." (Warriors PR)
• On the benefits of having vets late in the season: "It's everything. These guys have played in so many high stakes games. They've been in every situation including this one. A couple of years ago when we finished eighth and we were in the Play-In Tournament and lost both games. All of that experience adds up and is helpful. Our core players are our leaders. The guys that have been around for a long time and they are able to share that wisdom with their teammates and it gives our team a good foundation of leadership going down this stretch." (Warriors PR)
• Gary Payton II after practice, day before Timberwolves, on how he feels: "Feels good. Starting to feel like myself. Excited to get back to it… with the guys, ramp this up for this home stretch."
• On re-integrating with the team: "Riding a bike. Add a couple pegs to the back… I know where they like to be."
• On the difference between last year and this year's team: "We're just younger… coming off the bench, but it's more energy… play around for this last week."
• On playing the rim-running position: "Well, yeah, it's kinda how I play… get back to what we do normally. I'm a guard."
• On how he got back: "More and more I feel like myself… working through all the little pains, little bumps and bruises."
• On knowing how to ramp-up with the team: "It's just reps… maintenance and fine-tuning… had a little time… ready to go."
• On how to be a leader for the youngsters: "Just go out there and play… speaks louder than talking to the guys. Lead by example… intensity and get back to what we're doing… thrilled to play with all the guys on the bench mob."
• Steve Kerr after practice, day before Timberwolves: "We had a light practice but he scrimmaged yesterday, felt good, list him as probable for tomorrow."
• On GP2's advantages: "It's a big deal for us to score in transition… likes to run to the three point line… easy baskets (for Gary)… ability to finish with force and quickness… we've missed that… weakest teams in the league in transition points per possession… not a great stat."
• On if GP2's return will be seamless: "I don't think anything is seamless in the NBA… he's gonna eat into some minutes of other played. That's not easy to handle… all hands on deck… every game is gonna be different… closed that game with Donte and JK (vs Dallas)… Jordan and Loon (vs Sixers)… on the teams that are successful everybody is able to submit… not easy to do. We're all human… one night might be mine, the other night might not."
• On whose minutes will be affected most by GP2's return: "A lot of people can be impacted… first we gotta see where Gary is physically… really mostly a 4 in a guard spot… have to have the right combinations around him… we had lineup combinations that really made a lot of sense… the year before… tougher to plug him in."
• On if Gary will be on a minutes restriction: "Yeah that's fair. I haven't talked to the training staff yet… not something where he'd be playing 30-35 minutes anyway… spot-minute guy."
• On how to deal with minutes restrictions: "They're not scientific… hey, 20 minutes makes sense… it's not like we have a stopwatch out… we're constantly talking to the player and to Rick."
• On getting GP2 back with seven games: "for his conditioning… our other players who haven't played with him… takes some time to find combinations and patterns… be great to have these last seven games."
• On Poole: "everybody needs games where they perform well to feel good about themselves… felt like a JP performance from the playoffs last season… playing with flow and we stayed with him… playing well defensively."
• On if Poole's ability to get downhill is underrated: "it's the main part of his game that we need… break the defense down that changes who we are as a team… last in the league in free throws… relies on jump shooting… dribble hand offs… we don't have somebody who really gets to the line frequently."
WARRIORS-SIXERS PHOTO GALLERY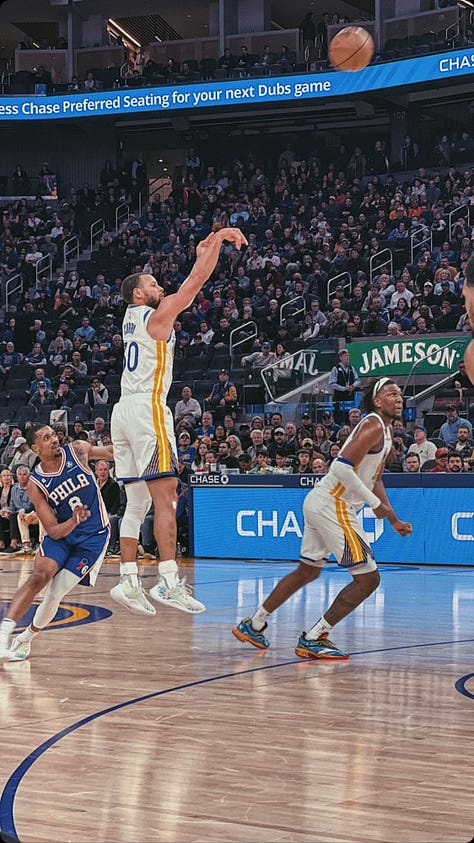 3:03 • Doc Rivers postgame… ON IF THEY RAN OUT OF ENERGY: "Yeah. I thought Joel (Embiid) was great all night. I didn't like our shot selections other than Joel most of the night. I thought a lot of times we got in the paint, could have made extra passes, and we've been a great passing team. We just didn't do that tonight. I think sometimes you want to try and beat a team and so you start trying and each guy try to do it themselves. Then defensively I thought we were just shallow and that's not having D-House (Danuel House), not having Jaden (McDaniels). We didn't have enough guys defensively. You know their bench really hurt us, Poole had an amazing game. We needed more length on the floor, we just didn't have the guys."
ON JOEL EMBIID'S ENERGY THROUGHOUT THE GAME: "Yeah I mean he's Joel Embiid, he does Joel Embiid things. He was great overall. You know having him up, and we have him up a lot in our coverages, which is exhausting defensively, he did that. So no qualms there. Overall you know I loved his shots, I didn't like any of our first quarter shots at all I thought we settled. Then I thought we got into the game and started moving the ball, then in the third and fourth quarter we went back to the way we were playing in the first quarter. We missed a lot of wide-open shots I will say that. Just felt like we left a lot of offense on the floor and that was troubling."
ON THEIR STRUGGLES TO START Q2 & Q4: "Well we couldn't score, you know, and then that gets them out in transition. So that was what was problematic. Obviously not having James (Harden), James usually starts the second quarter so you have more offense on the floor. We had Tyrese (Maxey) out there by himself with guys and we didn't run good offense. That group overall this year I would say for the most part we get a lot of continuity, we run a lot of stuff, tonight we just didn't do it. When you don't have Joel or James on the floor you have to run continuity, and we didn't do that tonight."
8:34 • Tyrese Maxey postgame… ON THE MARGIN FOR ERROR BEING SO SMALL: "Yeah it was little moments on defense where we had some breakdowns where they capitalized on. Offensively sometimes we weren't as aggressive and looking to pass to one another, and sometimes that came on me. Sometimes we got slow and stagnant, we lost our pace, and that hurt us."
ON THE BIGGEST ISSUE DEFENSIVELY DOWN THE STRETCH: "It was just a lot of breakdowns. A lot of different breakdowns, miscommunications, sometimes guys didn't know if we were switching one through five, or we were corralling. It's a split second that you have in games like these, especially with good teams like them who know what they're doing, know what they're looking for, and a one-on-one breakdown will lead to a three, and then lead to another three and a dunk, now that's eight points and 11-point lead is a three point lead extremely fast."
ON GETTING THEIR PACE BACK IN THE MOMENT OF THE GAME: "Well first you got to try and get a stop. Then once you get a stop you kind of push the pace and then you kind of find your rhythm that way. But if you're not getting stops you got to find ways to get into your stuff quickly, get into your actions quickly, until you have time, especially if you're getting the ball to Joel (Embiid), and he has time to make a decision, because they're going to trap and he has to have time and space to find his teammates. Or if you're doing a pick-and-roll we got to be able to have time to get downhill and make plays for others."
12:57 • Joel Embiid postgame (audio only)… ON THE BIGGEST ISSUES DOWN THE STRETCH: "I mean the way that we started the fourth, you know we weren't as physical as we were the first three quarters you know we let them get going, especially Poole (Jordan Poole) they made a lot of tough shots and they broke us down and then that set the tone for the rest of the fourth, but you know we uh, whatever."
ON MOVING FORWARD FROM THIS GAME: "Yeah I mean for sure but you know you also missing James (Harden) and a couple of key guys you know that could have helped but we felt it especially against Golden State you can't just you can't give them a bunch of looks, they are hot at any time like I said we gave them confidence at the start of that fourth quarter and they just ran away with it so yeah, so yeah doesn't matter playoff or not against a team like that's won a couple of championship you always got to be on edge."
ON HOW HIS CALF FEELS: "It's okay, a little sore but whatever got to keep managing it to see how it feels tomorrow and you know the next few days. It's all about making sure I'm healthy for playoffs so whatever that gets me there healthy, that's what we are going to do."
ON HOW MUCH A HIGH-SCORING GAME PLUS DEFENDING TAKES OUT OF HIM: "It's tough you know when you got to do a lot offensively, and then defensively you also got to do a lot, whether it's protecting the rim, edging and you know helping all over the place, especially against a team at that end that moves the ball, that makes your defense get in rotations all the time it's tough but that's my job and I love it. Tonight could have been better but you know we kinda went away from what was working at the start, and when I came back in the fourth quarter you know I didn't go get the ball as much as I did when I can back in so that's on me and defensively I wasn't as good as I should have been."
18:09 • Kevon Looney postgame… 20:20 one offensive rebound away from tying Robert Parish at 10th on the all-time franchise list for the Warriors.
• Moses Moody postgame on what stood out tonight: "Seeing a lot of pluses… points spread out across the box and then rebounding."
• On how comfortable he feels: "I'm excited anything I can get, going out and affecting the game any way that I can."
• On staying ready: "It's the NBA. It's a grown man's game. You gotta be prepared… right attitude. If you don't got that then you're not gonna be ready when your number is called."
• On seeing main guys step up: "Confidence-wise… we can get a quick twenty points from many guys."
• On Poole's development: "just being able to see how he overcomes adversity, dealing with different situations,
• On how he knows Poole is playing well: "he'll tell you about it (laughs). Got that character that will light up a room."
• On knowing GP2 is confirm back: "I was here last year so I've seen it first hand how he can affect a game."
• On a playoff atmosphere at Chase: "Feeling that energy from the crowd… roaring like the playoffs… trying to get a must-get win."
• On getting into playoff form: "Last year this time I remember hearing other people talking about the playoffs and not knowing… magnified more… best time of year."
• Jordan Poole postgame on looking at who's on the court, if this has been his best year: "this year's a little different… we had a couple older guys… Loon or Draymond or Wiggs or Gary (on defense)… try to get these guys open looks."
• On feeling like they should win every home game: "I don't think we can afford to give up too many home losses… get as many as we can on the road."
• On how to describe his Q4 surge: "Opportunity."
• On how he got into a groove: "Get a stretch like that, catch my rhythm… as opposed to coming in, eh to figure out… rhythm… Steph was just telling me to be aggressive… get time to catch my rhythm and line up my shots, it makes the play-making easier."
• On catching a rhythm as a passer too, or a play-maker: "I guess."
• On if anything has changed: "No. I knew you'd ask that. I'm doing the same thing I normally do."
• On having a more patient approach: "Nah."
• On if there is a switch that he turns on: "It's a different type of basketball in the playoffs. I was able to experience that last year. Everybody needs to hit the switch just because it's a different level. You kinda got to amp it up… older guys, they kinda already know that… yeah, sure."
• On if the stakes being higher amps him up more defensive: "everything is just so important… play call, decision-making… you like living up to those moments… rise to the occasion… when we're locked in like we were, we're a really special team and hard to stop."
• On if he got into Maxey's head: "Nah. I just be out there hoopin' bro, tbh."
• On expanding on using the word slander in the postgame on-court: "Nah, y'all know what it is. Y'all know what's good. Good win. Big win. Got it done on both ends of the floor. Got another game in a couple days."
• Jordan Poole postgame on-court on momentum: "catch our rhythm and our chemistry… we know that the West is really competitive right now."
• On playoff energy at Chase: "Ots always amazing when we get to go back home… obviously we're comfortable here… put our team in a position to make a playoff push."
• On his decision-making: "I was a bit more aggressive tonight… depending… on who's out there… get a rhythm… put some pressure on the defense… got a little bit more of an opportunity tonight… we got a huge win."
• On being engaged on defense: "It's definitely Playoff JP but what's crazy is that y'all know that, so I don't wanna hear anything else, all of that extra slander y'all be talking about. Y'all know what it is."
• Steph Curry postgame on feeling like they're supposed to win at home: "whether it's the standings race or the momentum… find some type of confidence… how everybody attacks their role… it all leads to having a sense of urgency to winning the next game… time of year we're in… short-term, long-term."
• On the top six being the priority: "how big it was against Dallas to get the tiebreaker… stay out of the play-in… gives you an extra week to prepare… if we can control that we should be able to do that."
• On feeling guys making the shift towards playoffs: "Yeah, but last year we were terrible in the last 12 or 15 games. But the mindset… nobody wants to limp into the playoffs and somewhat turn that on… for us to bounce back and put together a solid string of games… you just wanna feel good going into whatever playoff picture."
• On Poole: "it's just clear that when you approach the game the right way… good things usually happen on both sides of the ball… he competed on the other end and got rewarded for it… assertive and decisive the whole frame… versatility to call his number… it was a fun way to play and see him go off… everybody was a threat and JP started the whole thing for us… whatever the game requires… being aggressive and being ready."
• Draymond Green postgame on Poole: "aggressive from the time he came into the game. He did a great job of picking and choosing his spots. And also the defensive end… growth… locking down on that end… consistent effort… that called for him being great on all sides, one of the main guys carrying us."
• On defending Embiid: "with a guy like that you never wanna give him a steady diet of anything… he said you know why I played like that tonight? You said Jokic is the hardest guy to guard in the league. So I wanna say Joel is the hardest guy to guard in the league… Coach kinda gave us the free will of take some hits and pull back… the way Loon battled… the hope is that you wear him down… he missed a few minutes… trust the process."
• On Poole getting under-reported: "When you have success that just comes with the territory… the pressure that he puts on the rim, not many people talk about that… good passer as well… how much pressure he can put on the defense when he goes downhill (isn't reported enough)."
• Steve Kerr postgame on Poole saying he's rounding into playoff form: "He had such a great playoff run last year… tonight something about it get like last year… just attacking… also getting to the line… entirely different dimension… really competed down the stretch defensively as well."
• On Poole: "Better decision-making, more mindful play… the ball is everything for us… we're a high turnover team… a little chaotic… important for the guys coming off the bench to make sure they're taking care of it… five or six (to start) and then only seven for the game."
• On Steph letting JP do his thing, playing entire Q4: "felt like such a big game for us… on track for 38… he didn't look tired. It's one thing if he looks tired… he told us he felt fine."
Warriors-Sixers up-close: Steph Curry pregame, postgame tunnel with Riley; DJ; Poole x Embiid +MORE
4:00 only 8 games left! Enjoy and have gratitude, DubNation
5:15 the whole start Kuminga debate: what I think we are trying to avoid is opponents playing with his head like Draymond did Westbrook, just sagging way off -- right now, I trust Donte more even though his 3PP hasn't been as good as JK's
6:45 explaining why De'Anthony Melton was not retained by Grizzlies (Tyus Jones/salary cap)
11:55 LOON WINS ANOTHER TIP!
12:00 Dray good tiki but threw it away 11m55 Q1
12:45 Loon saves the day screen for Klay shot clock buzzer 11m05
14:00 10m00 more tiki Loon to Dray
16:30 all the slander on Bob Myers and Steve Kerr for Wiseman's good numbers, well, have you seen his win-loss percentages? No pressure to win in Detroit whatsoever, total opposite on the Warriors
17:00 8m20 Steve upset by Dray's turnover
18:15 7m15 Donte too early of a shot over Embiid
18:45 6m50 slow down, Steph tiki with Dray, Doc timeout
19:30 no one can cry about us vs Sixers w/o Harden because we haven't had Wiggs for 18 straight games
22:30 5m45 no call for Steph on the drive and stop, Embiid does get a call, argh
24:30 4m55 JK low pass to Dray, low pass to save it back to JK, but Dray will get the tov
27:15 4m20 good ATO gets JP 3 after passes
27:30 4m15 but Doc had an ATO as well, alley-oop to Tobias
28:00 4m00 Embiid tramples JP
28:30 3m35 JK Wiggs-like oreb
29:00 3m30 Tony Brothers with some phantom calls, just like last game we had him, he's out of my Top Ten refs
30:00 2m40 Embiid shuffle feet in paint, no call, no call for JP 94 feet away
31:15 1m40 J-Mike crucial open 3 vs Embiid
32:15 @strawhats100 asks why Steph has sat down -- Hasn't Kerr been doing that? Start Q2, rest, finish Q2 (which means rest end of Q1 unless last shot)
32:45 finally Brothers makes a call consistent with the others, JK shuffled feet maybe, same no call as Embiid
34:00 0m40 J-Mike another oreb putback
34:30 0m18 J-Mike should've been all over double-team of Embiid, doesn't, he scores
39:30 One things about the Sixers I'm not concerned with is 3PP (albeit w/o Harden)
40:00 Lamb great reverse finish on the break, GP2 ends up talking to him walking to bench 10m15 Q2
45:30 8m50 JP nasty stepback vs Maxey!
46:00 Steph takes a charge, points at (Ayesha?), J-Mike then dunks 8m00
47:45 JK hits a three to erase doubt 6m55
48:15 Klay calls a pick from JK but JK too busy posting up 6m30
51:45 5m55 Embiid hand on JP's back, no call, Dray then at the timeout complains vigorously to Brothers, who gives him a blank stare, Brothers knows how to handle Dray, at least doesn't give him a tech usually, Brothers says JP warded off Embiid with left forearm
54:15 5m20 JK decisive! Attacks Tucker like a big dawg, if Steph's the little dawg a la J-Mike and Scrappy Doo, then what does that make JK?
55:30 4m40 good patience by Klay, didn't challenge Tobias then got the corner 3 vs Embiid
56:15 4m20 Tobias fouled by Klay but it's not a call you make in the playoffs -- NBA HAS A PROBLEM THAT REFS CALL THE GAME DIFFERENT IN THE PLAYOFFS, it sucks when you have playoff-like matchups in the regular season
57:45 3m00 we finally get an airball putback (Dray)
58:30 2m55 Loon foul on Embiid, but good job telling ref that Joel is initiating the contact on the rip through
59:15 2m40 Klay shoots again early, after missing two straight, thankfully Joel misses 3
1:00:00 2m00 Maxey stepback over Steph, amazing he's making so little money ($4m-ish), is easily worth $10-15M
1:01:45 1m30 Steph draws a cheapie reach-in on Embiid but only 2 pf so far
1:03:15 0m45 Steph great POA vs Shake Milton trying to go downhill, probably underestimated Steph's defense
1:07:15 Bruce Maro: JK is Marmaduke 😂
1:18:15 Donte is 13 for his last 41 on threes
1:18:45 Dean Agan: "In my eyes, Luka and Kyrie hasn't figured out how to play together. That's what makes Steph, Klay and Dray so special." -- another example of why NBA IRL is not NBA2K
1:21:45 9m00 Melton fouled Steph on the cut, no call, missed layup
1:23:15 9m45 Dray so good around the hoop lately, downhill (always)
1:25:30 Klay tech, Embiid shoots the FT (8/11), never seen a 5 take a tech over guards
1:27:00 7m35 Dray inbound tov argh
1:28:15 7m05 great job by Donte to avoid the PNR, then Donte gets the bad screen on PJ, that's why you trust Donte more than JK to start, eventually he'll do a high-IQ thing, "are you curious or are you judgmental?"
1:31:15 Blasian: "These high level games are so nerve racking, can't believe people like these types of games, I personally love games where my team is up 10+" -- process over results! Be fond of learning about the game rather than just winning
1:32:45 6m20 Looney great D on Embiid 2nd half
1:33:00 6m15 it's the best when the ball trickles away after the made 3 (by Klay)
1:33:45 5m50 our guys are so old that sometimes you never see a guy back on D on a bad tov (by Donte)
1:36:15 4m50 Steph's had the bad habit of pushing with arm throughout whole career, at least JP doesn't have that
1:41:15 strawhats: "its the toughest era to play defense now...not just because of the spacing and skill level, but officiating makes it all the more difficult"
1:43:45 JP 3 and-1, credit Loon's screen 2m45
1:45:15 Lamb lost his man 1m40
1:49:30 JK reach-in bad 0m05 but he's a kid, had Joel tripled, Klay wasn't happy with JK
1:51:00 JP mysteriously inbounds to Dray instead of an open Steph 0m03
1:52:30 Joel averages 34 mpg so expect him back with 6 mins to go or 7 (currently at 28)
1:55:00 11m10 Moody didn't cut when he should've, J-Mike saves the day with an oreb
1:56:00 10m30 good 3 decision by Moody
2:00:15 8m45 JP looked like V for Vendetta on the celebration of the 3 over Reed
2:01:00 8m30 JP blazing fast between the legs, the Flash! now only down 2
2:01:45 probably need to bring Steph out here, 30 mins played with 8.5 mins to go
2:06:15 JK getting the Westbrook treatment, Dray probably shouldn't have closed out so hard on Embiid, but the bottom line is this guy is an MVP candidate, it's difficult
2:08:30 seems like we do need a fence-bender, whether that's GP2 or Wiggs, and we'll see when GP comes back if we also need Wiggs
2:12:30 JP again downhill vs Embiid, forces a timeout after Loon oreb putback
2:16:15 Denver side trip aside from away games, that's a tough trip actually
2:17:00 5m05 Klay clutch 3, clutch PNR by Dray
2:17:15 4m45 only guy DPOY can't strip from is Embiid, scrambled, Embiid got a dunk, JP another downhill, then Steph TD pass to JP goat by Steph
2:19:45 Steph wizardry! 2m25
2:21:45 good D by Klay to avoid Embiid screen 1m55
2:22:30 1m30 champ DNA defense, Klay good box-out, Steph reb, Dray extra pass to JP corner 3
2:23:45 is JP doing this without baddies? Someone check courtside
2:24:30 Dray stops Maxey on the rotation! 1m03
2:25:00 goat layup G4! over Niang 0m50
2:25:15 JP even stopping Maxey looks inspired 0m40, it's like if YOU were subbed into the game, YOU would play the best defense of your life, that's just how it works with our DNA
2:26:45 Bruce: "Looney gonna need that Icy Hot later tonight."
2:29:45 PHX loses to SAC
2:30:15 Dean Agan with the perfect game recap: "Man, I love the mental toughness of the warriors in this game. Embiid was killing them but they kept their composure."
2:32:15 Bruce Maro: "Great win besides some if the craziest, defeatist comments that have seen here. You are either a warriors fan or not. Cannot be halfway"
2:33:45 Vitor: "wArRiors nEed A bIg"
2:34:45 POOLE ON-COURT AUDIO
2:41:30 showing you what JP was talking about: SF Chronicle article
2:49:45 KM Johnson: "I love listening to The Game but sometimes I do wonder how the players must feel if they turned on the radio @Nicole Diaz" ... Nicole: "in that radio station they spend the ENTIRE day trashing him and the whole team"
2:58:15 commenters are saying refs were fair, so does Brothers get back to my Top Ten? Ok! But only if he stops the ticky-tack calls in the playoffs
3:04:15 diatribe on player development, how 95.7 was pushing PBJ to Kerr on the radio, the thing that we forget is, if you hate Steve, who are you gonna replace him with? So you're gonna gut the whole program that he's installed? If you visit Oracle Performance Center, that's him and Rick Celebrini (and Joe Lacob and Bob Myers) -- it's their culture, so if you get rid of Steve, you've got to rebuild or culture, no small task
KERR, DRAYMOND, STEPH PODIUM AUDIO
3:48:00 on how I don't like it when media uses the metaphor "flip a switch". That's not what's happening and it's not the right read of the game of basketball. The right read is "pounding the rock".
3:56:45 on Draymond having Tristan Thompson on his podcast, I have the original report on their first beef, later became friends through LeBron and Klutch:
• Steve Kerr pregame Sixers ON MOSES MOODY'S ROTATIONAL MINUTES: "Well, he's just got guys in front of him who are playing well. Moses has done a great job. Every time he's come in (the game) the last couple of weeks he's brought great energy. He's rotating early, he's being aggressive on the glass and he's making good plays. Every night is determined by who is available and how the game is going. I won't hesitate to put him in if I see fit because he's really coming along and playing well." (Warriors PR)
ON JONATHAN KUMINGA'S PLAY ON THE MOST RECENT ROAD TRIP: "I just see him recognizing situations more quickly and making the appropriate read on time and being comfortable with that read. I think as a rookie, for every player, the game is moving so fast that timing is usually a little bit off. The game seems to be slowing now for him and he's really patient in attacking at the right time and shooting with confidence. It's exciting to see." (Warriors PR)
ON IF HE THINKS MORE AND MORE TEAMS ARE LEANING HEAVILY ON THEIR STARS: "I think Houston with James (Harden) were probably the first team to really go all in. I may be missing someone or some team, but that's the first team I think of immediately when I think of a team that goes all in on one guy, creating every play. Obviously, Dallas has had a lot of success with Luka (Dončić). I guess my best guess is that more and more teams are putting four shooters around their stars now and if you have five-out spacing, and you put the ball in the hands of a guy that can break the defense down, that's really hard to guard, so teams are doing it over and over again. It's kind of where the league is trending with all the shooting and all the space that is available. Teams are starting to try and use that pick on game and use their best players as much as possible." (Warriors PR)
• Steve Kerr pregame Sixers says the plan remains for Gary Payton II to practice tomorrow: "we'll see where he is…he's coming along well, and I think there's a chance he can play on this homestand." (Kerith Burke)
• On Wiggins: no update. [He hasn't played since Feb. 13. Tonight's game will be the 18th straight Wiggins has missed.] (Tim Bontemps)
• James Harden is out tonight against the Warriors. Doc Rivers said Joel Embiid is "fine". Sounds like he's cleared to play. (Anthony Slater)
• Doc Rivers always likes to get a round of golf in when visiting the Bay Area. I told him he was lucky he got to golf this trip - he played San Francisco Golf Club for those wondering - given the recent crazy weather. "I hear you guys had a tiny storm come in," he cracked. (Janie McCauley)
• I can tell you from the Eastern Conference perspective, nobody wants to see the Warriors in the postseason. (Kate Scott, 76ers TV pbp)
👍👍💛💙
LetsGoWarriors is a reader-supported publication. To receive new posts and support my work, consider becoming a free or paid subscriber.