Discover more from LetsGoWarriors
Informational & credentialed independent Golden State Warriors Website, Discord app (for paid subscribers), and YouTube channel for fans seeking positivity and knowledge! Not affiliated with GSW.
Over 2,000 subscribers
Klay says he'll visit China in September, probably
[+notes/quotes/video from Warriors-Kings]
A lot of little nuggets were uncovered from the win at Golden 1 Center against the Sacramento Kings. The main ones:
Klay Thompson is planning his next ANTA tour to China for September. This was asked of him by Chao Meng, NBA reporter for ESPN China (aka Tencent), postgame on-court. You can vaguely make out him saying this in our behind-the-scenes video below and that news has also been confirmed by at least two major Warriors fan accounts on Weibo.

Jordan Poole got into it with assistant coach Anthony Vereen (aka "AV") during a timeout, in regards to complaining to the refs. You can see the clip in our video below, where Andre Iguodala eventually intervenes and says, "AV! AV!" to try and stop Vereen from yelling. In fact, Steve Kerr mentions on the podium — video of which also embedded somewhere below — that Poole (0-for-10 from the field, but 8-for-9 from the free throw line), argued too much with the refs. But if we know our squad, we know that sometimes these intra-altercations lead to more bonding, as we saw during the New Orleans Pelicans game when assistant Jacob Rubin got into it with Draymond Green; shortly thereafter Bob Myers told Green to go back to the huddle. Ironically, this was also over a foul — in that case it was Draymond being taken out after his fourth foul:

I would roughly guess — and this is based on a lot of video, much of which is in our usual YouTube upload, embedded below, at least three out of every ten fans attending the game in Sacramento were Warriors fans. A first-round series against the Kings might not actually be significant homecourt advantage for the higher seed! Not to mention the lack of air travel, also mentioned in the postgame by Klay.
Of course, every game has so many dimensions to talk about, but I'll leave it at those top three above. Draymond and Moses Moody attended the Nike Hoop Summit, meeting up with fellow Klutch Sports client LeBron James, all at Moda Center where the Warriors tipoff in Portland at 12:30PM on this fine Sunday afternoon — which I've deduced is an early tipoff for all NBA teams to give adequate rest and travel time between the final buzzer and the play-in games starting Tuesday night. There are pictures on our YouTube Stories, but I'll save the clips for the Portland BTS video. Also yesterday was the birthday for not only Andrew Wiggins' daughter, but also JaMychal Green's son and, yes, there are pics in the Stories.
LetsGoWarriors is a reader-supported publication. To receive new posts and support my work, consider becoming a free or paid subscriber.
Everything else that was quoted by a player or coach before or after the Kings game is listed in reverse chronological order as we usually do below, although starting with the aforementioned behind-the-scenes, game livecast notes and picture gallery.
#Warriors bts in Sac: Klay to visit China in September; Poole x Iguodala x Vereen; Steph Curry 🏹 💦
PICTURE GALLERY FROM SACRAMENTO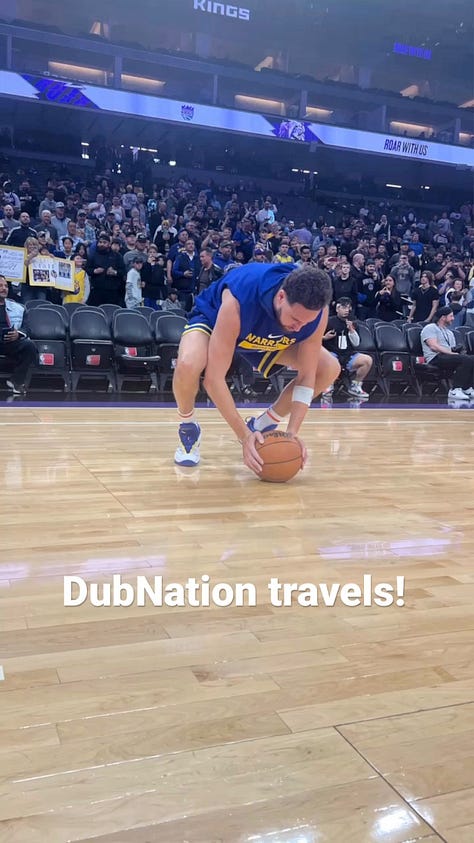 Klay takes the Golden 1 floor to cheers, signing autographs at the Sawyer (team hotel), Light The Beam slogan, as they say "DubNation travels", Stephen Curry pregame courtside, Wiggs' daughter 3x (she's the spittin' image), and J-Mike's son.
12:30 Looney wins another tipoff!

14:30 Steph good D 2x, Loon oreb reload Klay 10m45

16:45 Play-in schedule released by NBA: Play-in schedule: Tue 4/11 ATL-MIA, W8th-W7th ... Wed 4/12 CHI-TOR, W10th-W9th ... Fri 4/14 winners vs losers

19:00 Dray loses HB but it's because Klay lost Keegan, the Steph throws the ball away at 9m30 or so

20:15 Steph gets hot 9m00

21:15 7m45 Loon oreb again 4th, Steph good D, Donte aggressiveness draws a foul

22:45 6m45 Loon 3rd assist to Donte 3

23:45 6m15 easy dunk by Davis on oreb Len makes Kerr call timeout, so far only a dumb turnover and a Donte heat-check are glaring for me, other than that great hustle and so far give the game ball to Looney

25:45 congrats G League champions Delaware Blue Coats: Pat McCaw 5th Finals in 7 years, Mac McClung

28:30 4m28 Steph calls illuminati inbound, fyi Davion is on JP

29:00 4m10 GP2 block! on the help for Dray

29:45 3m30 confirmating HB is guarding Steph

30:45 2m40 Loon and Donte and JK check in, Loon and Donte means it's a short bench

32:45 2m05 pushing foul by Davis on JP kind of borderline dirty as JP went downhill (?)

33:45 1m15 JK nice step back although he should've cut after Loon's 5th oreb

34:30 0m45 JK Kawhi-like double fade pass to Loon dunk

36:30 good stuff from Andre Iguodala on Donte, clip of podcast, I timeout an Andre hater because we don't do that on our channel, congruent with Wiggs absence

38:45 a little sloppy by JP to start 11m40 Q2

42:00 analyzing 11m10 when Moody and JK got lost on D

45:15 JK a little late on his post move 9m30

49:00 HB oreb over Klay 6m45

50:30 young guys this time blew their focus: JP non-tiki, JK and Moody not great defense, but good offense by JK, at least it wasn't the veterans

52:15 Kerr subs in Loon Donte GP

55:00 looks like Trey Lyles is the opponent tonight who will play like an All-Star lol 5m30

55:45 look at how Loon defended HB downhill, kept backing up, that's how you do it 4m00

1:01:00 tov by GP2 now by Dray Steph in the last few 2m00

1:01:45 give Steve credit for calling a TO on Loon's 13th reb 1m25

1:04:00 clutch GP2 three 0m45

1:08:00 some things to think about: vets next season, focus, play young guys more, didn't have Wiggs for 3 months so hard to judge, had Wiseman for a month to begin, hard to judge, also will J-Mike have more of a role this second half? For the vets, it's like the un-focus happens on offense with dumb turnovers. For the youngsters it's the D.

1:17:45 I can remember a bad Donte turnover so that makes five bad offensive veteran turnovers, so perhaps my theory of getting old might be proving itself? We shall see Q3.

1:21:15 Mike Brown quick TO Popovich-like after giving up a 3 to start by Donte 11m35 Q3

1:22:00 I wonder if that's more of a young-guy coach strategy or why Kerr doesn't use it for the Warriors, I've always said in the first half you get 7 timeouts so use them

1:26:00 Kelenna says Dray came out late for pregame, now holds his spine 10m15

1:27:30 STIM pads for electrical stimulation for back (Ben says electrodes feel good)

1:28:45 organized chaos! 8m45, great pass by Dray

1:30:00 no call for Steph 8m010, again no call at 7m30 although Loon pushed Davion

1:34:30 I don't think Len fouled Steph the first time

1:37:00 Klay excellent close out then steal then gets layup 6m015, Steve fist bump to Kenny after the Donte steal at 5m45

1:38:15 another mindless turnover 5m20 (tired?)

1:38:45 5m01 good to see Tiven engage in lively disucssion with Dray

1:39:15 Dray tried to jump the screen but failed 5m00

1:40:15 4m25 JP tried a fake downhill didn't work but nice try

1:41:15 Loon pushes Dray away from ref as he goes to bench

1:43:15 bad screen by GP2 but Klay went too early just like when Davion went too early on the Len screen and challenge by Brown 4m00

1:44:45 awful execution by JP, JP bad foul, Kerr gives the team encouragement 3m45

1:46:00 JK gets hard fouled 2m30 lands on his arm could've been worse a la Danny Green on Klay, good politicking by JP with the ref

1:50:15 JP celebrates getting a foul call 1m50, this unit has to hold the line the rest of the way

1:51:30 1m30 JP gets another foul call

1:52:45 1m15 Metu goes right AGAIN vs Loon, Decky gives Loon some coaching

1:54:00 1m00 great pick by Dray set for Klay 3

1:55:15 bench did its job, now it's all on the vets/starters (barring immediate Q4 collapse)

1:56:45 Renkkuno: "Good presence of mind from jk to not land on his feet on that play. That would've been same with the landing on klay in the finals vs toronto." -- Amazingly athletic play by JK just to save himself from injury

1:58:30 ATO to start Q4: JK brings the ball up, hands off to JP to then get the pass back for 1v1 vs Dozier, Steve said hey feast on him -- give Kerr credit!1:59:30 11m45 JP ticky-tack foul outside, hope this isn't an issue later2:00:00 11m40 JP loses POA, Dray helps and Metu gets to the line2:01:00 11m22 baseline inbound, JP fakes a screen for Donte, curls around for 3, gets fouled, if we get good POA defense we should win

2:03:00 good charge by Keegan 11m052:04:15 Jasmine Dawson: "I think of JP has Westbrook 2.0. Every thing he does is loud - great plays are out loud but so are his mistakes" -- although Russ isn't really a 3 threat2:07:45 foul call for Steph seems to be the same non-one vs Len earlier in the game 10m002:08:30 GP another foul, not having a good game 9m502:09:00 Donte forces a turnover, huge leap2:09:30 Donte leaps for a bank shot 9m002:10:00 GP gets back for a block! Gives a high-five to a baseline fan and hits a corner 3 later wow 8m302:11:15 baseline inbound Klay so open he faked when didn't need to 7m452:14:45 Elizabeth Geyer: "The TOs needs to end here. Please dnt take it to da playoffs " -- I tend to think we are liable for one of those games per series, though5m40 5m55 Dray 5 fouls somehow blocked Holmes, Klay ridiculous 2:15:00 airball on the heat-check loo2:17:15 GP2 and Klay have a communication problem on D 4m452:18:15 4m22 timeout, is Klay walking around gingerly?2:20:15 JK got fouled on the fade no call 3m452:27:00 Bruce Maro: "have we seen the last of Ty Jerome with the warriors?" -- depends on if other teams value him to the point past a two-way contract2:29:45 will the Clippers tank vs Portland?2:38:15 Bruce thinks Clips will tank so we'll get 5th, asks what the chat thinks, AzureSteel says he doesn't want to face PHX, I say he fell into Bruce's trap -- don't be worried about PHXLOONEY POSTGAME ON-COURT AUDIOKERR POSTGAME AUDIO3:01:00 Monte Poole not happy with the result of not being able to rest the starters, but I think it's just age3:02:15 a part of me is sad looking back at 2019 Game 6 Klay who was just unbelievable and on the precipice of being a no-brainer fantasy pick all-time Ray Allen, but that was taken awayDONTE POSTGAME AUDIO3:18:00 LOONEY POSTGAME AUDIO3:24:15 Dean joins us, JP good game getting to the line 9x and only 2 tov, also GP2 helped

3:28:00 MacMac: "klay needs to make 5 threes on sunday to hit 300 this season"3:34:00 Dean on Monte Poole not being happy with not blowing out the Kings for more rest of the starters3:36:15 on media kicking Mark Cuban when he's down about Jalen Brunson3:38:45 OKC being in is crazy with DAL not even in the play-in

3:57:00 on the turnovers, Dean and I disagree (I think it's an age thing, he thinks it's "nerves" of how important the game was)4:01:00 Bruce: "I guess warriors need that appropriate fear and not the inappropriate arrogance"4:05:00 Blasian: "Is J-Mike gonna get at any action on Sunday or we don't know yet?" -- Knowing Steve, he'll give J-Mike an opportunity, kinda like Phil Jackson always did4:08:00 Dean: "I appreciate the heart and loyalty this team has for one another"4:12:00 REMAINDER OF STEVE AND DONTE INTERVIEWS4:20:45 Donte very humble about the two questions about the Kings not picking him up4:21:15 Dean wonders what the consensus is on Harrison Barnes, later talks about Dallas needing defense
DISCLAIMER: These are all just notes for my main workflow of YouTube videos, mostly transcribed by me shortly after the interviews and during my coverage of postgame on our livestreams (!). Sometimes I'll just use what's tweeted by beatwriters, as listed. The links to the tweets are not available because sometimes I don't use the full tweet and just having a ton of tweets on this website imo isn't aesthetically pleasing and gets away from the main goal: transferring information (not so much entertainment) to the brains of DubNation asap.
• Klay Thompson postgame recap: "we'll click even more when Andrew is in the lineup… we still have another level to reach… keep staying humble… well get there. I know we will."
• On the turnovers: "Need to cut that in half… sometimes can be a little careless but we need to right that ship (by playoffs)."
• On possibly playing the Kings first round: "That'd be amazing. Idk that that's ever happened… special for Northern California… Mike B's got them playing… basketball hotbed… be nice for the travel… very nice."
• On his season: "Always locked in… I played a full season… nearly 70 games is a huge milestone for me. Shake off the early rust… give myself a pat on the back (literally gives himself a pat on the back)."
• On what they need to do to be more locked in: "value the ball more (take better shots and play defense)… do those three things and we'll be in a position to repeat."
• On leading the team into the playoffs: "The onus is on Steph, Dray and I to lead and the young guys will follow."
• On the mindset heading into Portland: "it's not ideal but it is a great situation… treat it as a must-win game… always love playing in the Rose Garden."
• On the intensity for Portland: "We have to bring the intensity. Idk if Damian Lillard is playing. I hope he doesn't. Still have to respect the opponent… play that Warrior brand of basketball."
• Kevon Looney postgame, on nearing another 82 games played: "Last year I did and I was like alright, I'll probably not do it again… crawling to the finish line… body is feeling good (this year, though)."
• On how he's grown as a leader: "using my voice more… David West told me that you're a poised player… stabilize… trying to find my voice… years go on, being more comfortable."
• On locking in more: "the last month or two… guys getting hurt… Klay really carried us… big time games he usually shows up."
• On going into Sunday: "The focus. We know what to do… go out there and execute… silly turnovers and things like that… we gotta remember… we gotta lock in and finish the mission."
• On lack of focus on the road being just the regular season: "play so many games and so many ups and downs. We have guys that's been going to war… sometimes games in the middle of February don't seem as important… we know how important they are (the last game)."
• More Steve Kerr postgame, on Jordan Poole: "He had a tough night… let the officiating bother him… we talk to him all the time… good job of getting to the line… staying poised… just a tough shooting night."
• On Donte's shooting: "We knew he had it in him… Villanova… Milwaukee… injuries… hurt his shooting… this might be a career high for him as far as percentage… comfortable… healthy all year."
• Donte DiVincenzo postgame on the turnovers: "lack of focus, carelessness, they go hand in hand… locked in in the second half… always good to take coaching after a win than a loss."
• On why the team has problems with focus: "Watching the Warriors in the past, they had so many solid veterans in years past… Steph and Draymond could be their normal selves… our job is to be solid… that number (turnovers) comes down a lot… when everybody else around is solid… if I can have zero ideally or one… not to compound the issue."
• On if it's difficult to maintain focus: "That focus, it's tough… regular season. They have two, three, four guys not playing… that's the biggest thing for us… we're so talented… lack of focus on the offensive end."
• On what to do about the focus: "Personally, I speak for myself, I know tonight… playing with a chip on my shoulder… I was honed in on this team. A lot of guys were… second half that's when we realized, Coach said you know what's at stake… that's what we needed to hear but we shouldn't have to turn it around at half time."
• On if he changed anything mechanically on his shot: "(Kerr) came up to me… a little bit of hand placement… (watches film)… a little off to the left or right, that means I'm rushing it… one second of deep breath and let it go."
• On if the Kings told him why he wasn't picked up again; "I didn't look too much into it."
• Steve Kerr postgame: "I was gonna go Nellie style."
• On any trash talk with Mike Brown: "There's trash talk but in a joking way… Mike is beloved in our organization. There's no tension at all… amazing season."
• On Looney: "Idk what else to say about Loon… one of the best rebounders in the league… most reliable… a stabilizer. We have a team that can lose poise like you saw tonight… really bad possessions… Loon is a stabilizing force. He had 7 assists… just one of our best players."
• On the turnovers: "Carelessness was the main cause… you saw some of the careless passing that we're not gonna be able to get away with in the playoffs… we're gonna have to play a lot better than tonight."
• On shaking that in the playoffs: "You think about last year. We've always been a team that lives on the edge… thrived in that chaos… against Memphis… we had 22, 23 turnovers… against Dallas and Boston, really taking care of the ball… it's up to us, we have it in us."
• On Klay relishing this: "really got it going there… defense was good… picked up the intensity in the third quarter.., Klay played a big role in that… guy who's made big shots in big shots."
• On Klay back at 2019 level: "it's 2023 so we could just keep going back with every player… it doesn't matter… they're different players now than they were five years ago just because of age and wisdom… Klay is a great player still… I don't find the value in comparing."
• Kevon Looney postgame on-court on having more pride in games played or rebounds: "Hard to choose… I guess it's playing in every game."
• On b2b 82-game seasons: "credit to my hard work, my family… having that faith… compete for championships and be there every night… proud of myself for doing it."
• On being confident on the road: "leadership at the top, they know what it takes to win… we can figure it out."
• On Donte and JK and role players: "Donte comes from a winning pedigree… JK has the experience from last year… GP… JP… group effort."
• Steve Kerr pregame Kings on Sacramento resting three starters: "In the regular season . . . you run into a team missing a bunch of guys and it's real easy to let your guard down. There is zero excuse for letting our guard down tonight. It's pretty simple. We have to win if we want to get to the playoffs … if we're out there and we let our guard down, there's something wrong." (Monte Poole, Kendra Andrews)
👍👍💛💙
LetsGoWarriors is a reader-supported publication. To receive new posts and support my work, consider becoming a free or paid subscriber.