Discover more from LetsGoWarriors
Informational & credentialed independent Golden State Warriors Website, Discord app (for paid subscribers), and YouTube channel for fans seeking positivity and knowledge! Not affiliated with GSW.
Over 2,000 subscribers
Steph Curry going at 4 seconds at OKC shows he was playing chess
[+video/notes/quotes HOU/NOP/SAC/OKC]
Eons ago during the Chris Cohan era, I attended a Golden State Warriors game at Oracle Arena against the Denver Nuggets, led by George Karl and Carmelo Anthony. I convinced my dad to spend a few hundred dollars each ticket for one experience behind the Nuggets' bench rather than spread the money across multiple games higher up in the lower bowl.
It was a close game and the Nuggets ended up having the ball at the end to win the game. Karl told Anthony, "Go at six," in the huddle before the last possession. For years on end, I then always coached the guys on my traveling tournament teams to start their move with six seconds left. It seemed like the right amount of time, especially if you consider the possibility of an offense rebound and putback.
LetsGoWarriors is a reader-supported publication. To receive new posts and support my work, consider becoming a free or paid subscriber.
Is six the norm across the NBA these days? I asked around just a little bit and didn't get any concrete answers. It probably just depends. After all, the era of Melo with Denver is long since gone.
At the OKC Thunder the other day, Stephen Curry made his move with four seconds to go. We analyzed it on the livestream (see copious notes at the bottom, if you're interested). To be exact, we freezed the replay at 3.6 seconds left and Curry had already began his move against Lu Dort, so I've rounded up a little bit to four.
If I'd told you Steph would be making a game-winning move at four seconds, you'd probably guess that the move would be some kind of side-step or step-back. After all, with the three-point line at 23'9", he'd have to cover at least 26 feet of ground in that amount of time for a layup. I guess he could go with a mid-range pull-up for the win, but I'd love to see the stats of 6'3" guys doing that — so I'll cross that one off the list, considering it's off the dribble.
Out-thinking a great one-on-one defender is just the kind of chess move you'd expect one of our veterans to make. Steph faked a move to the side then used that fake, plus the innate threat of his long-distance bomb, to get the advantage past Dort. But he also used the clock in a super-patient way.
Incidentally, Gary Payton II had a funny moment, spreading his arms and looking upward, although he did peek at Steph. For lack of better words describing that pose, I called it "Christ the Redeemer", a reference to the famous statue that overlooks Rio De Janeiro, in the behind-the-scenes video:
Back at Chase Center two nights prior, Draymond Green also showed the extreme veteran patience by waiting for Klay Thompson to curl around for the game-winning shot, ironically also ending at 0.2 seconds remaining.
By the way, in slow-motion and on the freeze frame from the Warriors' Twitter, you can see the clock actually at 0.4 when Klay's shot goes through the hoop. But in real-time it's hard to argue against the scorekeeper stopping the clock at 0.2 — just a nitpicky side note that maybe if a Sacramento Kings fan is reading this, send it to Mike Brown for future reference, although I don't even know if the clock is something coaches can argue about with refs to get changed. Here's the behind-the-scenes video from that one:
Compiling these "in-arena" videos takes an enormous amount of time, so I've fallen way behind on website posts here and the oft-promised regular digests. I just have to figure it out. There is a better workflow I can employ but it's been hard to implement that in the middle of digest deluge and doing five-hour livestreams.
By the way, here's the postgame from the Sacramento game where Draymond talked about being patient on the assist to Klay for the buzzer-beater:
Coincidentally, this is the same podium visit where Green said "last year was horseshit," which then perpetuated the comparisons of this year's team to last year's, to which Steve Kerr actually addressed the next day in a twenty-minute weekly interview with 95.7 The Game, which I actually transcribed but haven't had time to edit.
Pundits on Twitter ended up reading only the out-of-full-context quotes in tweets from the radio station rather than listening to the whole exchange, becoming outraged at Draymond as the skeleton that is Jordan Poole came out of the closet again. But in fact, Steve was protecting Jordan in the interview, said as much, while at the same time acknowledging that Green sometimes blurts whatever is on his mind on the podium and it leads to extra stuff like this.
Incidentally, James Wiseman — who will be at the game at the Detroit Pistons in two nights, obviously — is never mentioned as a victim of being thrown under the bus whenever this talk of "last year" surfaces. It's as if he hasn't even earned a skeleton in that closet! That's because Twitter picks and chooses it outrage. Users of that app will not get retweets if they mention Wiseman. Only Poole. That's how it works in the Zombie Apocalypse.
And then at the podium at OKC postgame, Kerr drew the line in the sand to the beatwriters by saying it was time to "leave last year in the rear view mirror":
Anyways, it looks like my goal of doing transcripts is a bit far-fetched. Those are time-consuming as well and certainly not as fun as compiling behind-the-scenes videos, especially at road games. However, transcripts are sometimes necessary for publishing the correct information, so I might still post that Kerr/95.7 interview, we'll see.
Meanwhile, check out some postgame Instagram reactions from the squad: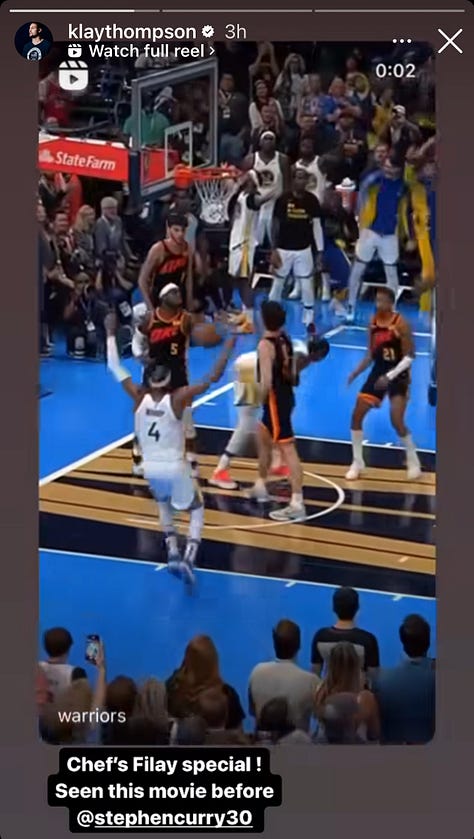 As I predicted during the OKC livestream (38:45 mark, below), Trayce Jackson-Davis was recalled before the Cleveland Cavaliers game. Actually, 95.7's John Dickinson (and The Athletic's Tim Kawakami on that app) also predicted this, as we were talking about it the other day, knowing that the team needed more big bodies against the likes of Jarrett Allen and the Cavs, as well as Wiseman (who might get another DNP) and Jalen Duren of the Pistons. Draymond sure enough spoke his mind about the youngsters' bench cheering and energy — include Brandin Podziemski on that list, as well:
Of course, people will try to connect the dots as recalling TJD and BP as a result of Dray's rant, when in fact it was the plan along. But instead of being outraged on Elon's app, I think it's funny how Green basically took a shot at Kerr and Mike Dunleavy, Jr. for the cute/nitpicky move of sending TJD and BPodz to Santa Cruz to go scrimmage with them for one day. It's just part of the culture for him to do that.
I wish I could be a fly on the wall in any exchange Dray had with Steve and Mike about that. Green would probably deliver it with a smile and, in return, Steve and Mike could give him the John Michael Wozniak shrug from "The Last Dance":
Here's a mini-digest of other latest developments with the Warriors, in reverse chronological order. Again, for tangential news (which aren't really that time-dependent anyways, such as Draymond appearing in the NBA Cup commercial), I'll have to catch up later:
• Klay Thompson is questionable for Warriors tomorrow at Cleveland with right adductor tightness. Brandin Podziemski has been recalled from Santa Cruz. Trayce Jackson-Davis was recalled earlier in the day. (John Dickinson)
• The 6:30 AM Injury Report; Warriors: Klay Thompson, Questionable- Right Adductor;Tightness … Cleveland: Ty Jerome, Out-Right Ankle; Sprain … Isaac Okoro, Questionable-Left Knee; Soreness … Ricky Rubio, Out Not With Team. (Tim Roye)
• L2M report: "After communicating with the Replay Center, the ruling on the floor of offensive basket interference is overturned. There is clear and conclusive evidence that Green (GSW) does not touch the ball and -- although Green makes contact with the rim -- contacting the rim, standing alone, does not violate the rule. In order for contact with the rim to constitute offensive basket interference when the ball is not in the net, it must (a) occur while the ball is sitting or rolling on the rim and using the rim as its lower base, (b) cause the ball to take an unnatural bounce, or (c) move the rim off-center. None of those conditions were satisfied on this play, so there was no basket interference."
• The Pool Report interview was conducted by Joel Lorenzi (The Oklahoman) with Crew Chief Mitchell Ervin following tonight's Warriors at Thunder game.
November 3, 2023
QUESTION: Please explain why Draymond (Green) wasn't called for an offensive interference on final Warriors possession.
ERVIN: It was clear and conclusive evidence that Draymond does not touch the ball. Although Draymond does touch the rim, he does not touch the ball, nor does him touching the rim cause the ball to take an unnatural bounce therefore a basketball violation does not occur on the play.
QUESTION: Why was a delay of game penalty not assessed on the Warriors during the final possession of the game as the Thunder were attempting to inbound the ball and the Warriors were not ready for play to begin, as evidenced by players coming on and off the court at the time OKC was attempting to inbound the basketball?
ERVIN: After the basket interference review, there were multiple administrative matters that the crew had to communicate to the scorer's table to get back to the point of resumption of play. It's our responsibility to assure that there are 10 players on the court and ready to play, and we completed that task.
https://official.nba.com/pool-report-on-the-draymond-green-offensive-basket-interference-call-overturn-in-the-fourth-quarter-of-tonights-warriors-at-thunder-game/
• Between Curry's go-ahead shot tonight and Klay Thompson's last game, it's the first time in the last 25 years the Warriors have won consecutive games with a game-winning field goal in the final five seconds of each game, according to ESPN Stats Info. (Kendra Andrews)
GSW-OKC IN-GAME AND POSTGAME
MORNING SHOOTAROUND OKC
• Gary Payton II says the Thunder court reminds him of Boise State's football fields over the years. Says "it's fun, it's blue. It's messing with my eyes a little bit but I'm sure we'll get adjusted to it." (Joel Lorenzi)
• The Golden State Warriors have assigned forward Trayce Jackson-Davis and guard Brandin Podziemski to the team's G League affiliate, the Santa Cruz Warriors, it was announced today. (Warriors PR)
• Mark Daigneault on Jaylin Williams: "Happy to have him back, gives us good physicality defensively. …he's in the fabric of the team. He'll be out there." (Joel Lorenzi)
• Steve Kerr pregame said sending Podziemski and TJD to the G League was more useful than having them in their fringe rotation role to open road trip. (Anthony Slater)
• Kerr lauds Mark Daigneault and Sam Presti for what they've built in OKC to this point/the way it's trending: "They're gonna be scary for years to come." (Joel Lorenzi)
• Tim Kawakami of TheAthletic: "Thought they might adjust this plan at least to keep TJD on the roster tonight … but nope. Maybe a quick call back though."
• The 6:30AM Injury Report; Oklahoma City Shai Gilgeous-Alexander, Out Left Knee; Sprain … Jaylin Williams,Questionable- Right Hamstring;Strain … Kenrich Williams, Out-Low Back; Spasms. (Tim Roye)
• Jaylin Williams is active tonight for the first time this season. (Rylan Stiles)
• Kerr jokes with Tom Tolbert of KNBR about NBA Cup courts.
• From day after Sacramento game: Asked Curry about the possibility of breaking his own record of 402 made 3s this season. He said it's definitely possible, but it's the games played that has been the biggest issue lately (hasn't played 70+ games since 2016-17). He's on pace to do it if he plays 72 this season. (Tim Kawakami)
• Bruce Fraser on Klay's game-winner: "As soon as it left his hands, from the bench I had a good look at it, that looked to me like it was dead on. Sure enough, big shot and timely, and really good execution by those guys down the stretch." (95.7 The Game)
• Fraser on CP3: "I think we have a chance to be really good. And I think Chris [Paul] is going to be an important piece. And sure enough, that's what's happened. And Chris has been a great, great addition." (95.7 The Game)
• Fraser on Steph: "He's in that window of where his mental meets his physical so he sees the game so much better. He's now kind of an old soul with it even though he's prone to some mistakes, but he just he's just seeing [the game] all so well." (95.7 The Game)
• Mark Daigneault says SGA will be out tomorrow with a left knee sprain. (Joel Lorenzi)
• Mark Daigneault says both Jaylin Williams and Kenrich Williams are progressing, but that Jaylin will likely be back before Kenrich. Says there are still boxes they'd like to check off with Jaylin, though. (Joel Lorenzi)
SAC-GSW POSTGAME AND IN-GAME
PREGAME SACRAMENTO
• Steve Kerr addresses the passing of Bob Knight and talks about his impact on the game. (NBCSBA)
• Kerr says Klay Thompson (knee soreness) will play vs. Kings and Jonathan Kuminga will test his bruised knee in warmups. Both missed Monday's win in New Orleans. (Ron Kroichick)
• Dario Saric will play tonight, Steve Kerr says. (Dalton Johnson)
• On facing the Kings tonight without De'Aaron Fox and it being their first game back from a road trip: "It's the ultimate trap game tonight...we better be ready, they're coming for us." (KNBR, Brenden Nunes)
• Steve Kerr said they're scripting the rotations to get Steph Curry about 32 minutes a game. Can go up or down depending on the flow. Guess what. He's currently averaging 31.8. High is 35 at SAC. Other 3 games have been 30 or 31. (Tim Kawakami)
• Kerr said Chris Paul's minutes are more fluid, partly because he began the season in the starting lineup and now is the 6th man. He's averaging 30 minutes currently. Was at 33.5 in the first 2 games as a starter. At 26 in the 2 games since as a reserve. (Tim Kawakami)
• Kuminga will play tonight vs Sacramento. (Tim Roye)
• Klay Thompson (right knee soreness) and Dario Saric (right hip contusion) are probable for tomorrow's Warriors-Kings game. Jonathan Kuminga, who missed last night's game in New Orleans, is questionable (left knee contusion). (Dalton Johnson)
• The 9:30AM Injury Report; Sacramento: Fox Out-Right Ankle; Sprain / Trey Lyles Out-Left Calf; Strain. Warriors: Kuminga Questionable-Left Knee; Contusion / Saric Probable-Right Hip; Contusion / Thompson Probable-Right Knee; Soreness. (Tim Roye)
• Golden State Warriors have exercised the fourth-year option on guard Moses Moody, league sources tell NBAonTNT, BleacherReport. (Chris Haynes) [NOTE: The Warriors almost always announce these together, but the fact that Haynes only tweeted about Moody is reinforcement that most of his sources come from the player/agent side.]
• The Golden State Warriors have exercised the team's fourth-year options on Jonathan Kuminga and Moses Moody, league sources told HoopsHype. (Michael Scotto)
• Warriors court design for in-season tournament promo:
GSW-NOP POSTGAME AND IN-GAME
• Steve Kerr on if he's ever seen Steph Curry this hot to start a season: "No. I don't know what his numbers are but he's he's white hot. It's amazing watching him. I mean he looks better than ever at 35." (Shayna Rubin)
• Steve Kerr: "Last year was the outlier. We've always been a great road team." (Anthony Slater)
• Trayce Jackson-Davis postgame on CP3: "Chris is like a pilot...calling for ball screens before he crosses halfcourt. He makes the game so easy..." (Zena Keita)
• Warriors' veterans use 'Baby T' as Trayce Jackson-Davis' nickname, but told him it'd go back to Trayce after his first double-double. He had 13 and 10 tonight. Draymond to him postgame: "Baby T who?" Bad news: Statistician took away a rebound. Officially has nine. (Anthony Slater)
• There is optimism that De'Aaron Fox, who will certainly miss Wednesday's game in San Francisco against the Warriors with the moderate ankle sprain, could only miss a week, I'm told. Kings head to his hometown of Houston for a pair of games Saturday and next Monday. (Sean Cunningham)
FROM PREGAME NEW ORLEANS
• Steve Kerr pregame New Orleans said Gary Payton II "for sure" looks healthier than his return stint late last season: "Frankly I have to play him more. I gotta get him out there longer because he's been one of our best players."
• Steve Kerr just called Anthony Vereen a "breath of fresh air." (Dalton Johnson)
• Jonathan Kuminga is unavailable to play tonight in New Orleans. (Tim Roye)
• Klay Thompson and Jonathan Kuminga are both out tonight in New Orleans. Knee soreness for Thompson, knee contusion for Kuminga. (Anthony Slater)
• Moses Moody is starting in Klay Thompson's place tonight. Chris Paul off the bench again: Steph Curry, Moses Moody, Andrew Wiggins, Draymond Green, Kevon Looney. (Anthony Slater)
FROM POSTGAME HOUSTON (10/29)
Anthony Slater of The Athletic with exclusive quotes from the Houston locker room with Steph Curry, Andrew Wiggins and Kevon Looney:
"I remember on Steve's whiteboard it said: 'Dray don't be late!'" Paul laughed. "Draymond noticed it during the meeting."

—

"It works," Paul said. "It gives us a bigger lineup. I've never been on a team probably with this type of depth. I've been on really good teams, don't get it twisted. But not necessarily where you could say: 'All these guys can start.' And I think last year that was the best starting five in the league."

—

"Yes," Paul said. "Because it's talking. We're communicating. We ain't just coming up to somebody day of and saying: 'Hey, this is happening.'"

—

"I'm an over-communicator," Paul said. "I say that all the time. Some people don't like it. But that's me. That way you don't have to guess how I feel about you. A lot of time people are scared to have those conversations. But you got guys who've won, guys who want to win and everyone understands what they mean to the team. When you done played this long, you want to enjoy the people you're around and you want to win."

—

In early July, after the Jordan Poole for Paul trade was finalized, he did an introductory press conference before a Warriors' summer league game. During it, a reporter prefaced a question stating that he'd be coming off the bench. Paul shot back a "you coaching?" response that many perceived as a sign that he wouldn't accept such a demotion, sparking a wave of conversation about whether this player, team pairing was already doomed.

"It was over-exaggerated because I'll tell you this: It wasn't a question," Paul said. "She made a statement. I know what the media is like. I know what I said in there. I know what bullet points gonna be taken from that."

—

"When I went to OKC, what'd everyone say? 'He wants to be traded. He wants out of there,'" Paul said. "People always speaking for me. The very first meeting I had in OKC, did I tell you what happened? I stood up in front of my teammates and said, 'Don't pay attention to what the media says about me trying to get moved out of here. I don't know how to be half in and half out. I'm here.'"

—

"When I came to Houston, what'd they say?" Paul asked.

You and (James) Harden won't work.

"Ain't gonna work," Paul smiled. "In Phoenix? We too young. But what I've had to do my whole career is I've had to stand on who I am. I'm not saying this (Warriors team is) the best team ever, but as soon as the trade happened, what did everyone say? This ain't gonna work."

—

"He's about winning," Curry told The Athletic. "It's easy to talk about it, but when you have to go prove it, it's in the essence of what Andre did. (Chris) talked that game this summer and he's obviously showing it. It kind of cuts through the notion of typical bench versus starter. There is a lot of value on that bench, connecting lineups. He showed it tonight."

—

"Loon was playing good," Wiggins said. "Draymond was playing good. Klay was playing good. Everyone was playing good. Stuff happens. The coaches make a decision that's best. We won the game. As long as we keep winning, I'm fine. I gotta give them a reason not to take me out. Rebound more. I can do more."

Wiggins was in that pre-camp meeting in Kerr's office: "It just let everyone know that we're here for one reason — to win."

So was Looney, who will assuredly be benched several times as the season progresses: "Having that line of communication is always key when your role is different than you're used to. We all gotta sacrifice. It was good to hear. Just so you ain't hearing it through the media, hearing it through different sources. Uncertainty can cause confusion and separation."

Thompson was also in the room. Does he remember it? "Barely, honestly. Just a bunch of guys talking hoops."
MORE GSW-HOU POSTGAME & IN-GAME
WARRIORS-THUNDER GAME NOTES (11/3)
0:00 OKC will be a testament to how GSW can go small or "big"
9:15 tipoff!
8m30 Q1 great Klay swat down (missed), Steph reach-in steal vs Dort corner 3
8m05 Q1 pretty good tiki but Wiggs misses point blank
7m30 Q1 Klay reach in on Jalen leads to tov
6m05 Q1 CP and Klay and Steph disrupt Chet
5m25 Q1 Klay 3 on extra passes to and from CP
5m00 Q1 JK brain fart already, stepped on sideline
4m33 Q1 CP draws forearm foul on Lu Dort (3rd pf)
4m15 Q1 dexterity Steph tip to GP2 oreb
3m35 Q1 JK lands in the paint, doesn't take the killer instinct fade-away (thinking about the last tov), passes it out to CP3 who isn't known for his 30-footers, we don't get back in transition but no one really to blame unless this is a 7-game series
3m03 Q1 JK attack ATO, then CP talks to him after the foul by Moody on Joe
2m45 Q1 Saric another open 3, guess that's in their game plan
2m12 Q1 GP2 reach in on Aaron Wiggins dreb, rewarded with a 3 next play
0m55 Q1 Dieng dreb but JK pokes it away
0m52 Q1 BLOB play CP to Saric layup
38:45 I believe TJD will be recalled tomorrow for CLE, DET
11m40 Q2 Saric passes up corner 3, backcourt violation, if you get the green light, go!
11m02 Q2 Saric three again as OKC traps CP
10m50 Q2 another steal by GP2
10m22 Q2 Saric moves his feet backward vs Chet baseline, hot take: best 5 defense, not named Looney since ...?
10m00 Q2 CP another poke
9m20 Q2 JK tov post up vs Micic, keep the ball high a la MJ Kobe
9m00 Q2 Chet fakes Loon, then takes him downhill, only thing Loon can do is chop down (foul), prediction: in Q4, we're going small with Dray on Chet to close out, NBALP for Wemby Chet, Draymond checks in 8m14, let's see how this goes because it could portend Q4
7m35 Q2 Steph passes up a three then a non-chalant overhead alley-oop reverse dunk GP
7m10 Q2 Steph gets his hands in there on Chet, then Dray patented fake DHO layup
6m20 Q2 Wiggs block help Steph leads to Steph splash transition
5m58 Q2 Dray can't catch the ball then plows over Joe, this was after the pass to Wiggs was just a little bit outside Bob Uecker voice
5m22 Q2 good thing Klay landed okay getting faked by Dort
5m12 Q2 Steph silly tov, that's the brand of basketball
5m02 Q2 Moody gets the ball right back with great D (not a steal unfortunately)
4m40 Q2 Wiggs to Dray 3 (adds a dimension)
4m12 Q2 Wiggs oreb score spin fade
2m45 Q2 Dray good closeout on the matchup zone
1m58 Q2 Wiggs forgot we were in zone? DPOY talent takes a charge though
1m05 Q2 tic-tac-toe Dray CP Klay
0m27 Q2 CP physical with Chet on the corner reb
0m10 Q2 CP steal late, but Klay's late on the buzzer
1:18:45 CP has 8 assists at halftime, could've been 9
12m00 Q3 Dray blows a layup on perfect Kerr system
10m45 Q3 Chet 3 after killer instinct 2 spin by Steph, hot take: Chet better KD year one at the very least
1:30:00 why did Kerr not call timeout? Instead of being outraged, the curiosity leads me to believe that Steve has the best starting 5 in the NBA, these young kids are playing great, but we're not going to admit that they're better than us (unless it hit double-digits), so our vets can work through that
7m30 Q3 GP2 in, Giddey tov, Dort vs GP2 is a fun matchup
4m50 Q3 CP JK PNR near-dunk (JK redeemed)
1:42:30 hot take: OKC is better in the regular season team-wise if Shai doesn't have high usage rate, but regardless they def need Shai for crunch time wins and playoffs
3m42 Q3 JK brain fart in penalty, defensive holding on Joe cut
3m00 Q3 CP strip in the zone, JK breaks Joe's ankles!!!!
2m29 Q3 CP tells guys (not to play zone?) during FTs for Jaylin
2m22 Q3 JK J good, all it takes is one fence bending move
1m50 Q3 JK oreb gets a foul call
1m33 Q3 JK good D in the right spot
1m05 Q3 JK good close out on Jaylin, rewarded by CP 94 feet later
0m50 Q3 JK good D again vs Jalen tov
0m40 Q3 Moody with the oh you're not covering me 3
0m25 Q3 CP asshole move with Jalen reaching in draws foul
1:52:45 how can you love our squad? what squad can withstand 59% and 52% on 3s?
12m00 Q4 CP steal then assist to JK low
11m30 Q4 Moody Saric trap
10m50 Q4 Dario super spin to Mo 3 splash
10m33 Q4 Kerr pistol, but Mo shoots a 3 (Wiggs post)
9m00 Q4 JK vs Chet wow (fake)
8m20 Q4 Joe hot, hits 3 via Chet gravity vs Dario, normally you'd have Dray in there but he's already 20 mins played (20, 21, 27 last 3 games, first two b2b)
7m55 Q4 Dray blows another layup
7m33 Q4 JK straight line to the rim, assist CP
6m40 Q4 Dray takes charge on Chet, very few guys these days able to do that
6m15 Q4 Wiggs oreb! He gets to play more!
5m15 Q4 Wiggs oreb deflection leads to dunk by JK
4m00 Q4 Dray and-one flex makes up for last layups
3m05 Q4 Steph stayed in front of Giddey which led to Dray block
2m25 Q4 Klay perfect defense thwarted Mitchell Ervin falling for Jalen asking for a call
2:28:30 did Dray yelling at Mitchell Ervin help with the review
1m33 Q4 we just went through a review to get a Dray base fade?
1m15 Q4 Steph stayed in front Giddey, GP2 good switch, Giddey actually palmed
0m56 Q4 Steph splits two, no and-one called
0m45 Q4 GP changes game vs Jalen, thank you Bob for getting Gary back on our squad
2:34:30 I always thought close games help build the clutch gene, which we've already shown a few times on defense
0m35 Q4 referee crews in the NBA that are not senior/elite are just crap shoot roll the dice, got rid of Eric Lewis
0m25 Q4 Dray to Gary wow
0m18 Q4 Dray mad at JK and Wiggs for running into each other, JK messed up, didn't auto-switch with Wiggs
0m05 Q4 Steph GOAT scoop but Dray shouldn't be near that, I'm gonna attribute it to rust
2:46:15 what's done is done, still gotta win this game
2:47:15 Kelenna needs to tap Dray on the shoulder, Giddey grabbed the net
2:49:15 Chet and Steph exchange jerseys, OKC ended up shooting 62%, 52% from three and we won
2:51:30 analyzing Steph crossing Lu Dort, possibly because he has the threat of the stepback, Curry goes at 4 seconds which is unheard of, releases it at 2.0
2:59:45 Marley J: "12 turnovers first half, 3 in the second. Love this team."
3:01:45 Jay Bird: "undefeated in the NBA Cup!!!"
3:02:45 preaching there's some beauty in the unknown and the unscripted, NBA media and Twitter gonna want you having predictions left and right. Learn from tonight, maybe give it a break.
3:05:45 Marley J: "Chet only had 4 points 2nd half"
3:06:30 sisosf: "OKC had more turnovers"
3:06:45 Rav Reiga: "Crazy b2b clutch from Klay and Steph"
3:07:30 TI Daniel: "Amazing the bench had 57 points tonight. Loving my road warriors right now"
3:14:00 Kerr postgame video from Slater on leaving the past in the past
3:16:30 Daigneault video postgame saying he assumes Secaucus got it right
3:17:45 Steph Chet postgame pic jersey swap
3:18:00 two in-arena replays of Steph's bucket
3:20:00 I would pick MJ to save the planet, but I would also pick Steph if it were my last game to watch, ever
3:22:30 Draymond explanation on Giddey contact causing him to touch rim
3:28:00 analyzing if Draymond indeed touched rim or both per his postgame (STEVE AND DRAY POSTGAME AUDIO ALREADY OCCURRED)
3:31:30 Giddey ruined it, but he thought Steph had already made it
3:37:45 DARIO POSTGAME AUDIO
3:42:00 analyzing Rule No. 11 NBA rulebook, seems like touching the rim there was illegal, imo the refs got that part wrong, but Giddey's goaltending, they should a double-goaltending rule
3:44:30 Dray's left hand appears to be out of the equation: https://x.com/_GSW__/status/1720639756953088089?s=20
3:46:45 Giddey touched the net first so case closed!
3:51:45 Parth Manvar: "Dray mentioned we missed TJD, BP and Lester's ENERGY !!!! He wants them to be part of the crew !!" -- That's Dray voicing his opposition to the coaching staff
3:55:00 remembering James Love RIP 2005 Visitacion Valley Sunnydale SF neighborhood
4:03:15 STEPH POSTGAME AUDIO
4:08:45 CP3 POSTGAME AUDIO
4:17:45 OKC was playing on a b2b
4:19:30 looking at the Cavs boxscores: Donovan went 4/7 on 3s (hope he spent it all)
4:29:45 Bruce: has the coaching style of Kerr a bit changed this year. I feel like this year he goes with whoever is hot or having a great game. He is not afraid to sit down a starter in order to win the game -- I would say it's easier with more vets. Last season had to bench Wiseman after going 3-7, didn't have Wiggs for 3 mo, Lamb and Jerome were forced into those "vet" roles
4:32:00 RUBEN CARTER IN THE HOUSE!!! IG: @iamrubencarter , looked at Steph
4:45:00 ENTIRE STEVE POSTGAME VIDEO
4:54:30 ENTIRE MARK DAIGNEAULT POSTGAME VIDEO
4:56:00 another opposing coach saying Warriors are a different cover
4:57:45 Daigneault crediting Lu Dort for "guarding a generational player for 30 minutes"
5:01:45 Daigneault: "Thompson's first shot, (Cason Wallace) contested it like a normal player"
5:03:00 ENTIRE LU DORT POSTGAME VIDEO
👍👍💛💙
LetsGoWarriors is a reader-supported publication. To receive new posts and support my work, consider becoming a free or paid subscriber.