Discover more from LetsGoWarriors
Informational & credentialed independent Golden State Warriors Website, Discord app (for paid subscribers), and YouTube channel for fans seeking positivity and knowledge! Not affiliated with GSW.
Over 2,000 subscribers
Timberwolves show more respect for Warriors' system than casuals
[video/quotes/notes/transcripts from MIN-GSW 1of2]
I will try to keep the commentary brief because I am spending a lot of energy protecting our YouTube community page as a safe place to express love and support for the team, following the news this morning that Stephen Curry is out for tonight's "Part Deux" against the Minnesota Timberwolves.
Naturally, you have the vanilla social media commenter wanting to spread their negative feelings on this new topic, as well as the ongoing shooting slumps of Klay Thompson and Andrew Wiggins. It's a bit much, but I certainly couldn't NOT report the news. And so I embarked on the journey today…
LetsGoWarriors is a reader-supported publication. To receive new posts and support my work, consider becoming a free or paid subscriber.
Curry injured himself on this play, as identified by Anthony Slater of The Athletic. Steph had been listed as questionable as of last night's NBA injury report:
Incidentally, if you're going to the game tonight, Chase Center's social media team posted on Twitter a clip of Steph asking people to arrive early and take public transportation. The first 10,000 fans will get a green Curry puzzle, too. Here's a behind-the-scenes experience from Sunday on our home floor:
RESPECT FROM ANT/RUDY/FINCH
Meanwhile, the Timberwolves themselves are showing a lot more class and respect than certain casual/bandwagon sects of Warrior fandom. I had originally written "DubNation" instead of "Warrior fandom", but these people do not deserve to be called such a hallowed moniker.
Think of it this way. For all these people who want Klay and Wiggs benched, don't you think the Wolves want that too? They spent every interview talking a few seconds about how tough it is to chase the Dubs' shooters around the floor.
The Timberwolves analyst even made a cool Xs and Os video of it:
But I get it, for the garden variety fan, it all depends on their environment. Thumb-typing in front of a mobile phone, they turn into outraged zombies feeding on negativity from other outraged zombies. Give them a ticket to Chase Center and suddenly they become human again, so appreciative of an autograph from even Jerome Robinson, whom they wouldn't recognize on the street if he walked by them.
So the respect and appreciation… Anthony Edwards said in the locker room postgame, "Defending this team is hard." Rudy Gobert and Chris Finch talked about Mike Conley and Jaden McDaniels chasing the SplashBrothers, so the remaining three have to really pay attention to rebounding, and Gobert specifically listed Draymond Green, Kevon Looney, "even (Jonathan) Kuminga and (Gary) Payton (II)."
At the end of the day, as Edwards pointed out, the strategy is to funnel everyone into the paint, "running them into Big Rudy."
Someone on Twitter also brought up the fact that Edwards loves playing against the Warriors, particularly due to Draymond and his trash-talking. In a late-July interview with Heir App, Ant said, "I wanna get to the Warriors, wherever they at, I wanna get to them. I mean, because Draymond talks so much trash. That's pretty much the only reason."
I won't dissect the in-game confrontation between the two too much, but to me it was everyday talk I used to see in my generation of men's rec league, so nothing really all that big:
Rachel Nichols and Boogie Cousins put it into perspective (clip from Nichols' IG, for their "Bully Ball" podcast):
And so kudos to Ant, he won that joust, although he did instigate the verbal exchange, so Dray was never gonna back down from being instigated on.
BPODZ MOMENT (PROBABLY)
Which brings me to the rotation with Curry out. A lot of fans are clamoring for Brandon Podziemski and Trayce Jackson-Davis. I think Podziemski can make more of a difference than TJD and that assessment goes right back to Rudy.
All due respect to TJD, if given the choice, I'd rather have an attacking, flying Wiggins (note: specifically already in flight) on a shot attempt versus Gobert than a typical big man post-up move of Trayce against Rudy. That being said, there should be a steady diet of Chris Paul in the pick-and-roll tonight, so with that action, you never know. During my ManningCast Sunday night, I had called for JK to start instead of Looney, to speed up the pace, but now that Steph is out and CP is running point, I might retract that idea in favor of Dario Saric as part of that PNR action (in place of Loon, of course).
I briefly spoke with Dustin Van Lieu, whom I previously interviewed…
…Coach "DJV" is BPodz' trainer, and he told me that he and BP identified an opportunity to score, that teams were immediately dropping on him, and Podziemski made the Wolves pay with a three early in his "mop up" stint on Sunday, which gave Minnesota a little scare, just as they'd done against the Cavs on Saturday.
"One minute, one opportunity," Van Lieu declared. Trademark that, Coach!
With his immediate impact against the Cavs and even more so against the Wolves, imo BP had already earned more minutes. Now tonight, that's a no-brainer.
BP also posted on IG a two-minute silent highlight reel entitled "Stillness and silence ✍️":
And I also noticed Draymond only played 24 minutes, although it was a back-to-back, although he only played 18 minutes the night before due to being ejected.
Green's camp tells me Dray is not injured and we both agree that the coaching staff was probably just trying something out. But expect Draymond to go back to his pre-Denver minute totals of 27, 28, 29, 27 (or more).
DRAY TECH PARALLELS WIGGS/KLAY
Staying on the topic of Draymond, after getting tossed in the Cleveland game, he went on IG Stories and posted: "I'm in Year 12 and y'all still telling me stop being Draymond. Don't get a tech… blah blah blah. 12 years later and y'all still trying to coach me on how to be ME? I am better at being Draymond than ANYBODY!! Imagine if I told y'all how to do your job. You'd look at me crazy… I thought y'all should know how dumb you all look trying to tell me how to be me. If y'all had some advice for your own lives the world would be a much better place and you would be FAR better at your JOB than your mediocre outputs. Happy Sunday good people! Right back at it like an addict!"
There's a parallel here with Steve Kerr not benching Klay and/or Wiggs. Over twelve years, have the Warriors ever benched a starter for a slump? Have they ever given up on a piece that had a direct impact on earning a ring?
I mean, this is quite simply the Warriors' culture.
But forget the logic for a moment. I don't know if it's just swimming into a tidal wave also known as modern social media, but I've noticed that there are far fewer people commenting on these platforms who are genuinely curious and want to learn about the Warriors' culture.
LetsGoWarriors was always built with the intent to bring you closer to the team. It wasn't meant to stay separate, to toss rocks from afar, to view the team like it's a video game.
I just don't think "Warrior fans" who want to bench Klay — or, really, even Wiggs considering he was directly responsible for one ring — really get it. They live in an NBA2K world; they are so far removed from the team that they are unable to feel the abundance of true Warriors culture and what really means, what it embodies. I often say on my live chats that the goal of LGW is to make you feel like you're the 19th man on the bench.
So they live life from a position of lack instead of a foundation of abundance.
The good news is, a new California law requires K-12 students to be able to identify fake news (yes, Google it!). There's a chance the next generation of Warriors fans could be smarter than this generation's. 🙌
The IG post below also parallels the Klay/Wiggs casual fan outrage in that people easily forget all the good that you do and focus on the one thing that doesn't happen to meet their needs:
Now quickly in terms of the logic, the previous article on this website identified the mistakes all five starters were making in the loss to the Cavs, including Curry despite his scoring totals, which directly affected the time and score of the losses.
Well, dissecting at halftime where the Wolves increased their deficit against the Warriors on Sunday night, we found that the team was just missing shots. This included Steph as well as the whole second unit, all in the pivotal third quarter (in fact, Steph and Klay were a combined 2-for-7 in Q3, I looked it up). You can check the notes in the Description and Comments:
Below are the transcripts from Sunday night, as I did them anyways, but before that, here's a little side news…
CP3 QUICK TRIP TO LA
CP3 flew down to LA to see his daughter play for Campbell Hill HS, also dropped by to say HBD to Russell Westbrook who was still dressed in his birthday party attire from the previous night: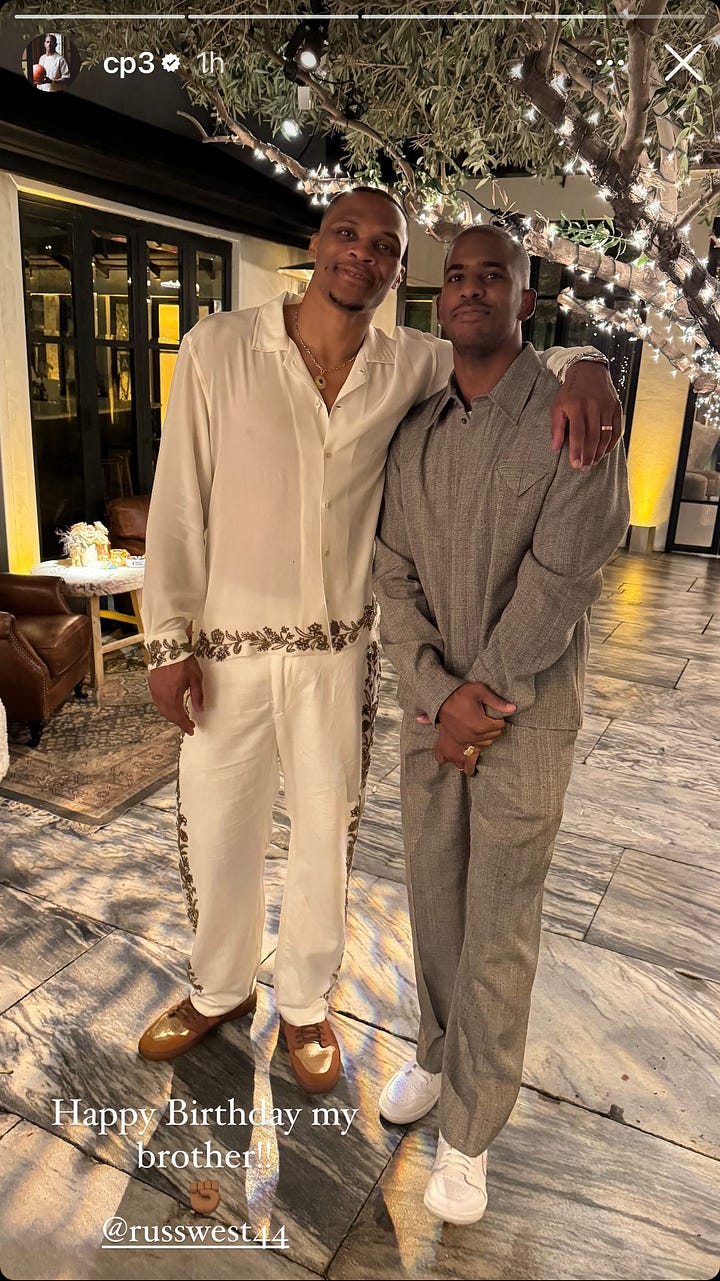 MIN-GSW POSTGAME/TRANSCRIPTS
0:00 Dario Saric postgame Minnesota on the biggest adjustment that needs to be made playing the Timberwolves again next: "I think we need to be better offensively. It's hard to say right now what was the real issue and real problem. Last couple of games we kind of struggle with offense a bit but I think we're gonna figure it out and bounce back … I think we played pretty solid defensively. I think we're like solid there. I think they didn't have so much offensive rebounds, nine which is kind of okay … when we try to figure it out, get some easy buckets. Seems like we really struggled to get some easy ones…"
0:57 on the keys to getting those easy buckets: "I mean, like they always say …if you're good in defense, you can run fast breaks and that kind of stuff. But I think we were kind of solid defensively, just some major things. How many turnovers? 14 … I mean, a lot of easy shots. Sometimes miss the layups, try to get more open shots. It's hard to say it's hard to say right now, but obviously, offensively, we struggle a little bit. I think we need maybe share the ball more or something like that, but I don't think anybody is selfish. It's just like, maybe these couple games seems like that. So, we need to figure out. Of course we will, but sometimes it takes time."
2:13 Steph Curry postgame on if they are just out of rhythm at Chase Center: "I don't know what the numbers look like on the road and how much of a discrepancy there is there, but we've played two good defenses… Cleveland was more our defense affecting our offense … Tonight was just a little destroyed rhythm early and can't ever really build up a presence here with the crowd into it and really feel good about what we're doing. Seemed like we're chasing the whole game. So I think the outcome has been because of a lot of different reasons. And we haven't figured it out."
3:14 on no one else scoring more than 20 and if he can feel the defense saying they're gonna let the other guy shoot: "I mean, there's always been an approach of guarding us for years, like you know where the tension is going to be and you're trying to blitz me in a pick-and-roll or stay body-tight on Klay when he doesn't have it, coming off pin downs, or whatever the case is. So we have to make adjustments. We can't just keep doing the same thing and expecting different results, but it's not panic or anything. It's just a matter of getting a little smarter and a little bit more organized on how we're creating good shots. And trusting that we have the ability to do that with our rotations and the combinations that we put out there. So it does feel like everything's kind of tough to come by, in terms of creating good looks, but that's not something that we feel like is unfixable stuff … a double negative? Get my grammar police. Okay, thank you."
4:35 on correcting the issues they have had in the paint over the last two games: "I mean, it's tough just — we're not like a paint-dominant team…When you have breakdowns because of the threat of shooting, you can get slips and all that type of stuff. We're not a team that's just gonna do it in the post and get looks like that. Never really have been but it's about understanding like the last two defenses we played, that need to be present in the paint. Mobley and Jarrett Allen and then Rudy and KAT tonight. So we get stuck a little bit and I had two turnovers tonight where you don't have a plan when you get in there, and those big guys … at the rim and have options. So you have to play under control in those type of situations. But honestly, our defense, not fouling and getting stops, that feeds our offense has always been our strength. If you don't, they have to be connected. So that's a big part of loosening up defenses that are trying to make us take the top jumpers and keeping everybody on the perimeter."
6:04 on the young guys being utilized earlier in the game and if he is expecting them to be a part of the next game: "I'm just super-proud of the way they've approached this, like two games in a row now where they've … big burst of energy when the game felt like it was out of touch. And that's just showing that they stay ready and they have a sense of pride of taking advantage of whatever they're asked to do. Everything is on the table for us for adjustments when you know we've lost three straight and you have to make adjustments. I don't know if that's a rotation thing or whatever the case is, but everything is on the table and everybody has to be ready to step in and do what they're asked to do based on what Coach kind of sees and what we talk about before Tuesday. So they're obviously capable. They've played minutes for us on the road. And I think it was in Cleveland, in Denver, and they played pretty well. So, just stay ready… Things change really quickly."
7:14 on Kelly Oubre: "That's such a scary, scary news to get. And thankfully he's, I think from all accounts, he's gonna be okay. Basketball aside, that's a blessing. We said a prayer for him before the game, before we took the court, just we love his time here and know it was only that one year. But just pray that he has a quick recovery and that him and family find peace to it. He's got a beautiful family and it's obviously bigger than basketball in the sense of him being okay and taking care of his himself, for life. So, hope he has a full recovery."
8:23 on if the in-season tournament game has a different feel to it and a playoff atmosphere: "Oh, absolutely. It felt like that in OKC. It's gonna feel like that Tuesday and there's even bigger stakes for us to respond to, getting beat by the same team we're playing on Tuesday. So, gotta come with it. And we have to understand that there are consequences associated with those four games that you play in your pool and trying to get to Vegas. So I love it because it gives you an extra sense of urgency early in the year."
9:12 on if guys figured out the format or if there is still a little bit of confusion about how to advance: "if you just take the time to read the situation, it's pretty straightforward. I love the commentary around, 'Nobody knows what's going on.' If you actually just take a second, take a deep breath and understand there are six groups and whoever has the best record out of the six groups and two wildcards, go and then you play a bracket from there and try to get to the Vegas Final Four, play two games. Championship is an extra game, but there's monetary stakes on the line. And then everybody else who doesn't make the bracket gets regular season games made up. Pretty simple. Pretty simple if you're the 42nd home game… (Raymond Ridder chimes in with jokes about ticket sales)."
10:25 on if running more pick-and-roll could be on the table: "I mean, yeah. That definitely qualifies as an adjustment, just trying to keep our offense maybe a little bit more simple during the meat of the game … our offense is definitely predicated on ball movement and player movement. But when you have teams that try to force you into situations and send a crowd to certain guys, you have to have counters and if things aren't kind of materializing the way you want to in the meat of the game, that is a way to kind of slow it down and try to orchestrate good shot creation, to take advantage of matchups and all that type of stuff. We've done it before, not to the level that other teams do, but we've had success kind of trying to find a nice balance … our defense and everything else combined that will help us get over the hump."
0:00 Steve Kerr postgame Minnesota on how much the offensive struggles were due to the Timberwolves their own issues: "I thought Minnesota was great defensively all night. They are the Number One defense in the league for a reason. They've got a lot of length and Chris (Finch) has them playing hard and together and so they bothered us, but at the same time, we did have open looks we missed, I think 12-for-43. From three, we can definitely shoot better. I think we will on Tuesday. But they're playing well. They're playing probably better than anybody in the league, having beaten Boston, Denver, coming in here and beating us, so give them credit."
0:52 on what the things are that most concern him: "I'm actually not overly concerned, to be honest with you. I think the season is filled with ups and downs and we're in a little bit of a spell right now, but it's not like we are the world's greatest team when we were 6-2 and we're not the world's worst team losing the last three. It's just this part of the season. And I think we just played back-to-back two great defensive teams that throttled us and we need to figure out some things offensively and I'm confident that we will."
1:37 on what the fouling goes back to: "Well, some of them are just undisciplined reaches, and then some of them we're just fighting and we're out of position or something. And so we know that we can cut back on some of the fouls and then some nights there's going to be some guys who get to the rim and we have no choice but to go up and challenge. And there's gonna be fouls called. So it's early in the season, and I like this group a lot. They're very well-connected. And we just have to keep going. I think we're gonna win plenty of games. Right now we're just in a little bit of a rut and we'll we'll climb out of it."
2:33 on what the things are that they need to figure out offensively: "We haven't had a ton of flow and rhythm … some of the actions and plays that our fans are used to seeing us make, but a lot of that has to do with the defense again. These last two teams that we played, playing two athletic bigs who can really patrol the paint and block shots. That makes it hard and so we had some games early where things were really flowing and there's no reason why we can't get that back."
3:12 on nobody besides Steph scoring over 20 in a game and how much they just need somebody to just have a strong game: "I think Dario did if I'm not mistaken (is told Saric scored exactly 20 once.) Okay, yeah. But yeah, no question. We need some scoring and some playmaking from elsewhere. So we've got to keep plugging away and we'll go from there and see where that takes us."
3:40 on if the young guys playign well for a second straight night make him reassess playing time: "We've seen that Brandin and Trayce are ready to contribute. We saw it in training camp, like these guys are there, they're ready. And so we have to make the decision. If we want to get them out there more — and I'd love to — it's tricky because we've got a lot of people. We're already playing ten even without those guys and I like everybody that I'm playing, but if we struggle … we've got to get guys out there who are gonna give us a spark and we know they're both capable."
4:32 Draymond Green postgame on what they need to do better: "We've got to be better. The NBA is a tough league, so it's a tough matchup every night playing NBA players … so it's not necessarily viewed as a tough matchup. We had to play better but that didn't start tonight."
4:57 on how to get everybody else other than Steph Curry unlocked: "We just got to get more organized. We're not doing a great job of getting organized. I've got to do a better job there and making sure we get into some things. Chris (Paul) got to do a better job there making sure. We both need to do a better job of getting us into things … it's on us to realize that and learn how to also use him when he's got to go on to get other guys looks as well … me and Chris will be better with that."
5:45 on if they are still trying to figure it out: "No, I think it's the organization, for sure. We've had moments where it looks great … We all know we're the guys that were … figuring out rotations and all of that. We make a bunch of excuses. They don't f—king matter. So we as players have to be better. And that's just what it boils down to."
6:28 on not having a guy that score more than 20 besides Steph: "When you're playing well, players get … bigger pay right? It's the league where you play well you get credit, you get paid, you get All-Star appearances, you get All-Defensive teams. All-NBA teams, this thin,  that thing. When you play bad, players gotta f—king take the blame as well. We can come up here and point a bunch of fingers, we can say, 'Oh man, Coach could have did this better or referees could have been better. You can come up and point a lot of fingers. At the end of the day you play basketball, it's your job to figure it out and be better and so that falls on all of us and you gotta take on that challenge of being better and giving to the team what you need to give to the team, one through twenty or however many players we've got."
7:25 on how the young guys have finished these last two games: "This is no surprise. We believe in our young guys. We think they're more than capable of playing and giving great minutes. They almost had a comeback today, so it's no surprise. We know that we have young guys that you can throw in the game at any point. And they're going to be ready to go. That's the reason we were complaining when they weren't here in OKC. We know what they're capable of. We know the energy they bring. We know they're always into the game and locked in. So there may be a surprise … but they didn't surprise us … I think they're ready for whatever … anytime you've seen them get put in the game, they've been ready to go and they play well. So, like I said, those young guys have 100% belief from us. We all believe that they are capable. We all love them. We all love being around them. We love the energy that they bring every day. We love the focus level that they bring every day. And so the young guys have our respect that we believe in and so will they play more? I mean, you know, it's early in the season. Young guys are never going to get the first nod, especially on a team like this. It was that way — I didn't get the first nod, Klay Thompson didn't get the first nod, Steph Curry didn't get the first nod. It's just not the way it goes. Now, you can go to some of these teams around the league and you get the first nod and that don't always go so well. So it's not always the best thing. I don't believe that will be the case for our guys because I think they're ready to go, but that's just not how it works. You don't get the first nod. You wait for your opportunity and when your number's called, you be ready to go and that's what they're doing. And that's all they can do. They can't sit and complain about, 'Oh man, I think I can play more,' and nobody wants to hear that shit. Like, you're a young guy. You wait til your number's called and be ready to go. And they're doing that so they're doing their part."
9:47 on where do they got stuck offensively: "Well, I think we drove into traffic way too much and driving into traffic without a plan. We forcing tough shots or jumping and turning the ball over. So I think we have to do a better job of spacing the floor and if we play with the floor spaced, then you can exploit their weaknesses. But just driving into the paint and jumping … that's not going to work. And I know I had one, Steph had one, Wiggs, he had one. Klay had one. So we've got to understand that the strength of their defense is funneling you into two bigs … If you penetrate into the lane then you can get near the rim, and you can finish and then all of a sudden you jump and it's not open and so we have to be smarter than that…"
👍👍💛💙
LetsGoWarriors is a reader-supported publication. To receive new posts and support my work, consider becoming a free or paid subscriber.