Discover more from LetsGoWarriors
Informational & credentialed independent Golden State Warriors Website, Discord app (for paid subscribers), and YouTube channel for fans seeking positivity and knowledge! Not affiliated with GSW.
Over 2,000 subscribers
A vocal and non-turnover-prone Steph Curry? GOAT status!
[+notes/quotes/video from Game 7 Warriors-Kings]
As you know from every livestream, I don't really do comparisons or other CRAP (…rankings, awards, predictions), but I'll often reminisce about Michael Jordan and how I used to never give it a passing thought that anyone could be considered the Greatest Of All-Time other than him, just because I grew up watching him, even studying his game tape from recordings of Chicago Bulls games on WGN, emulating his footwork as I rose up through the Northern California (amateur) Japanese Leagues, and Chinese and Filipino tournaments back in the day.
Sure, it's a new era and Stephen Curry can score in multiples of three rather than two without having to glide in the air, but we've all seen the turnovers especially this past regular season and even four (4!) games in the opening series versus the Sacramento Kings where he generally threw the ball to the other team five times every 48 minutes. Gulp.
LetsGoWarriors is a reader-supported publication. To receive new posts and support my work, consider becoming a free or paid subscriber.
It's been well-documented — at least on this website, somewhere — that Steve Kerr attributes this "wild" style of play to the confidence and arrogance of the so-called "organized chaos" that has become synonymous with the Golden State Warriors' brand of basketball.
On the livestreams, I've lamented that the squad seems to have less of a vocal leader this season with the punching incident leading Draymond Green to have a more measured approach and, generally speaking. No doubt there's the lack of another personality like his in the Dubs locker room, although the same can probably be said within roughly 29 other franchise. As I said after Draymond got suspended, Dray is a unicorn.
NBA fans like myself have gotten so used to the rule-by-fear, stern, pissed off looks of MJ and Kobe Bryant that we're kind of new to Kerr's positive, patient approach. Steph's "fun" style seems disruptive to the OG ecosphere. The fiery type just really isn't what you see with the elite crop of young players this era, who largely have been taught humility and learn to speak to media with a mic in front of their faces as soon as they become teenagers.
So when I had heard that Curry was indeed vocal, when I saw the video clip of him speaking with Jordan Poole after Poole walked around Green's attempt to give him advice during a rough stretch in Game 6, I was like, "There it is! Our guy is vocal, indeed." And in Game 7 he took care of the ball, too.
Again, I don't really do rankings but I'm starting to think along the lines of that "1a" and "1b" nomenclature — let's see how this postseason plays out, though. Speaking of CRAP, there is no way anyone can predict the outcome of tonight's Game 1 against the LA Lakers. Let it be! 'Nuff said for now. Keep going, Steph. Keep going.
Curry even hinted at being the vocal one in the postgame podium of Game 6, but see previous article for the notes/quotes/video. Below, I'll stick the Game 7 picture galleries immediately after this paragraph for aesthetics, but below those are the related quotes and excerpts on Steph's leadership, and then we'll go back through yesterday's media availability and Game 7 "recap" in the usual reverse chronological order…
PICTURE GALLERY FROM GAME 7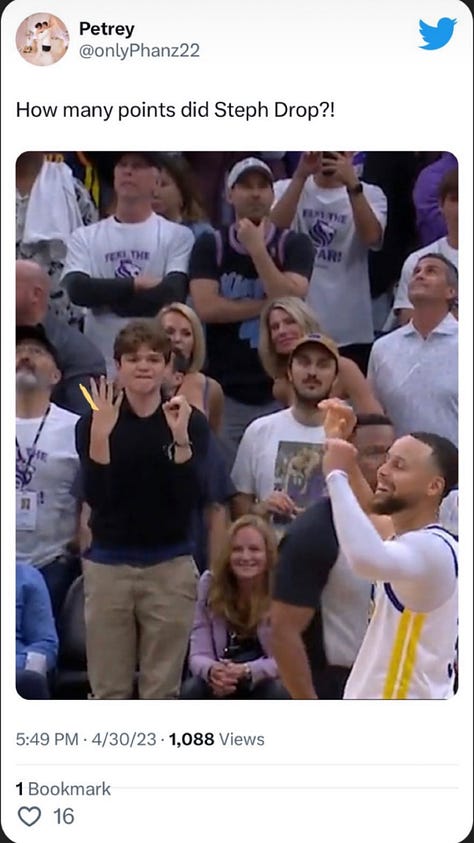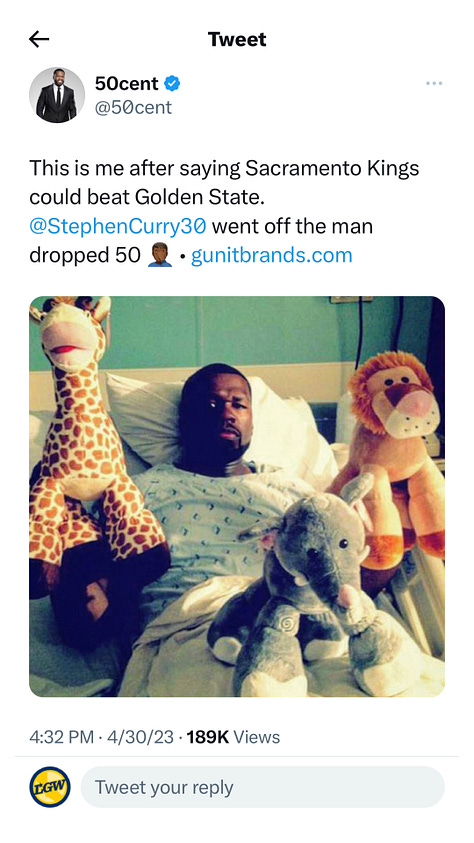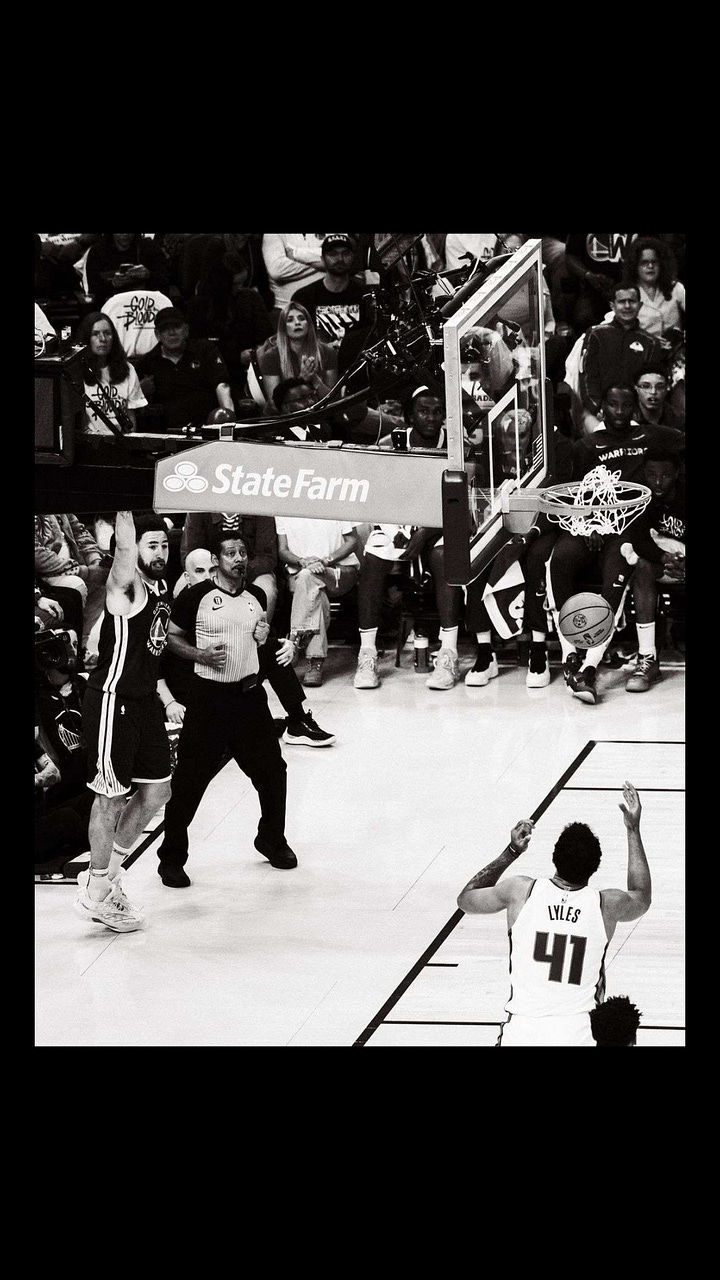 FRIENDLY REMINDER: these pictures come out sooner on our YouTube Stories section, via the YT mobile app, compared to this website.
• Bob Myers on 95.7 The Game, on Stephen Curry addressing the team the day before Game 7: "If you could ask me, you can go back in time and choose to watch the 50 point game or his two minute speech, I would have chosen the speech. He just doesn't speak to the team like that, and I just wish I'd seen it… His character and his talent make it so easy to support someone like that."
• On Golden 1 Center: "It was the loudest game of the four and those Kings fans really were tremendous. Our fans are tremendous, but I got to give credit those those Kings fans. That organization what Mike Brown did those players, they're coming and that was a worthy foe."
• On Kevon Looney: Every year, every game, it's like this slow growth that continues and then you wake up and it's 20 rebounds. [Looney] is a huge part of of us. This is a guy that we drafted, he was injured, we didn't pick up his option. Thank goodness we got him back.
• Shams Charania and Marcus Thompson of The Athletic with the inside scoop: https://theathletic.com/4475672/2023/04/30/stephen-curry-50-point-speech-warriors-kings/
He was so disgusted by how they played, so disappointed in the division they allowed to seep in. Curry couldn't sleep.

When he gave up trying and got up, before the sun had even risen, he checked his phone and saw a text at 3:45 a.m. Turns out Draymond Green couldn't sleep either.

They exchanged messages about their embarrassment, how Kings guard Malik Monk called them old, about the fractured focus they've witnessed in their huddle. Green was prepared to speak to the team, to try galvanizing the bunch. But Curry was fed up enough to tell Green, "let me take this one." That was all Green needed to hear.

Before the start of Saturday's film session, Curry stood before the group. In the glass-walled atrium on the ninth floor of Chase Center, a space known as "Above the Rim" and that overlooks the Bay, he had their undivided attention.

"I don't even talk a lot," Curry said to the team, "but I've got something to say."

…

"He is that guy," Gary Payton II said at his locker after the game. "So when he speaks, everybody better listen. Because 30 is usually quiet and lets his game speak for itself. But he had to say what he had to say, because he knew what type of vibe it was … and I don't think he wanted to give this one up. So he led and we followed."

…

"At this point, he's reminding people for no reason," Jordan Poole said, "He's got the same edge as any of the other greats. Mamba Mentality, all of that s—. Steph got that s—. That's what makes him so special. Maybe his approach is a bit different than the other guys, but we know he's a killer. Everybody in the world knows he's a killer."

…

"It gave me chills," Andrew Wiggins said. "No. 30, he's different, man."

According to multiple sources in the private session, Curry told the team he believed in them, that they had enough to win. He asked for their trust in return. He assured them he could deliver victory if they all bought in. He implored them to put all of their feelings aside — which sources with knowledge of the locker room felt was messaging directed at Poole, Jonathan Kuminga and other guys who might've been unhappy for reasons such as playing time and role — and lock in to the unified mission. Anyone who wanted to remain in their emotions, he told them to stay home. Anyone who was ready for their vacation, he told them not to get on the bus for Sacramento. But anyone who did get on the bus, Curry took that as a signature of approval, a binding agreement to be on board with the mission. And if they did that, if they got on the bus, he promised he'd deliver. With his game, his faith, their solidarity, they'd win.

…

"You're in this space where you're gon' fold or you gon' rise up," Green said, his voice raising with excitement as he relived the speech. "Once he did that, you have no choice but to rise up. He f—ing got everybody locked in. 'If you're getting on this bus, you're making a commitment to this team. No matter if you play zero minutes or 40 minutes. You're making a commitment to do whatever it takes. Prepare your mind and body for this opportunity we have. We got embarrassed the other night and we never f— going out like that.'"

…

When Curry finished his appeal to the team, he opened the floor for anyone else who had something to add. He started the seminal moment but was willing to share with a teammate.

…

"Enough said champ!" Green yelled in response to Curry. "Nobody got nothing! That's it. What else can be said?"
• Gary Payton II media availability, day before Game 1, on what he sees from the Lakers now: "Togetherness. Everybody's on the same page... playing freely, not playing selfish... confidence is high right now. They're just hoopin'."
• On defending the bigger Lakers: "That's why we got Andrew Wiggins and Draymond and Loon."
• On the team having confidence and momentum: "Oh, absolutely... from what 30 said, kinda lit a fire... that's all we needed."
• On when he first was amazed by Stephen Curry: "New York game. What'd he have, 60? Felt like he had 80... 30-feet, 40-footers and I was just, like, God..."
• On what makes Steph special: "...he changed the game... his dribble, create... at the rim or are you gonna give him the three... I don't even have a reaction... Anything he puts up, it's going in."
• On any particular matchup he's looking forward to vs the Lakers: "Nah, not really. I'll probably see everybody but AD... get down to it, tighten it up, take away what they like to do."
• On Klay: "...been waiting 12 years for this matchup... I'm sure Steve told him, let it fly... He was amazing and on defense he was solid... He's gonna be ready."
• On Klay driving and kicking: "He puts pressure on the defense and they have to make a decision... teams are gonna respect it."
• On if he needs to make more threes against the Lakers with AD protecting the rim: "We got some things we can do to counter that... Let it fly."
• On if he's heard from his father, who won a championship with the Lakers, yet: "I haven't heard from Gary yet... He probably doesn't care. He probably just wants to win."
• Steve Kerr media availability, day before Game 1, on Jordan Poole: "He had a couple games where he got to the line 8 or 10 times and those are really important plays for us… another way to score and to calm the game down… we saw it throughout the playoffs last year. Wasn't his best series… last night he came in and did his job… from that point on (after the turnover) he ran the team… his minutes weren't required last night, big minutes. This is all part of his journey… every series/game is his different… process of finding his identity as a player… gotta go through the rough parts."
• On shooting a low percentage in the Kings series: "They pressured us the whole series for sure… only 7 turnovers, we got some of our best shots last night… playoffs… more physicality… get used to that… just got Wiggs back… same with Gary… we're on a good path now because we have our health… we'll shoot the ball better this series
• On if it's more important to make those vs the Lakers who have rim protection: "…I'm confident we'll knock them down."
• On what he's seen from the Lakers so far: "Vanderbilt (defense)… size and athleticism of Hachimura… Reaves… Schroder… everything just clicked (after the trade)… Davis as the anchor."
• On if a Kuminga could be a factor: "Yeah, could be. We'll have to see how the series unfolds… he just has to keep doing what he's doing. We've had these conversations a dozen times: These guys are young… go produce in a playoff series, it's not easy. So it's all part of the process…"
• On what they need from Kuminga: "We need him to run the floor and rebound… he has to learn and he has to feel that. It doesn't necessarily happen right away… last series he didn't get a chance to play much… just like it is for Moses… now he is a dramatically better player than he was three months ago, that's why he's in the rotation… not linear…"
• On the challenges of playing every other day: "I do think the travel being really short for both teams is really helpful… a long day of travel in between, those are the tough ones… you saw what our older guys are capable of yesterday… bringing the necessary focus… all you can do is play the game."
• On Klay saying he'll get hot: "…his performance yesterday was almost more impressive to me than him going 10-for-19… not afraid of the moment and defend… Klay pumping his fist (when Wiggins made a shot)… it's about competing… his defense was amazing yesterday… Klay is never afraid. I actually loved his game… when things are going away, fighting and scratching…"
• On if the simplification was pick and roll with Looney: "spacing… Game 6… cluttered… the way we were attacking and trying to get the ball moving… I don't think he's ever taken 38 shots… is that his career high?… strategically… our spacing was a lot better… missed a lot of shots."
• On their offensive struggles: "It generally means not crowding the paint… where we can get into trouble is we can get too bunched up."
• On Steph vs LeBron: "Four Finals matchups, that's what it's all about… that's what rivalries are borne out of… both amazing players, totally different… committed to the work/process… share a lot of the same qualities despite being different players."
• On Anthony Davis: "I think you have to get a dose of realism… aware of his defensive presence, then when you get out there… you gotta feel it… don't let them free to jump up and smother you're shot… that's what fuels their fast break."
• On the gamesmanship: "…even one time when Sabonis went to the table (and he made an adjustment) and Mike saw and he pulled Sabonis back… you look at a screen shot (of the 3-on-3), what are you, insane?… that's the beauty of the playoffs… you have to really counter what the other team does best… you start countering during the series… honestly one of the most fun parts of the job…"
• On switching the courts to start: "…started doing that late in the season, partly because we were playing so poorly on the road… have the offense in front of us… communicate our calls better… we've stuck with that."
• On what Steph has meant to this franchise and the game: "…when I have dinner with Popovich… he says here's to Tim Duncan… without Tim, none of that happens. That's how I feel about Steph… thank Steph for this era… great collaboration with ownership and management… Hall-of-Fame guys, Draymond and Andre and Klay… collection of people and talent, but it's Steph… you remove Steph from the equation, I would've been fired… (laughs at Raymond's joke)… every superstar has this type of impact… Michael Jordan impact on Chicago… Duncan on San Antonio… Bill Russell impact on Boston… what it does for the brand… the city and the joy and the interest. Think of how many kids have been born… saw Steph hit a 35-footer… your team when you're five is usually your team when you're 55."
• On the rest that Curry got in Game 7: "The six minutes of rest that he got in the first half was important… Jordan…"
Game 7 bts: Steph Curry 50-piece, Klay 💦 pregame, Draymond, Bob Myers, Ayesha [#Warriors-Sac Kings]
0:00 Draymond to start, Scott Foster one of the officials (29th season), but I'm a tad worried about Kevin Scott (12th) and Curtis Blair (13th)
7:00 videos of Golden 1 Center: JP, Steph's Curry10 colorway (we don't think he should wear those purple shoes again), Warriors layup lines
15:00 Dean's keys: JK maybe vs Lyles alongside Draymond, Steph will take 5 shots per quarter in first half, 7 per quarter 2nd half, someone constantly cutting to the rim, JP just be confident, swarm to their spray, thinks GSW can win title if they win this game, loves this team
28:00 Loon wins another tip
11m50 Steph Dray Loon tiki
10m10 Klay fouled by Fox landing spot no review
9m45 tiki Steph Loon Wiggs nice fake
8m33 Klay deep in shotclock good
8m20 Keegan past Klay
6m45 Moody 3, in for Dray, JP in for Steph
6m00 JP too fast, did get fouled by HB
5m20 good help Klay vs Monk
4m30 GP good POA Monk
4m00 Steph back in, GP blinding handoff to Steph
2m50 Dray to JP 3
2m22 Steph G4 layup
1m40 GP all-defense closeout on Davis, Steph to Dray cutting
1m10 Monk Fox POA Fox 3
0m20 GP blows a layup
54:00 Dean answers a question on why JK hasn't played
11m50 Q2 we're in zone with Steph GP Donte
11m20 GP goaltending, hits himself on the head
10m55 Steph G4 layup, Dray kick ball wants to get revved up by arguing with ref
10m39 GP beat backdoor
10m30 Huerter ok defense helping on Steph
10m26 Andre talking to Steph and Kenny
10m15 Steph good show on Fox, Dray 3
9m45 Monk 3 good movement, Steph mad
9m02 Klay checks in, Steph out
8m50 Klay throws the ball away, mad at Loon
8m10 Loon saves the day and-one putback, Andre coaches up JP
7m10 JP via Loon, Loon reb
6m35 Klay bad shot again
6m15 Steph misses both FTs
5m55 Klay inbound near tov
5m40 Steph hero 3 over Keegan
4m15 Wiggs tough post
4m13 SplashBrothers discuss
3m40 wiggs cut post good
2m00 great box out Klay vs Sabonis
1m30 Klay bad rebound
1m00 Steph splash
0m45 Klay good D on Fox tov
1:31:00 Warriors utilizing more of secondary screens, Wiggs then Dray, Dean says this is why Kerr is so valuable, in-game adjustments after watching the tape
11m55 Kings deploy a 3-on-3 offense
11m10 Klay fouled, Steph and Dray talk to him, Klay rebuttal
10m50 Wiggs fouls Huerter on the oreb
10m40 Fox fouls Steph, talks
10m30 Klay fade, exactly what Dean said
9m40 Klay wedgie
9m35 Loon wins another tip, Klay dagger 3 via Wiggs aggressiveness
8m40 Steph scoop G4 style
8m20 great D
7m50 crazy sequence ends in Steph scoop, Wiggs dunk putback missed!
7m20 Wiggs draws 4th pf foul (in the bonus)
6m40 Looney and Wiggs saving the day with rebounds and cuts
6m30 Klay stops Monk, Wiggs great close out
6m10 Wiggs to Loon fouled, Dean: Kings have to be physical when they're on their heels
5m55 GP and Klay so good D
5m30 Looney!!!! Exhorts
4m44 Wiggs misses another FT, we've missed 4-5 in a row (13/23)
4m40 Wiggs D on Fox tov
4m10 great ATO, GP blocks Keegan
3m30 JP corner 3 via Steph
3m15 Monk downhill
2m20 Steph vs Keegan
1m55 Steph G4, bad transition
1m32 JP charge vs Keegan, Moody subbed for JP?
1m05 Dray fouled by Lyles on the pick, good sell
0m40 improvised tiki Klay Moody GP
0m20 GP gambled on the boxout, pays for it with Monk and-one putback
0m01.4 Klay dagger, JVG "very damaging" for Kings lol
2:23:00 Dean: "this team has been known for having great Q3s and relaxing"
2:26:00 Erwin Brouwers: "Statue Loon"
11m48 Q4 Steph calls 22 out of bounds side
11m35 STATUE LOON (2 more orebs)
11m00 Wiggs reb after Dray 4th pf
10m45 Steph 2-ball vs Monk
10m20 Sabonis two fouls not called on reb
10m00 Wiggs steal
9m37 Wiggs travel, but was aggressive, Andre coaches on bench
9m15 Steph another G4 layup
9m00 Sabonis misses!
8m45 Dray corner 3 miss, Sabonis rebound, Loon foul be careful!
8m00 Steph G4
7m50 Steph amazing 3 over Sabonis
7m20 they leave Wiggs
7m05 Klay rebound stays engaged
6m45 Steph push shot real MVP
6m23 Steph arrogance at the timeout
2:40:00 Lawrence: "the Kings are being taken into deep waters right now"; Tim Kono: "The desperation shots from the kings are coming"
2:41:00 me on Steph being vocal (non-publicly)
6m00 Steph 3 corner at shotclock buzzer, volleyball pass by Dray
5m30 Steph nodding what we're thinking
5m00 Dray brings a double to Steph why?
4m00 Loon putback of Klay miss
3m30 Sabonis almost and-one vs JP
2:47:30 I never thought small-ball was a thing
2:48:00 my all-time GOAT is Steph if he's doing this with 0-1 turnovers
3m00 Steph almost tov gets the 50th
6:21:15 Cholo: "I respect the Lakers, but I don't fear them"
6:25:30 is Vanderbilt gonna cover Steph?
6:25:45 Lakers POA isn't that good, could be good for JP 2nd-unit rotation
6:31:00 feels like the opposite of Lakers-Warriors when we had Sleepy Floyd against Magic Johnson
DISCLAIMER: These are all just notes for my main workflow of YouTube videos, mostly transcribed by me shortly after the interviews and during my coverage of postgame on our livestreams (!). Sometimes I'll just use what's tweeted by beatwriters, as listed. The links to the tweets are not available because sometimes I don't use the full tweet and just having a ton of tweets on this website imo isn't aesthetically pleasing and gets away from the main goal: transferring information (not so much entertainment) to the brains of DubNation asap.
• Stephen Curry postgame on his approach: "It was a really fun series. It was tough from Game 1 to Game 7… vibe of different adjustments… we knew they were gonna probably stick to the same formula… allowed us to go back to the drawing board… as simple as possible… a lot of pick and roll… organized offense that gave us a good start… some good looks to open up the game and that allowed us to connect the game… for me it was just about being aggressive in that scheme… I got 38 shots for a reason, I got ultra-aggressive…"
• On his missed free throws and smiling about it with Q: "Attitude can manifest a lot of things… missed four or five free throws the last two games… never overthink it, just enjoy the moment… be in the present… I like to have fun with it."
• On Monk saying they were old: "We didn't need any sound bites but it did help… that was a talking point for them… we knew who we are… 36 hours… regroup… we had a great talk yesterday and film session. There's still nerves… but when we get out there our experience took over and felt pretty comfortable at the jump."
• On interactions with the crowd: "It's just the playoffs… especially when you go seven games… Bay Area, NorCal kinda situation… all that stuff kinda comes out when you get the job done… you just let all that out. This is hard… a lot of narratives and commentary game to game and you're trying to block it all out… there's fun with it too."
• On who can stop Steph Curry: "Hopefully we'll never find out."
• On what makes championship DNA special: "…memory bank of how you feel in these types of environments… it matters… we love this atmosphere… said that after Game 6… trust each other… great energy off our bench… communication and togetherness on the bench… everything was connected… good things usually happen. It was a great time to put it all together."
• On the Lakers: "They're totally different than the Kings… we know Bron really well… since the trade and they look really different… it's weird, a 6-7 matchup and we get home court advantage… even if guys didn't get much run in this series… different style… everybody's gotta be ready."
• More on facing the Lakers: "It's amazing because you're still in the fight… nothing is guaranteed and you don't take anything for granted… blessed… excited for a new chapter."
• On championship DNA: "That's how you win at this level. The offense is flashy… for us our calling card has usually been our defense… momentum stay on our side even if were not hitting… especially when you're not turning the ball over… lost the possession game… keep the crowd out of it… probably our best performance of the series."
• On any rivalry of NorCal: "…you hear from both fan bases… geography… podium game of people talking trash, regular season history… kinda dope to know there is a little history… doesn't really manifest itself in the way we approach the game."
• On Looney giving more possessions: "He makes his presence felt and it's amazing, another 20-rebound game… plays a lot larger than his size… identity… we take a lot of wild shots… hopefully this performance continues."
• On working with Kerr: "There's a lot of trust in our staff. Coach is a leader… not an easy job especially when you have so much talent to find the right combinations… rotations… our input… you don't have the success that we have over the last nine years without that trust… him being a player… legends… brings all that wisdom… not just Xs & Os, but keeping everybody on the same page…"
• On how he's stepped up his trash talk over the years: "I do it differently… sometimes it's choreographed, sometimes it's not. I never take it too serious. The more that you're in this fight… defying the odds… everybody wants to see you fail, that's kinda the nature of where we're at… can still prove people wrong."
• Draymond Green postgame on what sparked the defense in the second half: "Everything started with Kevon… taking care of the ball… they had to play against our halfcourt defense… we've given them transition opportunities and second chance points… once we dominated the glass, it allowed us to show how good our defense has been… Andrew Wiggins, incredible defense… GP got into Monk."
• On the Kings' performance: "I think it's a real thing… you gotta give those guys a lot of credit… head of the snake, Mike Brown… haven't been to the playoffs in 16 years… De'Aaron Fox… tough, tough player, one of the futures of this league… won't be the last we see of the Kings… honored to play against this fan base.. it was a fun one for us."
• On if he sensed Steph would have a big game: "Yeah I knew he'd be locked in… we haven't had the opportunity… we've played over thirty series and this is our fifth (Game 7)… rare players do rare things… controlled the tempo… no turnovers, one turnover… he had the ball the whole game… when he's locked in there's not a lot of defenses that can stop him."
• On what he said to Fox postgame on the court: "Just paid my respect… I've lost a lot of respect for guys when we've played them in the playoffs… cut from that same cloth you feel like you're cut from and Fox is one of those guys… I've lost a Game 7… you have to go through that."
• On gratification for this Game 7 like Klay said this was the Steph Curry Game: "When you're in the moment that's always gonna feel bigger… the performance Steph put on, you look at all the things we've done this year… do it all over again and do it even better than Game 5… you talk about the Last Dance… takes things up another level… total domination… as a teammate that's the guy you wanna go to war with… he left no doubt… goat."
• On the Lakers: "totally different team… LeBron has played off the ball more than ever in his career… allowed other guys to do more… Austin Reaves… Rui… AD is AD… D-Lo… they have a bench. So it'll be a tough series but that's what you expect… looking forward to getting our game plan… maximizing recovery is important."
• On the road record: "…yeah who cares. Regular season is regular season… we had our struggles… we didn't come into this series like, man, we haven't won on the road… we did it… we know what we're made of."
• On the rest of the league trying to turn the page on them and LeBron, how they're in this position: "…ultimate competitors… we don't take for granted… who you are as a professional… eight years later and still playing at that level… how serious you take this, how you appreciate this game… for the stage, for the lights. I was talking on my podcast… it can't be replicated. It's goose bumps, man… this series against the Lakers is gonna be epic… stop trying yo turn on us so fast… on Bron… we get so caught up on what's the next thing… live with those results knowing that the work has already been put in… that's why we're here… lean on it."
• On Steph interacting with the crowd and the atmosphere: "Just laser-focused… actually missed a couple shots… still had the night that he had… it takes a special person… that's why you get paid the big bucks… Top 75 players and two-time MVP. No matter what the environment is you show up in a major way… I have a strong appreciation as a competitor (and) as a fan."
• On what he learned: "I learned nothing about me. I'm pretty in-tune with myself. Every team is different… Game 3 we really learned how to stick together… faced a lot of adversity… when you are expected to do great things… we enjoy that pressure, we enjoy those lights… embrace it, and that's how we try to attack it every day."
• On slowing the game down, if he took some take fouls to do that: "(Interrupts question) Monk said we was old… how they're getting into the paint… when Steph gets the ball and he slows it down he's trying to get to something… we ran when the opportunity was there… get a great look."
• Kevon Looney postgame with Chris Alvarez, on playing another series: "… we haven't played that way all series… got better each game… talent to do something special."
• On Joga: "After having some major injuries… get better and get stronger… Joga really helping with my core strength… haven't missed a game in two years…"
• On Steph and his Game 7 50-piece: "One of the best I've seen ever… growing up watching on TV… he's getting doubled and they're switching up the defenses on him."
• On the Lakers: "It's gonna be exciting… LeBron, AD, D-Lo… deep team…
• On which comparison he prefers, Olajuwon or Wilt: "Chamberlain."
• More Looney postgame on his rebounding: "whenever we're able to keep the possession close… for me I just wanted to make sure we got more possessions… physicality… Steph usually ends up with a three."
• On if he can feel the crowd groan when he gets another rebound: "Definitely. That's what makes it fun… I live for those moments…"
• On Kerr calling him one of the best centers in the league: "That's a great compliment. I play to win… rebound, set screens, and defend… keep performing, keep doing my job and hopefully we'll keep winning."
• On Steph taking over the game: "…you think you've seen it all… Game 4 of the Finals… put up 50 points is incredible to watch… you could tell from the start of the game that he wasn't gonna let us lose this game."
• On the game plan: "Aggression… poise… pace… didn't have no turnovers early… right passes in the pocket…"
• On halftime adjustments: "(No speech)… Great looks in the first half… shots were gonna fall… stuck to the game plan."
• On if he took being punked in G6 personally: "… control the glass… games like Game 6 are unacceptable… set the tone."
• On taking away their superstars in the second half: "…all credit to them, they're what they're hyped up to be…"
• On the Kings: "…each game was a chess match… lineups… defenses… that's what we expect from Mike Brown… fun to see where we really were as a team…"
• On where they are physically with next series every other day: "…by Tuesday we should be good… they know what to do to prepare… a lot of talent over there."
• Klay Thompson postgame on-court (no video), on how they approached the game: "…helps when your best player goes for fifty… he's a goat for a reason."
• On Looney: "…are you kidding me? Wilt Chamberlain… so proud of him… got our hands full come Tuesday."
• On the Lakers: "I get to play in front of my father… I've been dreaming (of playing the Lakers)."
• Klay Thompson postgame on his defense: "Aha! I've been in this league long enough to know that if you don't have a good shooting night you can do other things to impact the game… although I was for 4-for-19 which is disgusting, I was a plus-30…"
• On the defense kicking in: "Attention to detail… limited them on the glass… spaced the floor really well… gotta give Kevon so much credit… stifles a team… but shout out to Steph. What an incredible all-time performance… he never ceases to amaze me."
• On putting to the rest this team can't win on the road: "…you can't buy the narratives from the media… capable of anything… you gotta get one on the road or two… relying on our experience… match their physicality."
• On being next to Steph when he's in the zone: "…especially when you have a bad night… two-time MVP, a Finals MVP… pushes us over the top… get him the ball, get out of the way… this is a Game 7 that I'll forever remember as the Steph Curry Game."
• On if we just saw championship DNA: "… holding them to 38%… 28% from three… done it routinely."
• On the fourth quarter: "Steph got hot… got to the free throw line consistently… being physical… getting to the line is demoralizing for a defense."
• On the Lakers and LeBron: "It's special… one of the greatest… Anthony Davis is right there… looks like they're gelling, their guys know their roles… legendary franchise. Warriors-Lakers, I don't know how long it's been… get to play in front of my father, my mother…"
• On what motivates them to keep going at the their level: "Look back on your career with no regrets… gave everything you had… we know how elusive it is to be in this position… forty years, Oakland hadn't seen a championship… be part of a dynasty and continue that run as long as you can… win this hard playoff series."
• On the Golden 1 Center atmosphere and Steph: "Sacramento fans are great. Obviously don't like the obscenities they said to Draymond… Steph… continues to take his game to another level… give Mike Brown, their coaching staff and their players a ton of credit… Kings franchise is in good hands with Mike Brown at the helm."
• On if the Kings are a memorable opponent: "…great fan base just up the freeway… fighting for Northern California dominance
• On who his dad Mychal will be rooting for: "If I had to guess, probably his employer… I grew up watching Kobe… Shaq… Pau… try and stick it to the team that I grew up rooting for."
• Gary Payton II (no video) on-court postgame with Chris Alvarez of ABC News Bay Area: "Back against our wall, Game 7… our vets led us today. Our bench came in and did what we're supposed to do."
• On the Lakers: "build off this… carry it on to the next round."
• More Gary Payton II on Steph Curry's leadership: "30 sat us down and talked to us… we weren't gonna get no calls… hit first, second and third."
• On Steph going psycho with the 50 points and celebrations: "We got a couple of those… sit back and get some popcorn."
• On the rebounding: "Loon took it to heart. They kinda punked us in Game 6."
• On staying in California and facing the Lakers next: "…continue to work on what we've been working on."
• Moses Moody (no video) postgame with Kerith Burke on discipline: "Just trusting the game plan… trusting the coaching staff… executing it."
• On Steph's 50: "It's crazy and the way that he does it is so fluid…"
• On how they won: "Usually the complex situations, the answer is pretty fundamental… game plan discipline…"
• On navigating the series with limited minutes: "Getting an opportunity, went through a lot this year trying to figure it out…"
• On establishing his shot: "take it if it's open… hitting your first shot gives you that rhythm."
• On the Lakers: "We're going to play in LA… bright lights… be a part of the whole Steph-LeBron…"
• Steve Kerr postgame Game 7, first congratulates Mike Brown and the Kings: "…fantastic series… they've had frankly a better season than we have… whole season where they just became a contender. The young talent, the coaching. It was impressive to watch and really difficult to play against… two things… Steph Curry having 50 points… Looney… controlled much of the game… one of the best centers in the world… people don't recognize it because he's not dunking… a machine."
• On how they won: "Biggest factor offensively tonight was our spacing… Game 6 our spacing was a disaster… film… why there was nowhere to go… spread the floor really well… disciplined… gave Steph more room but he's the one who went out and made the plays… simple plays over and over again… we usually don't do it but today we did it."
• On if we just saw championship DNA: "No doubt… missed free throws… everybody's human… experience from our core guys… taking the game possession by possession… not worried about the result… process… repeating and repeating… breathing… most impressive thing to me… to do this for a decade, it's incredible… the energy… Hall of Famers, champions. This is not a one-year flash in the pan."
• On what he said to Steph on the sidelines and if he surprises him: "He doesn't surprise me… we all take him for granted… big picture, this is one of the greatest players in the history of the game… Jordan… you see it night after night so you just take it for granted… incredible to watch… we were taking a lot of timeouts… just to get him a chance to breathe… focus on the next possession, don't worry about results… best game plan discipline that we've had all year… locked in for 48 minutes."
• On the other night: "(Game 6), you can't do that every night… that's what the playoffs are about, you have to be able to bounce back and respond and win on the road."
• On the pregame adjustments: "Not really because we play the Lakers in 48 hours… Our spacing was just dramatically better tonight… bunched together… turned it over… our offense really helped our defense. We gave up 5 points off 7 turnovers… along with the rebounding… 18 offensive boards. This has been a possession series."
• On the Lakers: "…Lakers changed their team dramatically… Darvin has done an incredible job… all-time greats in LeBron, but a lot of talent…"
• On resiliency: "…people aren't gonna talk about Klay because he shot 4-for-19… but his defense… gamer… I'm as proud of him as anybody…how you play when things aren't going your way… plus-30…"
• On the future for the Kings: "…beautiful offense… putting a system in place that maximized their talent… really good decisions organizationally."
• On the defense in the second half, if it was urgency: "eliminate the 41 road games we played in the regular season, we're a different team now… Gary Payton… Wiggins… not easy to get up for game after game after game…"
• On Steph getting 50 in a hostile environment: "…those guys thrive in tough environments… no better feeling… getting a win on the road in the playoffs… focus shifted towards the opportunity… he's sublime."
• On LeBron: "We've played each other so many times… first time we played him in the Finals, just how smart he was. Coming out of timeouts, he knew what we were doing… we do have some of the same tendencies but we're not quite the same team…"
• On how Steph navigated the space: "He's just Steph Curry. He's that good… he's gonna go down swinging… 18 threes… biggest one is the one turnover."
• More Steve Kerr with Kerith Burke, on Curry's 50-piece: "We had a plan tonight to give him a couple minutes rest each quarter… by halftime he had six minutes of rest… in the 4th we were gonna let him go and get his rest through timeouts… one for the ages."
• On Steph: "That's what it takes when you're a killer… like the Bulls counted on Michael (Jordan)… he was gonna go down swinging. Same thing with Steph Curry… missed two free throws, comes back and hits a step-back three thirty seconds later."
• On the executing the game plan: "A-plus… they got demoralized. Loon was the guy."
• On staying in California and home court advantage: "…we didn't care who we played… rest tomorrow…"
• Mike Brown postgame: "First of all I'd like to give thanks to our fans… we'll be better from this experience… our guys are definitely hurting right now… a lot of gratitude… the reality of it is, they showed their experience… Kevon Looney was unbelievable… even Wiggs… 4 offensive rebounds… and we talked about it, too. The third quarter is their quarter… 13 offensive rebounds in that third quarter alone… especially when you have a guy like Steph Curry… he was elite… put these guys on his back and he said we're not losing tonight…"
• On performances he's seen from Steph: "We blitzed him… they hit the pocket… guess we could've double-teamed him more and allowed somebody else to get dunks or whatever… you hope that he misses some shots… we could've withstood his barrage if we could've made free throws and boxed out… you can't have Loon get ten offensive rebounds and us miss 11 free throws… you can usually withstand one guy having a big game… they shot 43%… 32% from the three point line…"
• On Steve Kerr: "Hall of Fame coach… best of the best… if we can't win it, I hope that they win it because of my bond with Steve."
• De'Aaron Fox postgame recap: "They came out at half and they responded like champions… every 50-50 ball… every offensive rebound… in the third quarter, that's really where we lost it."
• On Steph: "One of the greatest players ever… he did everything for them tonight. Once he got it going… there's pretty much nothing you can do. Just the way that they came out… getting offensive rebounds when he does miss…"
• On reflecting on the season: "This is definitely a building block… we had a good season, third seed, staying relatively healthy… (facing the Warriors in the first round) was a blessing and a curse… we learned a lot…got a taste of it… championship contender just about year in and year out."
• On if it was everything he imagined and what he talked about with Steph: "shit, we just played them eleven times… just a battle of wills and their will was better than ours tonight… you know what each other is gonna do… he just let me know that people know who I am now… I didn't play well tonight… another level I have to get to…"
• On what he's learned about himself: "I don't think I really learned anything about myself… when you face a team over and over again… happy I got to experience that."
• On knowing what the next level will be: "I can have a bad quarter and just turn it around… in the postseason you have to be on your Ps and Qs… these seven games were a lot different than the previous four…"
• On the thin line: "Mike preached us the little things… that's why we lost… we were limiting other layers… turnovers and the offensive rebounds… Game 3 they did the same thing, Game 5… little things that started to pile up on each other…"
• On wanting this to sting: "We talked about it in the locker room… we have guys that aren't even close to their primes… (lists guys and their ages)… not even on their second contracts yet… you come back together and you try to be better."
• On if there is anything that is true about playoffs: "…a lot more physical… some people are playoff risers, some people don't perform in the playoffs… physicality… you embrace that…"
• On Sabonis and him together: "…his first with me… this is a learning experience for us… a lot of basketball left to be played. You're entering your prime… losing to this team, you just learn from it… be better at those things…"
• On expectations: "I haven't thought about next year yet… just be better at what we know we need to better at… didn't shoot the ball as well… now your body knows what it feels like to go through 82 games… now you have to make a shot. It's very different than making a shot in Game 50… every miss is amplified…"
• Steve Kerr pregame Game 7 on his past Game 7s: "…three of them. Always a special vibe… settle in. You can't control the outcome but you can control what you're doing on the floor… take care of the details."
• On if they feel pretty good: "These guys are champions… four in the last eight years so these guys know the deal… our core guys have been through everything… we're gonna go get it done."
• On not looking as good as they should be in Game 6: "You saw Sacramento after losing Game 5… the biggest adjustment is always the emotional one… you gotta respond… we played very poorly in Game 6."
• On if he had a conversation with Jordan Poole: "…struggled last game so that's all part of it. You just put the last one away… for the whole team, really… pay attention to detail… individually and collectively…"
• On if experience is an advantage: "I really hope so."
• On having balance in between Game 6 and Game 7: "We had a good film session in the 9th Floor of Chase Center… get some sunshine… sun's gonna rise tomorrow and the next day… John McKay… Rose Bowl… just remember there's 3 billion people in China who have no idea this game is happening…"
• On what responding means: "emotional response… taking care of the ball and rebounding… some things we'll do differently today that I won't mention… maybe a lineup change… scheme… a play… always first about the attitude and approach… much, much tighter in terms of our execution… loose and free but we need to be disciplined… we were wildly undisciplined…"
• On fatigue: "I think Game 7, that goes out the window… everyone's gonna leave everything out there… you're not too worried about what's happening tomorrow…"
• On if Mike Brown wanted to practice every day: "I didn't even know… Mike is very detailed… every team is different… young team… new group… up to each coach… he's very smart. He's gonna get his guys prepared… Coach of the Year…"
• On emotional response spilling over into technicals: "No, I believe in our team's ability to focus under pressure… that's the team I'm expecting today."
• On Mike Brown's messaging: "Nothing much. The messaging on our side is rebounding and take care of the ball. The messaging from their side is hit first and be physical… there's great respect between the team… all basketball…"
• Mike Brown pregame Game 7 on if they're ready: "Yeah… this is what you live for… moments like this. We've all worked hard to be here… not gonna be easy…"
• On his message to his young team: "It's the same. We wanna play with physicality… pace… run, run, run, run, run, even in the halfcourt… message really hasn't changed the whole series…"
• On what the counter-adjustment will be to small-ball: "We always try to guess… half the time you're right, half the time you're wrong… prepare for anything… you're not too surprised when you see something… make a little tweak…"
• On Terence Davis and Keegan Murray putting up extra shots and the coaching staff helping them: "…carried me in so many ways…"
• On the atmosphere at the watch parties and in the arena: "…I know it's gonna be crazy… just walking around town… went to dinner in the town center at El Dorado… little kids come up to me… rest of Sacramento is beaming with pride…"
• On coaching big games when Kerr was out: "…when we lost at Memphis… killed… end up 13-1… such a veteran team… very first game when I took over, we were in Portland… I was like, oh crap. That first game we were down… I was nervous… Andre Iguodala, he was absolutely fantastic… put his arm around me… every time I said something in the huddle, he backed it up… I owe a lot to him… get over the hump during that run."
• On not lighting the beam: "Not really because I gotta stay out there… cool idea… love that our guys are doing it."
• On the togetherness of the group: "…our guys, they got a lot of belief in them… Kobe Bryant… a connected group can go far… no limitations… break bread together, going to the Summer League games to support Keegan… our guys were hungry…"
• On winning an elimination game: "Every time we step on the floor… the experience is invaluable… we feel like we're ready to play… toss the ball up and get after it… insurmountable growth… for future runs as well."
• On Trey Lyles: "…his ability to crash the offensive glass has been fantastic… get hit, take a charge… one of our leaders, one of our more steady guys… look your peer in the eye and say hey you're not doing your job… ultimate respect for Trey…"
• On if he has nerves; "Not as much… different situation when you're taking over for Steve Kerr… that first time in Portland and then the first game in the Memphis series… two most nervous games… Am I nervous now? No… if I had any sense many years ago I wouldn't have tried to fill Phil Jackson"s shoes."
• On what the kids asked him: "Sabonis… finger… one of the little kids was a Warriors fans and they started ribbing him…"
👍👍💛💙
LetsGoWarriors is a reader-supported publication. To receive new posts and support my work, consider becoming a free or paid subscriber.