Discover more from LetsGoWarriors
Informational & credentialed independent Golden State Warriors Website, Discord app (for paid subscribers), and YouTube channel for fans seeking positivity and knowledge! Not affiliated with GSW.
Over 2,000 subscribers
Do the Warriors have appropriate fear in Sacramento?
[+notes/quotes/video from OKC-GSW]
After the Denver Nuggets loss and the admitted lack of focus after a "picked them apart" (per Stephen Curry, I called it "surgically dismantling" on the livestream) first quarter, I concluded that the age of the core veterans might be catching up to them. That theory is still in development and my co-host Dean "of Positivity" Chambers and I explored this a little bit on our latest live chat, which was during the LA Lakers vs LA Clippers game last night. Ftr, Dean is not so sure:
0:00 tipoff good timing!

4:15 who should we root for? So far we're leaning Clippers but for me it's just because I'm kinda anti-Lakers because of Kobe killing us all the time in Cohan Era

7:00 Kobe story about Mike Miller via Matt Barnes & Stephen Jackson All The Smoke podcast bit on IG

8:00 Dean tells another Kobe story about going out with the team on the road to do what they wanted but then woke everyone up at 5am saying he let them sleep in an hour and now it's time to do what he wants to do (work out)

11:00 on not hating any NBA players and learning that from Kobe

13:00 more about Kobe self-selecting Black Mamba, him knowing Spain's first play when playing for Team USA 2008, barreling into Pau Gasol setting a pick on the first play

14:00 is there a mathematical reason for rooting for the Clips?

16:00 Dean thinks there might be a bias vs Steph and Klay, "oh they're shooters"

19:00 Lakers-Clippers games are two free "home" games for the visiting team, it's unfair but oh well

22:00 we issue a community poll for who is rooting for whom

24:00 Dean and I don't care who GSW plays because we will just be relieved getting a top six seed if it happens

25:15 some commenters want LAL-PHX to see LeBron vs Durant

30:00 when will Wiggs come back? I say just let it be, whatever happens happens, if he's rusty like in January when he came back, then it is what it is

32:00 95.7 The Game interview with Kerr said Wiggs will miss the last two regular season games

43:00 is there a JaMychal Green curse? As we were talking Clippers in the Bubble before Kawhi got hurt, we saw J-Mike with Clips who lost to Nuggets then moved the Nuggets who lost to Warriors then moved to Warriors. Does that mean we'll lose to someone and Green will go there next season?

47:30 Dean says the one weakness for Clips is play-making, 24th in the league in assists and 18th-highest turnovers, GSW is 1st in assists and 29th in turnovers

49:00 harking back to Kerr's interview with Myers where he said the confidence of Steph Klay Dray is so high that they're wild

52:00 on Steve's culture, President/Prime Minister, Pete Carroll and Bill Walsh, it's not that easy to just say "fire Kerr" because you'd be dismantling the entire culture, it's not NBA2K, ego management

1:03:15 taking a look at the GSW-SAC game, game plan: focus (veterans set the example), limit turnovers, POA defense (stop fouling and read the refs better), start JK because Keegan and Sabonis can both hit 3s at a high rate, Dean says to start GP2 instead of Donte

1:16:00 why is Steve starting Donte? Cohesion

1:25:00 Andre Iguodala's re-evaluation will be on April 18 (4 weeks from 3/21)

1:28:30 big game vs SAC Friday but the bigger the game, for the core, the better

1:35:00 Dean jokes there should be a power play for defensive 3-seconds lol

1:41:00 on watching the Warriors' offense vs others like these Clips vs Lakers

1:47:00 I wonder where Billy Crystal is and Dean mentions Jack Nicholson as the "mascot" of the Lakers and we talk about the California Condor mascot for the Clippers, Rocky the mascot for the Nuggets actually scales the decks of Ball Arena in our bts video:

1:56:00 looking at some rim protection, we think it's hard to find a guy who can also pass within our system a la Looney, Dean suggests developing an Isaiah Stewart type out of the Draft

2:02:00 Dean is really hoping Draymond stays and we talk about his dimes plus the two glitch videos this season (with the disappearing pass to Klay and JK's missing shoe)
Well, tonight at the Sacramento Kings, in order to stay in the top six and avoid the Play-In round, the Golden State Warriors better be focused for a vast majority of the 48 minutes.
LetsGoWarriors is a reader-supported publication. To receive new posts and support my work, consider becoming a free or paid subscriber.
So, with that, we start our usual reverse chronological rehash of the last 48+ hours…
• According to Mike Brown, De'Aaron Fox, Kevin Huerter and Domantas Sabonis are all out tonight. Keegan Murray, Malik Monk, Davion Mitchell, Trey Lyles will play: "At the end of the day if you expect to win the championship you've got to beat whoever's in front of you." (James Ham, John Dickinson)
• Kings are listing 7 of their top 8 of rotation as questionable for tomorrow vs. Warriors. Harrison Barnes the only one not listed. Kings likely to land 3 seed so possibly resting main guys ahead of playoffs. (John Dickinson, Ron Kroichick)
• Word is if that as long as the Kings have a chance to move up to #2 they're going to make the effort to do so. (Marc Spears)
I'm thinking there will be enough appropriate fear tonight. The last time Steve Kerr uttered something similar to those words was actually not too long ago, pregame against the San Antonio Spurs when their local beatwriters asked him to go down memory lane with Gregg Popovich. Kerr mentioned that Pop instilled "the fear of God" in those championship Spurs.
Btw, Steve also mentions fear when describing how Michael Jordan led the 90s Chicago Bulls, in the interview with Bob Myers mentioned in the previous article (see below).
Back to tonight in Sacramento, if we see the vets lose focus again then we will know for sure that age is a factor. I'm already 90% there on that theory, and yes I am curious about next season already and if management strategy shifts a bit to go ahead and play young guys — after all, some of the mindless turnovers (a byproduct of confidence bordering on arrogance, per Kerr's interview with Myers — see previous article — the other day) are equivalent to youngster mistakes anyways. Previous article:
The following are notes from practice at Chase Center yesterday, where Andrew Wiggins (who will not play the final two regular season games, see notes below) and Klay Thompson participated. Don't forget to check out the behind-the-scenes action from the win at home against OKC Thunder, below that:
KLAY + WIGGINS at #Warriors practice! DONTE DiVINCENZO: "just want to win…handle what we need to handle"
DISCLAIMER: These are all just notes for my main workflow of YouTube videos, mostly transcribed by me shortly after the interviews and during my coverage of postgame on our livestreams (!). Sometimes I'll just use what's tweeted by beatwriters, as listed. The links to the tweets are not available because sometimes I don't use the full tweet and just having a ton of tweets on this website imo isn't aesthetically pleasing and gets away from the main goal: transferring information (not so much entertainment) to the brains of DubNation asap.
• Donte DiVincenzo after practice on if he's following the standings and playoff permutations: "I was probably earlier in the week… we just want to win. When you win, let things lay where they lay and you go from there… if we rely on another team to win… handle what we need to handle."
• On if he'd rather play the Kings or the Suns: "They're both really good teams but you look at the distance… Sacramento is a lot easier to travel… our fans… playoff experience but it's not like we're trying to position ourselves."
• On having Andrew Wiggins back: "It was great just to see him smile… in a good place… helps everybody off the court."
• Steve Kerr after practice on any additional scrimmaging for Andrew Wiggins: "No scrimmage today… relatively light practice but Wiggs went through everything… offensive principles… prep for Sacramento defensively… getting shots up… he told me this morning he feels pretty good and he's on a good track."
• Andrew Wiggins went through the entirety of practice today, Steve Kerr said. A lot of strategy review. Was a lighter day for him, coming off of his scrimmage yesterday. He's down in the practice gym right now getting shots up. Wiggins told Kerr he "felt pretty good" after yesterday's scrimmage and is "on the right track." (Kendra Andrews, CJ Holmes, Madeline Kenney)
• Kerr said a decision was made yesterday that Wiggins wouldn't play in the final two games. "We want to be very careful that we don't bring him back before he's ready so Rick (Celebrini) is monitoring all of that." If this was middle of the season, Wiggins would have a couple weeks to get his legs under him, Kerr said. But with the playoffs around the corner, they're trying to ramp him up as quickly as possible. (Madeline Kenney)
• Klay Thompson's back soreness is fine, Kerr says. He practiced fully today. (Kendra Andrews)
• On Wiggins getting reps with the starters: "needs more time to prepare… ideally I'd we finish in the top six… there'd be scrimmaging… but we gotta go earn that… win the next two… working with our staff every day and continue to build up his stamina."
• On when it was determined Wiggins would not play the last two games: "I talked to Rick (Celebrini) yesterday and after their assessment of Wiggs… and the scrimmage yesterday Rick told me it would not be wise to play him."
• On what things would indicate Wiggins is ready to play: "Rick will tell me that, so it's more *who* will tell me that… we want to be very careful… bring him back before he's ready, so Rick is monitoring all of that… if this were the middle of the season this would be a couple weeks… playoffs… ramp him up as quickly as possible… safely."
• On if Wiggins would be ready for play-in or not: "I haven't even discussed that with Rick… (only) will not play these next two."
• On if he looks at the permutations of the playoffs: "I've looked at all the possibilities… easiest thing to do is just win two games… a lot of unknown too, with the matchups there's probably gonna be some teams testing guys if their games aren't gonna be meaningful to them… take care of our own business and not rely on anybody else."
• On playing Sacramento tomorrow: "It's gonna be a great atmosphere… Kings have had a fantastic fan base… long drought… but there's also gonna be a lot of yellow in the stands… Steph jerseys… nice to not have to get on a plane… connections… Harrison… Mike Brown… Barbosa."
• On how Klay (back strain) is doing: "Good."
• On what he tries to get through to the team on the road: "fundamentals… film… scheme… probably the biggest one for us is lineup combinations. We now have some different options with Gary (Payton II) in the mix and with Wiggs coming back eventually. We haven't really been able to see what that would look like… until now… we'll have to do that on the fly."
• On what GP2 brings: "Excellent on-ball but good off the ball… generates turnovers… you can throw him in a lot of different matchups… moving Draymond to a different player because he can play centerfield… Donte… creates a domino effect… accentuate what's possible and minimize the negatives."
• On defense: "I don't think we ever took it for granted. We had a Top Ten, Top Five defense… barring the one season when we had all those injuries… it's important to remember the league has changed dramatically… weren't playing teams with five three-point shooters and Shai… coming downhill… Cleveland put LeBron on the ball… not a whole lot we can do… league-wide everybody's putting shooters…"
• On the Kings: "They've got a playmaking center in Sabonis who reminds me a little bit of Andrew Bogut… top of the key and ran a lot of that delay action… surround Sabonis with not only shooting but one of the fastest point guards in the league in De'Aaron Fox… Sabonis as the fulcrum of that DHO offense… Mike has done a great job of making the pieces fit."
• On Light The Beam: "I have to admit I had ask somebody what that meant… somebody explained there's like a purple laser… does Mike actually light the beam?"
• On Mike Brown's fashion: "Where he thinks he ranks or where he actually ranks? I'm just glad he's a head coach now because he's more able to afford the shoes… nightly outfits… gave him a lot of crap about it… Mike is a favorite around here. Amazing guy… almost a foregone conclusion he'll be Coach of the Year… I might purposely step on his shoes… (light the beam vs flip the switch)."
Warriors up-close behind-the-scenes: Gary Payton II's dunk courtside; Steph Curry (+logo shots 💦) x H.E.R.; Chet Holmgren pregame workout; Jordan Poole with the people.
PHOTO GALLERY FROM OKC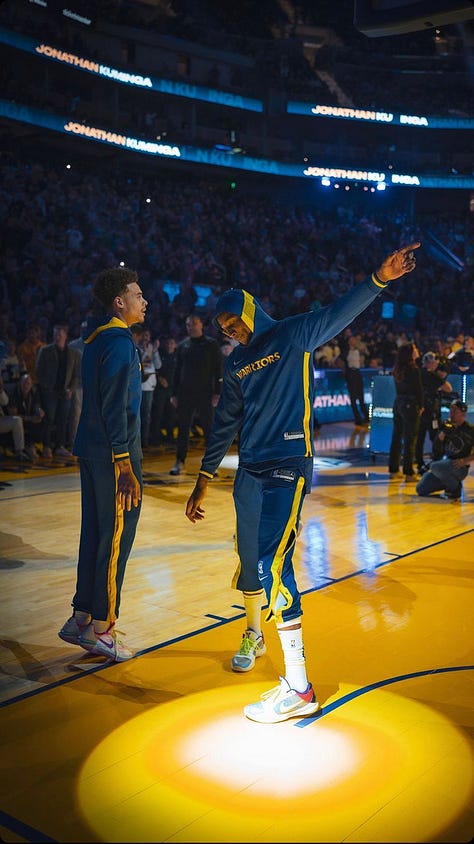 Jonathan Kuminga pregame (he once again did not enter from the bench during intros, as we've mentioned before), Bob x Wiggs, Kevon Looney with the game face before the bus to Sacto, Wiggs on the road trip, more Bob x Wiggs from behind Kerith Burke (shot by Janie McCauley), Steph x H.E.R., a couple game pics and Lester Quinones accepting his G League Most Improved Player Award, seemingly aware that Jordan Poole is lurking for a photo bomb.
Again, there's more pics on our YouTube Stories which is only accessible via the YouTube mobile app.
0:00 on the outrage over Lamb starting: OKC only has Dort shorter than 6'7" so Steph will guard him then everybody else is big

6:20 tipoff! JK lost another tipoff

7:45 Shai baseline vs JP, who wanted a hook foul no way 10m30

8:15 Lamb jump hook good 10m00

8:45 good box out JP 9m30

13:45 6m45 JP and Lamb get crossed up, JK ends up with an airball runner

17:30 6m18 timeout, they should bring in D unit Loon and Donte and they do, every time this year when the youngsters are thrust into the spotlight they have NOT performed

18:30 5m50 good tiki Dray to Steph

19:45 5m20 someone play D with pride? Dray does, gets the DPOY block

20:30 5m10 Chase chanting LGW

22:00 3m40 Donte my bad and-1 Isaiah Joe -- please stop with the and-1s

23:15 3m10 Donte filling in for Klay, second 3

23:30 3m00 Moody dunk via Loon and Steph gravity

28:45 1m50 GP2 plastic man dunk putback

30:15 0m55 JP takes too long to decide to split Saric, ends up throwing it away

36:15 11m45 Q2 I look up and OKC is scoring downhill 94 feet away again

37:00 11m30 Donte gets blown by Jalen, POA still sucks

39:30 10m00 Moody nice side step 3

41:00 8m55 JP disrupts a dunk (foul not called)

45:15 the main issue with OKC (looking at the replay at 7m52 of Dieng vs JP) is that we are way less athletic than OKC, can we find a way to, like at Denver Q1, go surgical and get ball movement

47:15 Donte tip-outs, will the rest of the team follow his example? 7m15

47:45 JK non-decisive again, Lamb gets fouled, the moment you are indecisive, give the ball up! 7m00

48:45 6m30 Isaiah Joe two 3 swishes in a row? 6-for-10 as a team per usual

50:45 no movement, Donte launches a 3, this is where we miss Klay 5m30

54:45 ATO OKC gets to the rim again 4m45

55:15 Lamb coast to coast 4m15

58:45 Dort right beyDray and Loon and-1 3m05

59:45 Dray gambles, doubles Shai but Giddey hits the 3 2m35

1:00:15 2m05 Shai pulls the MJ vs Bryon Russell move sheesh

1:03:00 0m35 Dray my bad on the deflected pass

1:03:45 0m05 JP falls asleep on the subsequent screen for Jalen

1:05:15 we have trouble against OKC LAC NOP because they're long and athletic, I think we have to start GP2 against those teams when w/o Wiggs, at the very least we must play like the 90s Knicks against the more athletic Bulls

1:10:45 we might also want to try some zone

1:13:30 things I can't stand: "flip a switch" (it should be "pounding the rock"), "get Steph some help" (he could play better defense tonight, and it's also about the defense)

1:16:00 also box-and-1, start GP2, rotate between those 3 defenses: zone, box-and-1, man

1:19:45 11m55 JP and Donte and Loon back starting

1:20:30 11m15 Jaylin Williams only one hustling for rebound, they get a 3

1:21:30 10m30 is it a good thing when Donte makes a mistake? He gets another 3 after another tov

1:22:15 9m55 Donte is like NASDAQ, falls then rises up then falls a little then rises

1:23:15 Tim Kono: "Donte has the clutch muscle" -- AND the wild muscle!

1:27:15 8m40 Steph draws a charge

1:27:45 Steph super tough side step

1:28:45 box-and-1 Donte on Shai confirmed as they miss a 3

1:30:00 Giddey still turns the corner on JP in a box-and-1 7m00, why not go under the screen

1:35:00 Moody putback dunk 5m00 on Dray 2nd FT

1:41:45 Moody leaps for oreb jump with Dort, good to see Moses get more quality minutes because we'll need his athleticism

1:44:00 JK goes for the Shai fake, Dray tells him not to 2m00

1:45:15 Steph tired but good help by Moody leads to Dray putback of GP2 0m30

1:50:15 Moody saves the day extra pass to GP2 11m50 Q4 -- OKC 106-102 END OF Q3

1:53:00 JP good help on Giddey 9m20

1:56:45 8m16 replay: Donte doesn't go lateral right to left very well

1:59:00 6m40 today JP used the 3 to enable himself to get downhill, sometimes he gets downhill first, then gets 3s (like last couple games)

2:02:15 Tim Kono: "we should get one challenge per half" -- good idea

2:04:00 Steph side step 3 again over Lu so difficult 6m15

2:04:15 Daigneault all over the ref saying "BS" and yet nothing, eventually got a tech, but the problem is, just call the calls GOAT should get and I wouldn't worry about this stuff

2:08:30 great team D leads to JP downhill find of Donte under bucket 5m15

2:09:15 GP2 athleticism saving the day 4m45

2:14:00 they trap Steph, JP makes them pay with a splash 3m20

2:15:45 Dray reach-in steal, JP spin, Donte block 3m00

2:17:00 Daigneault waves white towel 2m44

2:19:00 Tim Kono: "ever see the YouTube vid where they show Steph's shots that didn't count?"

2:28:00 STEPH ON-COURT AUDIO POSTGAME

2:33:00 Nicole: "Warriors on NBCS just posted a video while OKC was shooting free throws and Looney and Dray went of on the refs questioning why they never called the fouls on Steph!!...They kept telling the refs "it's unbelievable! 2 MVP and 4 championships and still don't get the calls!"

2:34:15 on Wiggs coming back, need him for the champ run because JK hasn't been playing out of his mind throughout

2:41:15 DEAN CHAMBERS!!! on Hollinger predicting we would go 41-41 and us surpassing that

2:52:00 STEVE PODIUM AUDIO

2:56:00 Dean on Moody; winning the rebounding battle

2:58:00 on Poole's defense; ForbiddenTechniqueTV: "poole doesn't have the same lateral quickness in comparison to forward speed which is interesting. I think poole also attempts any risky plays which causes the blow bys."

3:02:15 Cholo: "JP's body is made of hard rubber."

3:10:00 poll: who do we want to win, LAC or LAL tomorrow? We will probably go live with Dean

3:20:00 MOODY PODIUM AUDIO, QUINONES IN-STUDIO AUDIO

3:29:00 Monte Poole saying that Lamb started because the combination with him and JK has been really good in Q2 of late, per analytics, so with the last-minute absence of Klay, they looked at that

3:41:00 Dean and I don't even know if the hot shooting against us in first quarters is the fault of Warriors defense: "greatness breeds greatness", in the context of playing Sacramento this Friday

3:43:45 on Wiggins coming back, seems like his dad needed him the whole time, based on what Andrew said at the podium (needing love)

3:49:00 on the Kerr x Bob Myers interview and keeping Draymond and Steph keeping everyone together

3:54:00 on Draymond's latest podcast and the new CBA

4:16:45 Dean on Steph, having gratitude to watch him play

4:22:30 "Idk how anyone can play better with his frame...no, actually these are the best shots and I'm taking them. He was right!"

4:27:15 "guys aren't supposed to get better when they're 35... He could still have a Ray Allen-like era"

4:28:00 "I would like to have Draymond around like Iguodala/Haslem"

4:29:00 "how lucky we are to be able to watch this"

4:31:00 on how much we've studied the Warriors and what we can talk about here on this channel where it isn't available anywhere else

4:45:45 Dean says to stop slandering Poole; nickname: "Trey Cool Poole"

4:59:30 STEPH FULL POSTGAME VIDEO

5:01:00 remainder of KERR, full POOLE, MOODY, GP2 VIDEOS

5:34:00 literal Chinese translations of their headlines of the OKC-GSW videos: "dove's silky Warrior"
ON THE BENCH'S PERFORMANCE AND STAYING READY TO PLAY: "Been doing it all year since last year Mo, (Mosey Moody) and everybody off the bench stays ready they know things like tonight, Klay (Thompson) was supposed to, he didn't go so those minutes are open and guys know it can go either way, you know you can play five to 15 (minutes) and Moses was ready, 25 minutes unexpectedly and you know he came out there did what he needed to make plays and helped us down the stretch." (Warriors PR)
ON GETTING ANDREW WIGGINS BACK: "Just to have him in the building, you know just to be around, we know he's probably not going to be in the lineup for a minute but just to have his presence and see his face and his smile and the energy he brings. Him being present is huge for us and it brings everybody together so it's fantastic to see Wiggs back." (Warriors PR)
ON HOW THE WARRIORS ORGANIZATION OPERATES IN REGARD TO ITS PLAYERS: "No, this organization it's a player-first organization they want to make sure you know, we are mentally and physically ready, you know to come to work and do what we got to do. Wiggs was gone for a period of time for Wiggs' reasons and you know they didn't press him or push him to come back and you know get ready to play, just when he handled what he had to handle and he came back, they're going to get him ready. You know that's what they did with me, I wasn't ready, they got me ready until it was safe for me to go out there, so you know just kudos to the organization for caring about their players and letting us deal with life and then you know make sure we are ready for basketball." (Warriors PR)
ON ANDREW WIGGINS RE-JOINING THE TEAM: "Amazing. There's not much to it." (Warriors PR)
ON WHAT IT MEANS TO HAVE ANDREW WIGGINS BACK AT CHASE CENTER: "I'm glad he took the time that he needed and we're welcoming him back with open arms. Really excited. Good energy, positive energy to have him back. He's such a bright light and has such an amazing spirit. It's just dope to be around him and it's definitely good to have him back in the locker room." (Warriors PR)
ON IF HE FEELS LIKE HE'S PLAYING WELL AT THE RIGHT TIME: Yeah, I would like to think so. Obviously, we got the job done at home. These last games matter, or they all matter. Just trying to lock in as much as possible and put us in a really good position to be successful." (Warriors PR)
ON IF THE GROWING PAINS EARLIER IN THE SEASON ARE PAYING OFF NOW: "It's a really long season and we have guys who, you know, have been in the league for a long time and they know how to keep us engaged throughout the course of the season. It was huge. Mo (Moses Moody) had an amazing game tonight. Donte came up huge, Loon came up huge, and I think, guys know how important it is later in the season to just lock in play team basketball, and try to win games. Just getting the experience whether there's a game we won with a nice lead or it was a game that was going back and forth. Throughout the course of 82 you learn and you find ways to apply it down the stretch and I think we're doing that as a team and we just gotta keep going." (Warriors PR)
ON IF HE CAN SEE MOSES MOODY ON A SIMILAR PATH THAT HE TOOK ENTERING THE NBA: "Yeah, I was going to say, I've definitely been there before. First couple of seasons, first season at least not playing 10-15 games in a row and just coming in and still being engaged, shows the professional Moses is and just how wise he is for his years. He takes in a lot of the information and anything that guys were kind of just giving him throughout the course of practice, games the course of the week here and he's done an amazing job. Some credit to Mo, JK (Jonathan Kuminga) Pat (Patrick Baldwin Jr.) Lester (Quinones). Everybody who's staying ready. It's a total team effort and they were huge for us tonight in our win." (Warriors PR)
ON HAVING ANDREW WIGGINS BACK IN THE BUILDING: "Yeah, he's one of us. Like we talked about the whole time, when he came back was the right time considering everything he's been through, and we love his presence. The Wiggs smile, just having him in the locker room was big. I didn't get to see him on the court as much but it was great to have him back, to say the least." (Warriors PR)
ON MOSES MOODY'S PROFESSIONALISM AND APPROACH TO THE GAME: "Yeah, I think anybody that you ask that's been around Mo since day one speaks of his maturity. He's wise beyond his years. You can tell he's been around family that's just given him so much wisdom and gain on how to just see life and develop a fresh perspective. So, I'm sure he wants to play more. I'm sure he wants more opportunity consistently, and I'm sure it's tough to be in and out of the rotation, and have your minutes be all over the place, but he works and he comes to the facility every day with a positive kind of outlook and mentality and how can I get better, and for a young guy to do that those are things that you can control. You can't really control anything else. There's a lot that goes on, a lot of dynamics at play in the NBA and to his quote about what he chose to do, that's not a bad education he's getting on developing as long as he stays patient and attacks every minute that he gets with the right intentions, then he gets rewarded, and he'll be on that rollercoaster until some more minutes open up." (Warriors PR)
ON THE OKLAHOMA CITY THUNDER'S DEFENSE IN THE FOURTH QUARTER: "Well, first I was on the bench the first three minutes he (Jordan Poole) hit a couple big shots. And then, they're a switching team except Lu (Luguentz) Dort on me and he was kind of glued to me no matter where I was. The only time he kind of came off was when he got hit with a screen. So, if I set screens or got out the way usually there was going to be an imbalance on help side and stuff like that, and JP took advantage of it and made the right play. He attacked in transition. He attacked off pick-and-roll, got to the free throw line and a big part of our struggles, some fourth quarters is we're not very intent, or we don't have good intention with what we're trying to do with every possession. You're going to miss shots, that happens, but we were very particular about what we were trying to get and putting the ball in JP's hands in those possessions knowing he could get past that first line of defense and either get to the rim or kind of halve his world. It was a good option and he made them pay." (Warriors PR)
• Lester Quinones postgame in-studio on being MIP: "the work is showing… getting my rhythm… all dedicated to the work."
• On playing with the HOFers: "it means the world to me… growing up all my life as a Warriors fan… amazing to have those guys mentor you… here like a sponge."
• On playing three years under Penny Hardaway: "all the reads were the same, the coverages… first window and the pocket pass… he was preaching that to get guys there."
• On his family watching his first NBA point: "still need to make it a field goal… I'll still take it… Steve gave me the game ball."
• On being a Warriors fan: "Melo and Steph were my two guys… my dad was a Knicks fan… I've been a Warriors fan really my whole life… surreal, really."
• On being able to root for Steph, supporting light-skinned: "Yeah, for sure… light skinned green eyes looks like me… easy to look up to."
• On if anyone gave him a hard time for the missed free throw: "JP. I was talking to him in the weight room, already… supporting me to the fullest."
• On feeling the momentum: "Last couple games felt like playoff atmosphere type of games… they know when to turn it on."
• Moses Moody postgame on what he told Bob and Steve about developing in the NBA: "when I was in college, my coach had a thing for grad transfers… I would hear them talk about basketball… the more I thought about it I realized… I'd rather do it in the NBA… being where your feet are… not trying to have an ego."
• On what it felt like to contribute: "Good just to play… what I've been working for."
• On what gets him going: "situation… last-minute Klay couldn't play… step up… continue to put my work in."
• More Steve Kerr postgame ON JORDAN POOLE'S SCORING IN THE FOURTH QUARTER PAIRED WITH STEPHEN CURRY: "Yeah, I mean he was so good in that last quarter and a half. Just scoring, getting to the rim, decision making and it wasn't like I told Steph (Stephen Curry) anything. We just made a couple of play calls where Jordan had the ball and something good happened and Steph being who he is, he just gave the ball to Jordan and said 'you take it' and he was hot and we were scoring every time, so we just stayed with JP and Steph was leading the charge on that front. So yeah, JP was amazing." (Warriors PR)
• Mark Daigneault postgame: ON WHAT HE LIKED BEST ABOUT THE WAY THEY STARTED: "Yeah I mean when you're on the road, great environment, you got to get off to a good start, grab a grip on the game, and our guys did a great job of that. Kept the scoreboard moving. I thought our attacks on offense were great. Defense could have been a little better in the first half, we cleaned up a couple things in the third, got a little loose in the fourth obviously. But really pleased with how ready we were to play." (Warriors PR)
ON THE WARRIORS' SECOND HALF: "Yeah I mean they're obviously a really good team and I thought we did a really good job holding them off in the third. You know we got a little more bogged down offensively but we kept the scoreboard moving enough and kept them kind of at arms distance. Fourth quarter both ends of the floor just weren't good enough. They outplayed us there. They deserve credit for the win." (Warriors PR)
ON THE FOURTH QUARTER: "Yeah I just thought our defense wasn't really great all night. The offensive rebounds really hurt us, a lot of Curry's damage, in terms of the open threes, came off of the offensive glass. We gave up cuts, we gave up rejects on pick-and-rolls. You know simple, fundamental things that are little things but are big when they add up in a game like that. We weren't quite on point there. But I thought our competitiveness and our poise was there tonight. I just thought our execution on the defensive end wasn't great. Then offensively they guarded us really well in the fourth, and like I said deserve credit for the win." (Warriors PR)
• Steve Kerr postgame on giving up 79 in the first half: "This team is very capable (OKC)… tough to guard… four guys at about 6'7 who can all dribble, pass and shoot and Shai is almost impossible to keep out of the paint… getting some ball pressure and intensity."
• On when it was known Klay would not play; "Just right before our walkthrough… unexpected and just flared up."
• On guys stepping up without Klay: "Moses and Donte off the bench were both huge. Moses, I can't say enough… so mature. Over the last couple weeks… strength around the basket… when Bob and I asked him how he was doing… 'Look, I chose to develop in the NBA"… most mature answer I've ever seen anybody give… incredible attitude. The work is paying off."
• On if he ages from these comebacks: "Tbh I age a little bit more on the road… we have such a connection (at Chase)… thrive off the energy… the force that comes from Draymond and Steph… they understand these games take a long time. 48 minutes is a lot of time. Their ability to get stops… we feel like we're always in the game."
• Steph Curry postgame on-court knowing Klay would be out: "a little more aggressive at the start… Klay is a magnet out there… creates space for us… (efficiency) didn't really matter… we just couldn't get any stops… 125 looks really good after giving up 79 at the half."
• On Poole getting 18 points in Q4: "super-fast in transition… Lu Dort was gonna stay on me the whole time… our biggest thing is just being decisive on offense… intentional… we didn't have many turnovers because of that… our defense allowed us to connect the game."
• On Moody and Kuminga: "staying ready. They've been asked to play a lot of different roles… JK… proven he's taken that next step… for Mo I don't think he saw enough Razorbacks out there."
• On the pregame of kids watching his logo shots: "since 2014… people come in early… good opportunity to feel the energy… I'm in my zone… doing my routine… seeing how much fun I'm having."
• On 30 second-chance points: "ever since the last two years… his trademark (Looney)… Donte got a couple tips… offensive rebounds, you're usually gonna have somebody open… most of the time we're the shorter team out there."
• Fitz jokes that they're giving Steph the day off tomorrow: "Can y'all just turn up the heat in the Bay?"
• Steve Kerr pregame OKC says Andrew Wiggins was evaluated by the training staff today and got some on-court work in. (CJ Holmes)
• Mark Daigneault pregame Warriors: "This is a team capable of scoring in flurries… the last time we played them I thought we managed that well."
ON SEEING ANDREW WIGGINS BACK AT CHASE CENTER: "It was great to see Andrew today. You know, we've missed him for the last couple of months. Obviously, on the court, but just his presence in the locker room and the training room. He's just got a very calming presence, in general. Everyone loves Andrew and just having him back is fantastic. So we're all very happy that he's here." (Warriors PR)
ON IF HE WAS ABLE TO DO ANY COURT WORK TODAY: "He got on the court with Jama (Mahlalela). He went through some work with Rick Celebrini (VP, Player Health and Performance) in the training room so they were able to kind of get a look at where he is and he got some shots up and I think he was on the bike so we'll just take it day-by-day from here." (Warriors PR)
ON POSSIBLE TIMELINE FOR ANDREW WIGGINS RETURN TO GAME ACTION: "I don't know. We'll just kind of see. I think we'll have a better idea in the next couple of days. What this means and when he would be able to play, and if so, you know how many minutes and all that stuff, but we haven't even had those conversations yet." (Warriors PR)
ON IF ANDREW WIGGINS COULD POTENTIALLY PLAY THIS WEEKEND: "What day is it? Every day is Wednesday in the NBA. There is no way he's playing in the next few days, I can tell you that, but I think, once we have an assessment over the next couple of days, we'll have a better idea of when he might be able to play." (Warriors PR)
ON ANDREW WIGGINS' BEING IN CONTACT WITH THE TEAM ABOUT STAYING IN SHAPE: "No, I mean we've been in contact with him the last couple of months and we offered to send someone out to work with them and he preferred just to work on his own which was fine and, so we weren't monitoring him and his workouts we were giving him his space as everyone here knows. But he was working out on his own and now that he's back, he'll be with our group. Great to get him back with his teammates." (Warriors PR)
ON THE TEAM'S PLAYOFF EXPECTATIONS: "Well, we have to get into the postseason before we can have any expectations. So right now our focus is on tonight, playing against Oklahoma City. They're a really good young team. Very important game for us. We're right in the thick of everything in the playoff race, but we're not home yet. So we will just keep focusing and taking it one day at a time." (Warriors PR)
ON REACCLIMATING ANDREW WIGGINS BACK INTO THE ROTATION: "We will have to do some adjusting, but it's not rocket science, you know? I mean, we sit around a table and talk about what the rotations might look like and look at the rotation numbers, look at the combinations that we've been putting out there, which ones have been working well, which ones haven't look at the ones with Andrew in them. And then try to figure out within the context of how much he might be able to play, where we can fit him in, and how best to fit them in. So all those are conversations, but there's only so much you can talk about. It's all part of what we do." (Warriors PR)
• Andrew Wiggins is back with the Warriors. Bob Myers' first comments, with Wiggs at podium pregame OKC: "Thank you for respecting Andrew's life and privacy over the last six weeks." (Kerith Burke)
• Myers says Wiggins' return to play is still fluid. Will be decided by the medical staff. (CJ Holmes)
• Myers: "Basketball is Andrew's job. It's my job. But it's not his life. It's not my life." (CJ Holmes)
• Andrew Wiggins on his conditioning: "Not terrible. I've been working out. ... I don't think it will be too long before I'm back." Said he's in a good headspace. Declined to share details about the family matter that forced him to miss 22 games. He won't play tonight against Oklahoma City. (Dalton Johnson, CJ Holmes)
• Wiggins on being in a safe place to return: "When you're in a certain situation and your family needs you and requires your attention and your love, that's my first priority. Family's always first for me and it will always be that way…. we got everything settled, not fully settled, but in a safe place where I can come back." (95.7 The Game, Janie McCauley, KNBR)
• Wiggins to Warriors fans: "Thank you for all the love and support through this difficult time I had. I appreciate it and you guys are the best fans in the world." (KNBR)
• On the specifics of his family matter: "I'd rather just keep that private -- for me and my family, and the people close to the family that need to know." (95.7 The Game)
• On watching the team from afar: "Every night they competed and they fought." (KNBR)
• Myers on Wiggins: "They're people, they have lives and family. I know that sounds obvious, but sometimes it get lost." (95.7 The Game)
• Myers: the Warriors care about players as individuals beyond the court. Says throughout this he was just talking to Wiggins about how he's doing: "This is a guy who's made sacrifices for the organization… the uniform isn't the most important thing to us who know him."
👍👍💛💙
LetsGoWarriors is a reader-supported publication. To receive new posts and support my work, consider becoming a free or paid subscriber.