Discover more from LetsGoWarriors
Informational & credentialed independent Golden State Warriors Website, Discord app (for paid subscribers), and YouTube channel for fans seeking positivity and knowledge! Not affiliated with GSW.
Over 2,000 subscribers
Warriors' focus level might always be "pathetic" vs cellar-dwellers
[+notes/quotes/video from Warriors-Rockets]
After the Golden State Warriors held off the Houston Rockets, the worst team in the otherwise jam-packed Western Conference, Draymond Green took the podium and, when finally asked about the team's 14 first-half turnovers, said, "Our focus level was pathetic to start the game."
While analyzing the game in real-time on the livecast, I had pretty much remarked the same because the Warriors were throwing the ball directly to the other team, by my count, at least six times. Literally. I mean, those six passes were all just right between the numbers, as they say. Super-careless.
LetsGoWarriors is a reader-supported publication. To receive new posts and support my work, consider becoming a free or paid subscriber.
Granted, we've seen this "playing down to the competition" cliche a lot this season, but these are "must-win" (cliche intended) games now, the main guys have already acknowledged the "urgency". And yet they still passed the ball to the wrong guy many, many times against the second-worst team in the NBA.
Even with those run-out gifts, the Dubs didn't necessarily need athletic wings like Andrew Wiggins, Gary Payton II or Andre Iguodala (all injured or not with the team, obviously) to eventually outmaneuver the young Rockets.
I've concluded that, during this regular season, they just can't get up for these games no matter what. Yes, I'm talking about the three future Hall-of-Famers. This just ain't the playoffs, that's gotta be it.
Only so many people know the feeling. A good barometer is the number 450. There are 450 people (15 roster spots on 30 teams) in the world right now who know intimately what it's like to be an NBA player. There must be far, far less than 450 who know what it's like to be part of a dynastic championship run and try and get up to play an opponent like the 2023 Houston Rockets (or Charlotte Hornets or Detroit Pistons or San Antonio Spurs). It might be a single-digit number. Whatever that number is, we have three of them.
So how can the average fan possibly relate to having a pathetic focus level?
Well, because I do believe the game of basketball is translatable at all levels, although it's also all relative, I'll give it a shot. I remember from back in the day the difference between Asian-American amateur men's tournaments as compared to leagues. Huge difference. And I think that's a similar difference for the NBA's regular season and its playoffs. Stephen Curry, Klay Thompson and Green just cannot find the motivation for the regular season game against a team they should beat as easily as they can for the playoffs.
Back in the day, one of the biggest amateur Asian men's tournaments was the July 4th weekend Cornerstone tourney held at St. Ignatius. Really, only two teams dominated a la Lakers vs. Celtics every year: Ling Nam vs. the San Francisco Associates. Why? Because of two pro ballers playing in an otherwise mostly amateur tournament: Frank McKinney, a 6'4" half-Filipino, half-black lanky athletic point guard who was playing in the PBA (Philippines Basketball Association) but whose zenith was a tryout with the Celtics, and Conant Chi — I guess that makes the Associates the Lakers in this example? To this day, I'd never thought of the rivalry that way.
Anyways, "Co" (as we called Chi) was an SF native who played so much pickup ball — on the asphalt courts at Lowell High School, if my understanding of the legend goes — that he dropped out of high school to play pro in Taiwan. He's the under-the-radar Chinese-American baller from the 'hood (if you could call the Sunset District that) who "made it". Co was only 6'1" but because he was a pro, he'd done all the elite training, the dribbling, the shooting — super-quick release from a set shot stance and tight shooting pocket a la Klay — and most importantly the will to win. It's just his size and stature that prevented him from playing pro elsewhere in the world.
So Ling Nam was the all-Filipino squad led by McKinney and the Associates were a well-oiled machine with super-unselfish players who got the ball to shooters Co and Michi Langfeldt (half-black, half-Japanese). To make a long story short, this single-elimination tournament was far and away the utmost highest level of pro-am for the Bay Area Asian basketball culture. Everything else was a palpable cut below, especially when the 8-team "AA" division (that was the California Japanese League terminology for the top division) whittled down to Ling Nam vs. The Associates in the championship. Like what G League is to the NBA, a very noticeable difference.
Because of the single-elimination format (well, technically, it was a "consolation" format, but basically if you lost your first game you had no path to the final) and the presence of McKinney and Chi and their mutual teams' legacies, the intensity for this tournament was bar none. Every possession was magnified, every turnover made you look that much worse as a player, the tradition gave the familiar audience a Roman Colosseum feel where it seemed like the greats would continue to be praised and those who weren't great would be given the silent judgment as if each member of the crowd were Joaquin Phoenix, the Caesar giving the thumbs down, in their minds. It took the strongest of mentalities as a player on the court to overcome this pressure to perform. It was old school "IYKYK" on tilt.
Our trinity of Steph, Klay and Dray (plus Andre) relish this atmosphere which is just not gonna be there in Houston, even if it is late March and we happen to be scratching and clawing for a sixth seed. Heck, it wasn't there in October on the road in Detroit, Charlotte and Orlando, either. Note: that was part of the 0-5 road trip to start the season.
This probably won't change for any of the regular seasons coming up after this, so long as Draymond remains a Warrior and The Trinity stays intact. Whatever happens, based on what I've seen this year, this will be a recurring issue. Alas, Dallas is not Houston, so tonight should be different. The focus level against the Mavericks, in all likelihood, won't be "pathetic".
It's funny, but I just saw a segment of the latest Draymond Green Show episode where Dray talks about hoping Luka Doncic is healthy — Kyrie Irving was also seen leaving the arena in a walking boot, this clip is actually in the behind-the-scenes video embedded below — and in the same flavor as written above, the Warriors are going to be better off if Luka and Kyrie play than if they don't, i.e., they will not get up for the Mavs if both their stars are absent.
I already know I didn't do justice with the Asian tournament analogy above, but that should explain the performance against the Rockets. There are so many layers from adult amateur tourneys of California's Asian communities, to be told another time and hopefully not presented in a "bury the lede" mess like this website. I could write these better, but there's only so much time in the day and YouTube mostly pays the bills.
So we shall abruptly stumble into the Warriors-Rockets coverage below, in the usual reverse chronological order.
PHOTO GALLERY FROM HOUSTON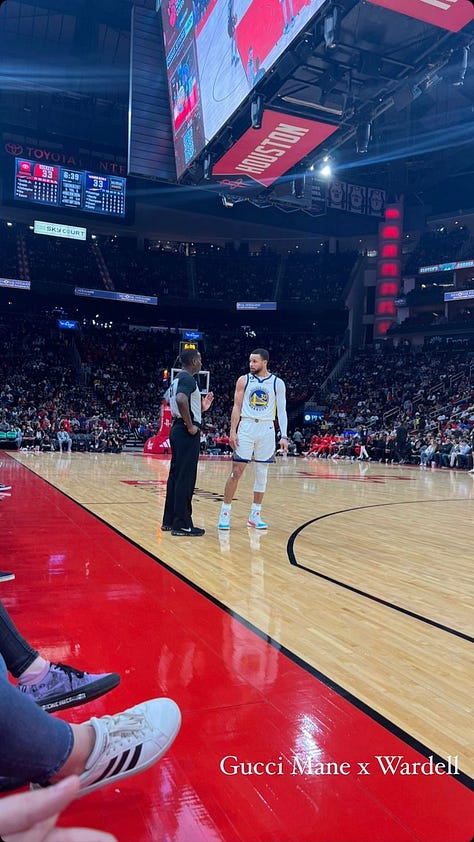 The above photo gallery can be viewed in real-time from our YouTube Stories (accessible on the YouTube mobile app on our channel's main page, much like how Instagram Stories are on Instagram).
RECENT WARRIORS-RELATED NEWS
• 3/21/23: Warriors forward Andre Iguodala, who suffered a fractured left wrist on March 13 against the Phoenix Suns, underwent successful surgery yesterday to stabilize the fracture. He will be re-evaluated again in four (4) weeks. (Warriors PR)
• Luka Dončić (left thigh strain), Kyrie Irving (right foot soreness) and Markieff Morris (left knee soreness) are all questionable for tomorrow night's game against the Warriors. (Mavs PR)
• Minnesota's Karl-Anthony Towns has been upgraded to questionable to play in Wednesday's home game vs. Atlanta. The Warriors play the No. 8-seeded Timberwolves on Sunday. (Shams Charania, Dalton Johnson)
DISCLAIMER: These are all just notes for my main workflow of YouTube videos, mostly transcribed by me shortly after the interviews and during my coverage of postgame on our livestreams (!). Sometimes I'll just use what's tweeted by beatwriters, as listed. The links to the tweets are not available because sometimes I don't use the full tweet and just having a ton of tweets on this website imo isn't aesthetically pleasing and gets away from the main goal: transferring information (not so much entertainment) to the brains of DubNation asap.
• Klay Thompson postgame on finally winning on the road: "It feels really good and we have a chance to do it again on Wednesday and really right the ship from this trip but it's nice to snap an ugly streak like that. That was gross."
• On what they did well: "Defend without fouling. Being very sure with the ball… being connected and above all, have fun."
• On what led to their surge in Q3: "We didn't foul… get the ball off the rim and go… great shot-making from Anthony Lamb and JK made a nice midrange move and Steph did his thing. Yeah those were probably the big proponents of the third quarter surge."
• On the urgency: "As a competitor you relish in the moments of the most important games… home stretch… every game is so vital… exciting times… postseason, there's nothing like it… warmup for the most competitive basketball out there."
• On the Rockets playing better now than earlier in the season: "Not really, but it is strange looking over there and how young they were… seasoned vets throughout their roster… Harden… CP3… now I just feel old playing these young bucks… appreciative to still be out here and still reppin' the Warriors… incredibly young team. Nice! There she goes (admiring paper airplane toss)."
• Steph Curry postgame on finally getting a win on the road: "Feels good… that's what you're supposed to do… walk off the court with a couple more smiles… still have to play better. Nobody's really celebrate anything… another big game Wednesday."
• On his injury colliding with Poole: "Oh yeah, I'm fine."
• Game recap: "Having 14 turnovers in the first half was rough. Couldn't really create separation… got stops (second half)… we got a little sloppy for two minutes down the stretch… connecting the game… mindful basketball that we needed to finish strong."
• On what else stood out: "That's the first thing I looked at… finished with 18 (turnovers)… 31 assists is Warrior basketball… our antennas were up a lot more… athletic guys."
• On a special feeling at Toyota Center: "our first championship run we came through here… nine years ago… had more battles… brings back the memories of those back and forths… definitely some charm about that."
• On what to do to play 48 minutes: "Keeps going back to we just have to do it… we have to go execute it… shots go in and out, ball bounces certain ways, but thjngs that you can control, it's tough when you don't do it… I won't use that pathetic word but you just wanna play better… we talked about it at halftime."
• Draymond Green postgame recap: "Good to get a win. I don't even view it as getting over the hump, it's one game."
• On coming to Houston: "Definitely a special feeling… when you walk into an arena like this where you've had battles… special place for us, we spent a lot of time here… still feel some of that energy."
• On the combo of him, Lamb, Kuminga: "allows us to switch… good size and good length. Obvious not seven foot or anything… something that we can build on on both ends… we'll definitely see more of that… allowed us to get some pace."
• On the 14 first-half turnovers: "Our focus level was pathetic to start the game… young athletic team, they're gonna be in passing lanes… careless… Coach challenged us at halftime to lock in… did a pretty good job of cleaning it up after awhile."
• On Steph's injury: "you always hold your breath… hobbling… can't afford to lose him… you also know that he's very tough."
• On how he's feeling; "I'm okay… my wrist and hands are a little F'ed up."
• On advice for the young Rockets: "Not build bad habits… very easy to build habits. But habits are hard to break… important to try to play the right way… Lionel Hollins… John Lucas… young group… need a veteran to relay the messages… they don't have that luxury… continue to listen… determine the way their careers go… between Tari and KJ… they're trying to figure it out… I thought it was very interesting to hear one rookie… second or third year… you know they're well-coached… what they're working through is actually the right thing to do… Jabari's playing so much better… way more aggressive."
• Steve Kerr postgame recap: "I walked through the door of the locker room at halftime… looked at the scoresheet… thought we had 20 turnovers… key combo was start of the fourth quarter: Draymond, Lamb and Kuminga… string together a bunch of stops."
• On Steph averaging 35 at Toyota Center of late: "Every time that we come to the Toyota Center… a lot of great games in here… helps get guys kind of excited and motivated."
• On finally winning a road game: "I don't remember that last road game we won… (January 30th) thanks, that didn't make me feel any better… ironically I thought this was the worst of the four games that we've played on this trip… battling with all those teams for the playoffs. Memphis has one of the best records in the league… we had to come into tonight with a focus. Unfortunately it wasn't there… but we eventually got there."
• On PBJ: "Good size, good shooting touch… moves the ball quickly… good feel for the game… trying to give him every opportunity."
• On Jerome: "Ty is really a guy who's a proven NBA player… gonna save his three NBA games left… save him for a rainy day. If Steph or Jordan has to miss a game."
• Stephen Silas on the Warriors hitting another gear: "I was concerned about our energy… so many minutes two nights in a row… them putting their foot on the gas pedal and us running out of gas."
• On holding Klay to 5/13, unlike last time (42 points in Feb): "Good recall and learning from the last time… switch it up and taking his jumper away… overall we did a pretty good job."
4:00 • Game recap: "They had 20 points in the first half in transition… the way that they play which is different than anybody else in the league."
[The video above also includes a 20-second clip from Jonathan Kuminga after morning shootaround, which has been transcribed in full at the bottom, below…]
• Klay Thompson postgame on-court recap: "Trouble would be an understatement. It's been a roller-coaster on the road… we responded well after a beat down in Memphis… the absence of Phil Pellecino… I'm just the messenger."
• On the mentality going in: "I was pretending I was playing the 2018 Rockets… we all understood that going into the game… second half playing our brand of ball."
• On the bench: "always has been a staple of our success and JK is one the best athletes in the road… Lamb."
• On the playoff race and urgency: "Oh, extreme urgency… 82 games, it's tough to be (locked in in) all of them… 9 of them left, use as a buffer (to playoffs)."
BTS
BTS
9:00 nearly 1:1 correspondence between 2PA and FTA for Lillard (500+ FTs). Steph: ~400 2PA, 241 FTA
12:00 Avnish Chaudhari: "Steph has 399 drives. 28 have resulted in fouls. 7.02% foul percentage", need more attention on Steph not getting calls, a national writer should do a feature on this esp with Monte Poole revealing an insider told him that refs were on the lookout for Steph drawing three-point fouls, which he's actually good at
17:00 tipoff
18:00 ran first two plays thru Dray (Loon missed first one at rim again)
19:45 another Dray assist to Loon (why do casuals still want Dray off the bench?)
20:15 9m35 Steph bad pass leads to downhill FTs
21:45 9m00 Steph rebound to 94 feet Klay
22:30 8m33 Klay deflection leads to transition 3 by Donte
25:00 7m20 Klay watches Donte shoot a 3, Rockets get a transition dunk, Jama shakes head
26:00 analyzing that play
28:00 6m15 Dray threw the inbound to the other team
28:45 5m30 easy dunk for KJ
29:45 4m30 easy pass for Donte, Jabari forgot to pickup Dray in transition, not good POA by Donte
35:00 3m05 Klay deflect JG, glad JP made a decision although Klay was more open than JK on the break, Donte steal after
36:30 1m40 JK late cut saves the day, credit J-Mike for slipping the screen eventually to get a little movement
37:15 1m10 good POA by Lamb but Jabari hit a J
39:30 end of q1 up 5, held them to 21, but how many times have we met a team that we're clearly better than after one quarter? That's how good the NBA has gotten
41:00 Rockets went 2/10 from 3 in Q1, 17 of 29 opponents are shooting 40%+ in Q1 vs GSW
42:45 11m40 JP loses the ball vs 2 guys
43:15 11m15 JK soars in for oreb, J-Mike tip-in
43:45 10m45 Steph shouldn't have passed it to Lamb (JK bad screen)
45:30 9m15 Lamb bad tov, trying to dribble through our plays
46:15 I understand that in the era, you can't really yell at superstars, but the drawback to that is that your role player see this and there's not enough fear for the role players to scale back in their role, so you get Lamb trying to dribble to create not long after JP tried to dribble among 2 defenders, in the old days, for example, Bobby Knight yells at Poole (or takes him out) and the guys on the bench know that for the next X minutes, I better not make any risky plays
49:00 8m35 good tip reb JK to JP
49:15 8m10 DPOY block to Steph to perfectly executed 94 feet JK
49:45 7m35 Steph no call wow (that's a fundamental foul at any level, any league)
51:30 6m45 JK throws the ball to the other team
52:00 we just cannot help but play down to the competition
53:30 6m10 Steph great steal but Klay seems to be invisible on fast breaks lol
55:45 5m05 Klay good job not settling for baseline J, Moody ends up with a 3
59:15 3m45 Klay says my bad for not shooting the ball on the clock violation
1:03:45 2m30 Loon passes the ball to the other team, Steve finally calls a TO after a vet brain fart
1:05:15 good to see Steph 3 locked in via Dray on ATO (because we just can't shake the habit of playing down to the comp)
1:07:00 Klay rejected by Jabari on a dunk, will take him awhile to adjust to being over the hill
1:07:45 Loon made a FT! (after a great pass by Steph) but missed the 2nd
1:14:45 if we play SAC first round, we are probably losing G1 just because their uniforms are uninspiring
1:12:30 idea: send a copy of the standings to the Toyota Center locker room! A fax! Ted Lasso request
1:23:45 my fav jersey: Sleepy Floyd blue on white Wild West font!
1:26:00 11m25 Dray tiki slip, let's see how many possessions we can go in a row of tiki
1:26:15 11m00 Steph did not extend the tiki streak with a heat-check lol, we check Loon's playoff FT stats and they are 11/18, same as this regular season
1:29:00 9m20 Klay settles 2x and Kerr slumps to the bench, KPJ ofc hits a 3 next time
1:29:30 9m00 Donte throws the ball to the other team for about the 5th time today
1:32:45 ATO Steph dertermined, should've been and-1 8m30 (reach-in on Jalen not called)
1:38:00 Klay 3 foul not called, total contact 6m30
1:42:00 J-Mike defensive 3 is the cardinal sin of zone (1/3 success rate so far)
1:43:30 with PBJ called down to SCW, wing depth was pre-determined to be JK, Moody, Lamb
1:45:30 J-Mike oreb slow putback 4m00
1:49:00 Lamb catch and shoot redemption 3m25
1:50:00 3m10 JK late on the rotation, FTs for Christopher drive
1:51:15 2m20 Garuba hits 3 corner on zone, maybe time to get rid of it
1:51:30 2m00 JK clutch 3 on stagnant possession
1:52:00 1m35 Klay downhill hesi layup
1:53:00 1m05 JK pull up on Garuba late clock
1:53:15 0m45 Lamb blocks Jabari
1:53:45 0m40 Lamb forces shot clock violation vs KPJ
1:58:45 11m25 Q4 JK usually able to draw a whistle, makes both (65%)
2:01:00 Steph TD to JK 9m50
2:04:15 JK gets another call, another top shelf by Dray 9m20
2:04:45 Lamb 3 catch via JK
2:05:15 8m50 good help by Lamb
2:05:30 8m20 Lamb good stop
2:06:00 7m45 JK risky behind-the-back but still downhill, he did help out in the paint (non-kick-ball)
2:11:00 6m05 Lamb 3 again
2:11:15 5m30 good lateral POA defense by JP
2:14:00 5m10 Steph lucky not to get arm stuck (after Klay threw the ball to the other team, 6th time)
2:15:00 4m35 Tari Eason slams ball, you never see a young GSW do that, good culture
2:16:00 4m20 Klay avoiding the landing spot lol looked like a dance
2:18:00 3m20 Steph 7th pass to the other team tonight (20 tov), the Donte airball on the catch early was not consistent close-out mentality, team discipline atrocious tonight, Steve brought in JP for Donte
2:20:00 2m50 Klay J saves the misread by Dray as Loon was open under the hoop
2:24:00 1m30 good read Loon swing to Dray to Klay dagger, then steal by Loon
2:24:45 1m05 JP has been nice tonight with a laser lefty feed to Dray
2:27:00 Courtney Carter: "Night night" (better than "4 rings")
2:29:00 KLAY POSTGAME AUDIO ON-COURT
STEVE, DRAY POSTGAME AUDIO
3:13:00 Blasian likes us better than other Warriors podcasts or channels
3:22:30 Toyota Center anecdote re KD and Steph
4:09:00 perhaps now the 6th vs 7th seed regular season game is more important than without the play-in because 6th used to be more of a shoo-in for top eight in playoffs, less risk
4:13:00 Bruce Maro: "JK should start next game" (vs Luka, yeah)
4:13:15 Dean Agan: "Kyrie in a walking boot feels like it's a trap"
4:17:00 Stephen Silas postgame video
4:25:00 Wiseman development, his good numbers should NOT mean (like how they're deducing on Twitter) that Joe Bob Steve are doing a terrible job with development
[NO PREGAME VIDEO AVAILABLE]
• Steve Kerr at pregame Rockets: Kevon Looney's back is a little tight, but he'll warm up with the intention of playing. Upgraded to probable. (CI Holmes)
• On Kuminga last year to this year: "knowledge of the NBA… long process of gathering information… seeing all the pictures… reaction is happening on time and quickly enough to make a decision and make a play at either end… one of the (sayings) you hear… 'the game is slowing down for me'… much further advanced from where he was… understand his role, his opponents… tendencies… when to dive and when to pop out… still got a ways to go… he's done a good job of handling everything that we've thrown at him… a few times when he's been frustrated, but that's part of the process… maybe minutes go down… progress just isn't always linear.. maybe the most frustrating thing… not easy to reconcile and understand the development is still happening… he's starting to understand the process better."
• On Moody: "Moses is right where he needs to be. I was watching Arkansas… as I was watching the game I thought Moses would be a junior… he's a young guy… everybody wants this stuff to happen right away… it takes years to figure out how to impact winning… unbelievable human being… work ethic, humility… keep coming to work every day… no doubt he's gonna have a productive career… making an impact… I love Moses."
• On the Rockets: "we don't see teams evolve… busy with our team… watch a tape of a recent game… you definitely see an improvement, but we're not in a position where we're evaluating teams night to night… talented young guys."
• On Jordan Poole getting into rhythm: "Teams are game planning for Jordan now. A year ago he generally got overlooked in scouting reports. Everybody was so focused on Steph… weaker players on Jordan… now you're seeing the opposite… playing him more physically… all part of his own path. I told him it's the ultimate sign of respect, when teams put their best guy on you… helped win us a bunch of games… frustration, and everything in between."
[JK MORNING SHOOTAROUND VIDEO N/A]
• Jonathan Kuminga on if he follows March Madness: "Ehhh, not really. I just end up in a room where they're watching TV… never went to college so idk who and I don't really got friends in college so idk. I just enjoy whoever's playing… no I did not (fill out a bracket)."
• On how he's doing mentally compared to a year ago: "My mental has been the same… same mental as every day, it's just a matter of what comes in front of me… dealing with defensive stuff."
• On what he's improved this year: "Uhh, I would say just being more efficient. I think I'm getting better at everything every single day… just helping the team win."
• On if he's playoff-ready: "I'm always ready, that's not a doubt. That's my type of game, that's when I go out there and take it to the next step."
• On taking pride on defense: "Definitely, for sure. A lot of people don't get to do what I do on the floor and it's not like I'm perfect… having the team trust me, I take pride in that… defending against the best players."
• On a defensive lineup with him, Gary, Donte, Andrew, Draymond: "Man, I have to work so hard on the back end. It's not gonna be easy for any team to go out there and do what they like, play the way they like to play. It's gonna be so hard because it's like five defenders out there that can switch 1 through 5."
• On where the team defense is right now especially with threes, such as Marcus Thompson writing that giving up 15 threes usually leads to a loss: "To me, we just gotta lock in even way more… we're not fully locked in at the end. That's pretty much what's been the biggest thing this year… more focused on defending three-point shooters."
• On if that means defending at the end of possessions: "Pretty much, yeah."
• On the bobbling the ball and Draymond patting him on the back helping him mentally in the Grizzlies game: "Not just the coaches but the teammates got your back, I think that's super-important and that's why you got vets on the team… hype you up… if you do something wrong keep telling him don't worry about it."
• On where his confidence comes from: "I feel really lucky in my journey… where I come from. The stuff that I've been through, not anybody my age or growing up have been through a lot of things. And I won't say it's like bad things, just the struggle knowing what I need to do in my life at a very young age, living by myself at a very young age, not having my parents every single day. But I still behave as I'm educated every single day with my parents around, just if you look back at that, that gives you more confidence."
• On what he does off-the-court: "a lot of times I just be home, hanging out with my dogs and some of my people and just playing 2K. And actually I got some of my little brothers at home with me so we just to kick and just chill. We haven't had a lot of time together because I haven't been around them around them that much. Just having them around me to help me focus more on being a big brother."
• On playing 2K with five Kumingas:
"Nah… I just play with random teams."
👍👍💛💙
LetsGoWarriors is a reader-supported publication. To receive new posts and support my work, consider becoming a free or paid subscriber.