Discover more from LetsGoWarriors
Informational & credentialed independent Golden State Warriors Website, Discord app (for paid subscribers), and YouTube channel for fans seeking positivity and knowledge! Not affiliated with GSW.
Over 2,000 subscribers
Kuminga the fence-bender, key stops, locked in at Dallas + more
[+notes/quotes/video from Warriors-Mavs]
Some tidbits and perspectives you may not have seen elsewhere from the Golden State Warriors' win at the Dallas Mavericks, as seen in the behind-the-scenes video embedded below the postgame stuff below:
• On the Draymond Green Show this past Wednesday, Dray mentioned that one of his mentors, Joe Dumars, once told him in the NBA, teams need a fence-bender and that's what Jonathan Kuminga is for the Dubs. Kuminga proved it again against the Mavs. Here's the clip from the DG Show:
LetsGoWarriors is a reader-supported publication. To receive new posts and support my work, consider becoming a free or paid subscriber.
• Stephen Curry had a mini-stare at the crowd not only after his no-look dime to Kevon Looney, but also after his left-pivot triple.
• Jordan Poole shared an "iykyk" nod (yeah, I just made that up) with Curry after one his many "bag" moves, heading to the bench to greet the team after Mavs head coach Jason Kidd called timeout.
• The speed of Draymond's help on the laser slip pass by Luka Doncic to Dwight Powell was about the fastest I've ever seen Green rotate.
• I'm not sure if Steph and Dray were looking, but Steve Kerr signaled when they should initiate the clinching play which got the switch onto Maxi Kleber, followed by Dray's sealing of the lane by boxing out Reggie Bullock. After all, usually in the NBA it's with six seconds on the shot clock (or game clock). How do I know this? Years ago during the Chris Cohan Era, I convinced my dad to purchase $200 tickets behind the opponents' bench (nowadays obviously that price-point only gets you into the upper deck at Chase Center!). The Denver Nuggets were in town and I distinctly remember George Karl barking out, "Go at six!" to Carmelo Anthony for the last shot before halftime.
• Doncic, Bullock and Kleber all immediately went to complain to the ref about Draymond's seal of Bullock after Kidd called another timeout.
• The HoopBus drove all the way out to Dallas for the game, all the way from the Bay, where they were stationed from March 16-22.
• JK's parents attended the game at American Airlines Center, which was perfect considering Kerr said it was the "best five-game stretch" for Kuminga in his career so far. Per Charlie Walter, sports anchor at KPIX, when playing 25 or more minutes, JK is averaging 18 ppg on 63% from the field and is 13 for his last 23 on threes:
There are actually more tidbits from the road trip and day off which I will get into later, probably in a paywalled article because there is some insider info involved.
Here are the rest of the notes, quotes and video, including some info for tonight's matchup at home vs the Philadelphia 76ers, all in the usual reverse chronological order:
NEWS & NOTES AFFECTING WARRIORS
• President Joe Biden announced today his plans to appoint Steph and Ayesha Curry, among others, to the President's Council on Sports, Fitness, & Nutrition. (Madeline Kenney)
• Sixers have won 9 of last 10 on the road. Last loss came at Dallas on March 2. (Marcus Thompson)
• If Kings beat visiting Suns, Warriors beat Sixers, Sixers win at Suns, Pelicans beat Clippers, then Warriors would be tied with Clippers for No. 4 seed on Sunday morning. (Marcus Thompson)
• The Warriors will have faced the top 2 isolation teams in Dallas and Philadelphia. The Sixers use 12.6 possessions per game scoring 12.9 a night, both 2nd overall. They also have a 17.3% Free Throw Rate on isos, 5th highest and troubling for the Dubs. (Tim Roye)
• Warriors guard Gary Payton II, who has not played since being acquired by the team from the Portland Trail Blazers on February 12 due to right adductor rehabilitation, was re-evaluated yesterday. The re-evaluation indicated that Payton II continues to make good progress. He has intensified his on-court workouts over the last week and is expected to participate in the team's practice on Saturday. Following Saturday's practice, his status for Sunday's game vs. Minnesota will be determined. (Warriors PR)
• Someone on our live chat said two games ago that they had a source who said the target return date was NOP, which is Tuesday, so that seems to foot.
• Joel Embiid (calf) participated in this morning's shootaround. James Harden (Achilles) did not. (Keith Pompey)
PICS FROM AMERICAN AIRLINES CENTER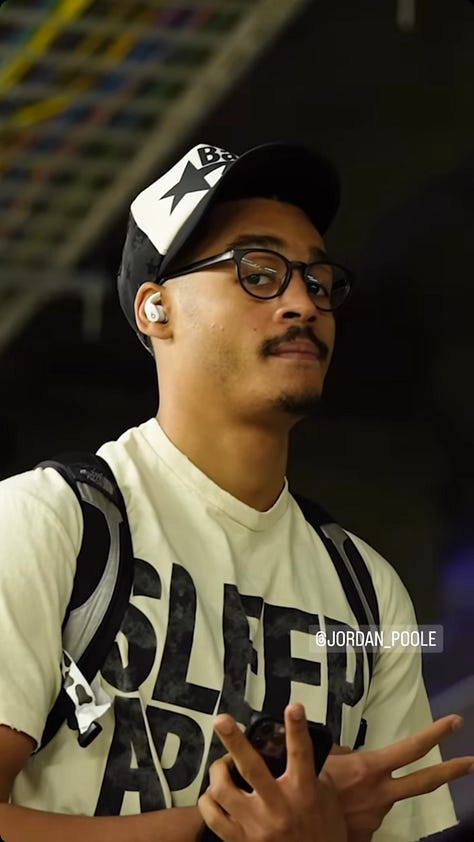 As always, any media on this website usually has already been posted somewhere on our YouTube channel. These pics are specifically available on our YouTube Stories.
• Sixers coach Doc Rivers postgame Wednesday at Bulls says there's not much concern about Joel Embiid's calf. He reiterates Embiid should be ready for the next game. Rivers adds he expects Harden to also be back Friday. Can't guarantee it, but says that's the expectation. But the Sixers want to remain cautious above all: "we've gone in the playoffs two years in a row with injuries." (Jamal Collier)
DISCLAIMER: These are all just notes for my main workflow of YouTube videos, mostly transcribed by me shortly after the interviews and during my coverage of postgame on our livestreams (!). Sometimes I'll just use what's tweeted by beatwriters, as listed. The links to the tweets are not available because sometimes I don't use the full tweet and just having a ton of tweets on this website imo isn't aesthetically pleasing and gets away from the main goal: transferring information (not so much entertainment) to the brains of DubNation asap.
• Steph Curry postgame on Draymond sealing the lane for him: "Had a clear lane… Draymond's so smart.., they're gonna try to crowd the paint… kinda made eye contact once I kinda turned the corner… smart play, the timing was perfect."
• Game recap: "Good reminder of what it takes to win against a team that you're stacked up against in the standings and a playoff-type atmosphere… even if it's not pretty… just find a way to win and that's what the playoffs is all about… form an identity."
• On the inbound with the Mavs on the other side of the court: "Saw the ref point our direction for the ball, point the other way towards their bench to call a timeout… pretty clear it was our ball… easiest two points Loon has ever had and the easiest assist JP's ever had."
• On the Mavs bench stepping up: "If they get going they're tough to beat… Jaden was really efficient, made some big shots… fearless out there."
• On defending Luka: "We put them on the free throw line too much in the first half… team formed around him to get space… kick outs to shooters. They made 17 threes off a lot of his gravity… live with him having great numbers… how can you get to the last possession where you have a chance to win."
• On Kuminga: "He's showing his ability as a two-way guy… knocked down two threes in the first half… getting more comfortable as time goes on… finding his sweet spots in our system. I hope he's having fun… that eye test, looks comfortable out there."
• More Steph Curry on Klay saying these games are a warmup for the playoffs: "It's a warmup as long as we're winning… we know what's at stake. We gotta meet the moment knowing that literally all the games matter… the type of basketball you want to play… gotta embrace it."
• On Dirk inducted into the Hall of Fame: "his career speaks for itself… all for one organization. It's a goal of mine… what they mean to the city… we were on the bus… four grainy pictures of the statue outside that I took on the way in… he deserves all the recognition."
• More Jonathan Kuminga on if the game has slowed down for him: "it's not as easy as it looks, then running and flying around, Draymond passing the ball. Just watching film every day."
• More Kevon Looney, on Kuminga: "he set the tone for us defensively. Luka is one of the best players in the league, he made him work… why we think the world of him."
• On the inbound play with the Mavs at the other end of the court: "I didn't know what was going on. I'm just glad JP passed to me… I needed that to get to my double-double, so thank you JP."
• More Steve Kerr on winning the last two road games: "Oh, we're hot now… we're road warriors… got really difficult games coming up… playing a team that we were virtually tied with, desperately needed."
• On Dirk being inducted into the Hall of Fame: "star-studded class… I have great memories of Dirk… following him as a broadcaster and coaching against him… the way he improved year after year, was always adding something to his game… at peace with himself on the floor."
• On how guys have dealt with Wiggs' absence: "great player but he's a great human being… anytime you see one of your guys struggling, dealing with something, all you can do I support that player and give him space… we're all just thinking about Wiggs every day. If he comes back, great, and if he doesn't come back, that's fine too. We just want to make. It's that he's in a good place taking care of his family and we'll see how it plays out."
• On the inbounds play with the Mavs at the other end of the court: "Number one it was my best ATO of the year… confused them… when I saw them at the other end, I had to stop and say wait, isn't this our basket?… idk what happened… I thought it was pretty clear that it was our ball… I guess they assumed it was their ball."
• Jonathan Kuminga postgame on how he played: "Just playing locked in especially playing against good team, just one mistake and everything is messed up… not having too much experience but just being around those guys every day… stay locked in and focus on the little things."
• On his confidence: "That's why we always got vets… confidence every day… go out there and perform at a high level."
• On Strength in Numbers and team win: "team effort… need to move the ball, everybody gotta have it, feel the ball."
• On what he's improved: "Just being more patient and that's pretty much it… knowing where I need to be, not rushing, knowing how to play with Steph, Klay and Draymond."
• Kevon Looney postgame on Draymond sealing the lane for Steph : "that was a perfect opportunity to execute it… probably is the best screener in the league, probably doesn't get enough credit for it."
• On the key win: "A lot of games like that this year we lost… our sense of urgency throughout the team… Klay talked about it… following their lead."
• Draymond Green postgame on his seal for Steph in the lane: "most times people switch to the top side… sealed him to give him a lane to the rim."
• Game recap: "I thought we were okay… didn't come up with a lot of 50-50 balls… hit some threes… point of attack we were pretty good."
• On the remaining games: "We need road wins in general just for confidence. I heard it was a tiebreaker so that's good. 8 more games."
• On how they won: "We stayed poised. We got the shots that we wanted to get every possession down the stretch… it's not scramble back."
• On Kuminga: "He's been playing great for awhile, a few months… defending using his God-given abilities."
• On Michigan State: "Survive and advance, baby. You get one, Izzo will get you the second."
• Steve Kerr postgame Mavs: "key stops… Draymond was incredible down the stretch… sealed his guy on Steph's layup."
• On Jaden Hardy: "terrific. We knew he would play quite a bit… kept them in the game… Luka is always amazing but for him to come back and play forty minutes… had to have some help out there… they kept hanging in there."
• On carrying this over to the playoffs per Klay: "treat every game like it's the playoffs… or a play-in berth… I talked with you last week and we spoke about how much every game matters now… have to go out and compete and play. We're down a lot of players… guys who came off the bench played great… Kuminga… JaMychal… Lamb… Moses."
• On Kuminga: "Probably the best five game stretch of his career… game has become simpler… more at ease with himself… hard for young guys to come into this league and pick up everything that's been thrown at him… dramatically better than he was when he first arrived."
• Jonathan Kuminga postgame on-court, on more minutes and confidence: "My growth is just coming from knowing where I need to be on the floor. Playing with Steph… Dray… Klay. It's not as easy at it looks like."
• On defining Luka to 30 points on 27 shots: "It's a great challenge… make everything difficult for him… make him work for that 40… make him tired… locking him up and just playing hard."
• On his decision-making: "it literally is just being patient… last year I was rushing… know where (my teammates are) and watching film."
• On his athleticism: "I don't even be thinking about it, it just be happening."
• On how happy the flight back will be: "It's gonna be a great flight for sure."
0:00 Steve Kerr's new granddaughter's name is Eleanor aka Elle
0:08 GP2 at practice the day before
0:29 Luka pregame
0:45 Steph pregame
1:25 logo shots weren't going in
1:48 Klay x JJ Barea
2:01 Mavs intros
3:26 Steph stanchion run
3:59 Kuminga slam
4:10 Steph stares at crowd after no-look dime to Looney
4:19 Poole shakes and bakes Luka
4:46 Draymond and-one plus flex
4:53 silly halftime show
5:01 Steph and Klay coming back to the court after halftime
5:17 Steph talks to J.Kidd
5:25 Mark Cuban tries to figure out what happened on the crazy inbound play
5:36 Steph with another stare at the crowd
5:49 compendium of Poole bag
6:52 the nod with Steph!
7:06 Luka laser pass thwarted by Draymond
7:12 great defense of Luka by Klay
8:13 the switch by Kleber and Dray seals Bullock, Luka and Bullock complain to ref
8:45 Kerr signals Dray to set the initial screen for Steph
9:25 Warriors chants! DubNation travels!
9:46 Kyrie!
10:05 Tobe Nwigwe x Steph + Dray (always nice to little girls)
10:32 HoopBus was in Dallas
13:30 Looney wins another tipoff!
14:30 10m50 Q1 not only Loon got the incredible oreb but also assisted Klay for 3
16:15 10m00 Steph to Dray cut
16:30 9m40 Loon tiki with Dray
17:30 9m10 Loon oreb again (I thought 3, but boxscore has 2)
18:30 8m45 Steph lets Josh Green go baseline on inbound
19:00 8m22 phantom offensive foul on Dray
20:00 8m00 JK in for Loon early
22:30 7m20 analyzing the bad lateral D by Donte
24:30 7m10 JK dunk tiki Dray ATO
27:00 5m25 Klay blocks Josh
28:00 5m10 Steph throws the ball away (after Dray's bad foul on Powell 3)
29:15 4m45 Klay early 3
30:00 4m05 J-Mike dunk via fundamental pass by Steph
31:00 3m45 good trap by JP, JK dunk should've been and-1 (guess they're not calling that), Steph 94 feet
33:00 all due respect to Donte, but he's a natural backup pg and role players will have a bad game here or there, so then when we do have Wiggs, he can hide the brain farts of others. Dray called "bending the fence" (I forget where he got it from) on his podcast yesterday
34:45 zone ATO for GSW
36:00 JK 3 via JP gravity 2m30
37:00 2m12 Moody in for Klay, super-young squad with JP JK Lamb J-Mike, JP falls down finally gets a call while doing so
38:30 Lamb 3 catch via JK 1m30
39:15 1m00 JK should've just attacked, walk (read with peripheral vision)
40:00 0m23 J-Mike putback, good spins by Lamb
43:45 "if you're curious, then you're not judgmental" (Joe Dumars) -- I wonder why JK isn't starting, but I think it has something to do with the 3-4-5 rotation
45:45 11m00 Moody late on the cut, but makes up for it with a strong finish
46:30 10m10 Steph TD to Loon, at 10m30 or so Steph change of pace dime to Loon, paused for dramatic effect after
49:00 analyzing Steph's showmanship/arrogance
51:00 too much hate for Lamb, all of his 3s are catch and shoots or late in shotclock
52:30 Steph arguing to the ref about the foul on Wood being late (Kerr too), but don't say that to the ref, tell him we get the same call
53:45 Steph should've gotten same call 8m45
54:30 8m30 Dray be careful with Michael Smith who put his forearm out
57:15 7m20 JK saves the day corner 3 via JP
58:00 6m40 Klay must-make runner good
58:15 6m30 JK just stands there
59:00 Kerr arguing with ref, 6 timeouts left, just call TO and lay into the young 3rd ref
1:00:00 JP downhill changes momentum back 6m10
1:04:00 imo Lamb has contributed as much or more than Damion Lee on the court
1:05:00 JK steal of Luka who shows bad body language which is good for us 5m15
1:05:30 JK started to run back on the JP 3 which is not good, go hustle and rebound like Donte 5m05
1:08:00 4m15 JK and JP didn't read the double-teams on them
1:10:00 3m30 Klay grabs the rim on dead ball after missed 3, thanks Donte
1:11:15 3m00 Steph so deliberate with the ball, had Kleber mesmerized, found JK cutting
1:14:30 2m10 JK's defense vs Luka (and-1) actually isn't that great laterally
1:15:15 1m55 Loon has a good matchup vs Powell/Kleber
1:17:15 0m40 Steph airball had Donte open, shakes his head
1:18:00 0m10 Steph late on getting the ball from Lamb, but euro to Donte corner 3
1:33:30 HALFTIME DIATRIBE ON POSITIVITY, GRATITUDE and why the focus level was pathetic vs Rockets: https://www.letsgowarriors.com/p/warriors-focus-level-might-always-be-pathetic
1:35:30 Steph mesmerized by Luka pass to corner 3 10m35 Q3
1:36:00 10m15 Dray 3 so important wide open
1:39:15 8m35 Dray butt screen gets Donte open via Klay
1:39:30 8m15 Dray loses the ball but Donte cheers him on for encouragement
1:45:00 6m35 Steph so good at reading the defense, amazing step to a layup
1:45:30 6m15 DPOY block
1:48:30 4m45 JP all-star move vs Luka dime to Dray
1:49:30 4m15 JP downhill and1 vs Hardy (young quick player)
JK blocking foul, should stay straight up and absorb the charge, probably hasn't been taught that
1:52:15 3m10 JK spin scoop wow
1:52:45 2m35 JP down the lane smash
1:56:45 1m59 my nickname for JP: Sixth Generation (fighter jet), Kelenna: Formula 1
1:58:00 1m45 free two points ATO!
2:01:15 0m10 JP super-spin dime to J-Mike dunk
2:03:30 during the Lamb non-foul and Moody rebound-pass to JK, JK's gotta learn to really want that ball, go get it a la Loon
2:05:15 11m50 J-Mike baseline dunk
2:10:00 analyzing the 3-sec tech on JP
2:13:00 Dray phantom foul, this is a playoff game, refs! 9m45
2:16:30 LeBron or Luka: who whines more?
2:18:30 Lamb and1 putback, Steph super-happy
2:19:30 JP pull-up, good decision, Donte celebrates on bench 8m15
2:20:00 7m45 Lamb catch and shoot!
2:20:30 7m10 Dray should have a camp on how to close out
2:21:30 6m40 JK hard cut dunk!
2:23:15 eight straight points by Dallas yikes (Hardy 5-6 of those)
2:24:15 Lamb had a run then Hardy had a run
2:25:00 4m45 PNR scoop JK
tough tov Steph after JK box out lucky ref call
2:27:00 3m40 Donte 3 dime Steph
2:27:45 3m20 Dray takes charge, Kenny says it looked like he was moving
2:28:45 JK fouled, next year that's an and1, he'll learn how to utilize 3m05
2:30:15 crazy two sequences!!!!
2:32:00 1m40 Dray comes thru with an and1, fundamental pass by Steph, hits FT
2:34:00 no call on the Bullock defense of Steph, luckily Dray was open
2:36:30 0m35 great D by Klay on Luka bad shot
2:37:30 0m15 Dray smothers Bullock as Steph gets a lane
2:39:00 0m08 give Dray the game ball for stopping Luka at the rim, people don't realize how great of a rim protector Dray is, Klay also in the right place to get the rebound
JK POSTGAME ON-COURT AUDIO
2:57:00 reminiscing on "I'm in love with the Coco" by Mo Speights after the 6-0 roadtrip years ago
3:02:00 Elijah: video of FVV schooling JP before the draft?
3:04:00 I agree with Mark Cuban on the refs:
3:11:00 Dean joins us, wishes Shaq well
3:11:30 Dean: "Kuminga break-out game"
KERR AND KUMINGA PODIUM
3:37:00 on JK's muscle memory
3:40:00 Dean on Steph being 35 and his height: "can't imagine anyone playing better"
3:41:00 ...prettier game than CP3's
3:50:00 Kerith Burke has the pool report with ref:
4:29:30 on the Warriors locking in more for the playoffs
4:37:00 on role players vs the Warriors in the playoffs: we tend to do a good job of shutting those down
4:39:00 looking back at LeBron in 2015, can't stop stars but can make them do more work, example: might've been harder to game plan with Ja Morant not there
4:47:00 on Mike Brown being something to put on Kerr's resume
4:50:00 giving Rick Celebrini some freaking credit (as we also discuss Ben Simmons, KAT, Wiggins somewhat but not really randomly, can't forget how they got brought up)
4:54:00 Dean reviews the injuries, 11 minutes Steph Klay Dray together in 2022
5:00:00 JASON KIDD POSTGAME VIDEO
5:04:00 Dean on the protest: "I'm not gonna feel bad about this game at all"
5:05:30 Dean: "feels like the Warriors are starting to have fun"
• Normally Kyrie Irving would have warmed up by now, but he's just arrived to AAC, a strong indication he isn't playing. (Brad Townsend)
• Luka Dončić (left thigh strain) and Markieff Morris (left knee soreness) will be available for tonight's game against the Warriors. Tim Hardaway Jr. (non-Covid illness) and Kyrie Irving (right foot soreness) will be out. (Mavs PR)
• Mavs head coach Jason Kidd pregame Warriors: he'll try to hold Doncic under 40 minutes. I thought he was half-joking, but later on he said "if he gets to 40 minutes, I'm sure there will be a discussion because he won't want to come out." (Brad Townsend)
• On Luka and Kyrie missing so many games: "The communication of being able to talk to those two on the side, in the office, being able to talk basketball… unfortunately we just can't get those two to be on the floor at the same time."
• Steve Kerr pregame Mavericks: Draymond Green and Kevon Looney expected to play tonight in Dallas. (Dalton Johnson)
• On Wiggins and GP2 returning: "We're hopeful to get Wiggs and Gary Payton back. Both of those guys were huge in our championship run a year ago… we can feel it, we're a little short defensively, literally and figuratively, you know?" With GP2, "things are going well… We're hopeful that he's gonna be out there on the court before too long," with re-evaluation expected tomorrow. (Dalton Johnson, Madeline Kenney, Kerith Burke)
• On Andre Iguodala: "I texted with him the day of his surgery a couple days ago. He's in good spirits but it's a really tough way for this season to play out. We really planned for him to be ready for the stretch run… Big loss but it's just how it is and you have to keep going." (Kerith Burke, Madeline Kenney)
• On the impact of Andre Iguodala: "You get better shots on offense, and your opponent gets worse shots when Andre's out there. That's just how it works." (Monte Poole)
• On the road struggles: "The numbers are just shocking in terms of the three-point variance… even guys who aren't considered three-point shooters… I'm not naive to think that we're just getting bad luck… the close-out numbers, they base it on how far a guy is away… a little different than if it's Andrew Wiggins challenging the shot…. Some of the advanced metrics don't reflect the quality of the shot challenges that we've gotten on the road… defense just hasn't been that great… clearly missed Wiggs… established our defense early (in 2021-22)… confidence… been swimming upstream all year this year."
👍👍💛💙
LetsGoWarriors is a reader-supported publication. To receive new posts and support my work, consider becoming a free or paid subscriber.