Discover more from LetsGoWarriors
Informational & credentialed independent Golden State Warriors Website, Discord app (for paid subscribers), and YouTube channel for fans seeking positivity and knowledge! Not affiliated with GSW.
Over 2,000 subscribers
Worried? Try Klay's way
[+notes/quotes/video from morning shootaround, team hotel & Warriors-Kings G1]
It's funny to me how often I see some commenters on social media just have stuff go completely over their heads. Whether it's the gratitude and enjoying the moment of Stephen Curry or the high IQ analysis of Draymond Green, those actual words that your the players fans supposedly root for speak, get lost in the wind. Even if a guy like Klay Thompson puts it in such simple ways.
Of course, that's why this website and YouTube channel exist, to bring to the masses the behind-the-scenes of the culture of the Golden State Warriors. And so I encourage fans who are reading this to embody your squad, to learn what trust and loyalty mean. And btw if you join our game livecasts, you'll really get a sense of those. Not just from me, but also the small community of positive-thinking, game-of-basketball appreciating erudites.
LetsGoWarriors is a reader-supported publication. To receive new posts and support my work, consider becoming a free or paid subscriber.
Let me give you a taste of what Klay has said in the last 48 hours, with respect to the team's shot selection, which was suspect towards the end of the game — although both SplashBrothers did throw some haymakers; credit De'Aaron Fox and the Sacramento Kings for absorbing the splashes and responding.
• "It's hard to hear, from those who don't play, what a great shot is. But we're just gonna do what we do… take tough shots, make tough shots… been doing it for ten years. I'm not gonna get discouraged after one bad shooting night. Like, frickin' A, I've been doing this for a long time."
• "The shots I was getting (in Game 1) will go in at a much higher rate on Monday… it's just basketball."
• When asked if he liked the looks he got in Game 1 despite the team going 16-for-50 on threes that night: "Yes. You know who you're talking to?"
If you embrace Klay's words, you should have zero fear going into Game 2.
And with that, I present to you all the notes, quotes and video from Game 1, yesterday's media availability at the team hotel (practice was canceled last-minute although there was speculation that that was Steve Kerr's plan all along with only one day in between games), and today's morning shootaround. These are all mostly in reverse chronological order, except that I'll put Thompson's quotes first and the Game 1 postgame last…
DISCLAIMER: These are all just notes for my main workflow of YouTube videos, mostly transcribed by me shortly after the interviews and during my coverage of postgame on our livestreams (!). Sometimes I'll just use what's tweeted by beatwriters, as listed. The links to the tweets are not available because sometimes I don't use the full tweet and just having a ton of tweets on this website imo isn't aesthetically pleasing and gets away from the main goal: transferring information (not so much entertainment) to the brains of DubNation asap.
• Klay Thompson media availability at team hotel, say before Game 2, on how he feels: "I feel wonderful."
• On if he was surprised by anything last night: "No."
• On if he thought the Golden 1 Center was exactly how he thought it would be: "Yeah. I think they probably needed more cowbells… the SNL skit… that was funny."
• On the defense: "Rebound and limit our fouling… very talented offensive team… emphasis… not getting punked on the glass."
• On mental vs physical: "being mindful (of boxing out)… the physical side is just trying to exceed their force and I know we're capable."
• On De'Aaron Fox: "he's their franchise so he's gonna go off at times… limiting the other guys even more… take away Malik's free throws in half and don't let Trey Lyles go off."
• On Harrison Barnes: "He's a champ, he's the Black Falcon… HB's a great friend but rn he's my opposition so I'm gonna do everything I can to to hopefully end his season but I cherish those memories… he's a great Warrior and his legacy will live on forever with the Warriors because he's on our banner… Got a lot of guys over there… friends with all of them."
• On Mike Brown: "endless amount of energy and you gotta respect that… no nights off when you're head coach."
• On E-40: "he's been our biggest supporter for years. I hope they right that ship because he deserves to be there by our bench… very respectful… very weird to see."
• On how Mike Brown has evolved: "when Steve was out… Coach Brown stepped in… two incredible playoff runs… tough guy to prepare for because he studies the game so much."
• On the series getting tougher: "Both teams will make major adjustments… the games seem to slow down as the series progress… a little more ugly at times. It's the playoffs. You gotta win any way you can."
• On Wiggins: "a testament to his ability and his work ethic. He stayed ready the whole time… elevates us to another level."
• On why they only shot 16-for-50 on threes: "idk. I just play… last night we took some tough ones and we still had a chance to win… it's hard to hear from those who don't play what a great shot is but we're just gonna do what we do… take tough shots, make tough shots… been doing it for ten years. I'm not gonna get discouraged after one bad shooting night, like, freakin' A, I've been doing this for a long time."
• On the experience helping as the series goes on: "stay calm in the face of adversity. You don't panic when it doesn't go your way and you just be yourself. Do those three things and I know we'll be great."
• On the looks: "They feel great. Every time I shoot the ball it feels great and I'll never have a mindset other than that."
• On seeking a max extension after the season: "Um, I'm seeking a championship. Everything else after that will play itself out."
• On if he got in any boating or sailing: "Ha! I did not, but as the weather gets warmer…"
0:00 [audio only] • Klay Thompson postgame locker room, on what they did wrong: "sent them to the free throw line too much… only won by three so there's a silver lining there and we gotta help our bigs out on the boards."
0:12 [beginning of video] • On Wiggins' performance: "I'm so proud of Wiggs. To miss three months of NBA basketball and do what he did tonight was so impressive. He hardly breaks a sweat."
0:35 • On Wiggins making the team whole, per Kerr: "he's such a big piece of what we do… we need him to go where we wanna go."
0:58 • On how nothing ever leaked out about Wiggins: "Because we respect each other. No one's gonna be in here snitching about someone's personal matters. That's pretty low… man-to-man, I don't think there's much lower than that, just being able to gossip about somebody's personal life, that's not cool. Leave that up to the tabloids."
1:27 [audio only] • On how much he enjoys making adjustments from Game 1 to 2: "huge part of the process and luckily it's the first of four… attacked us downhill, out-rebounded us… we still had a great chance to win. The goal is to get one here and I'm confident we will."
1:53 • On the adjustments they'll have to make: "Uh, am I supposed to tell you our game plan?… probably just limit our fouling."
2:20 [video] • On the box-and-1: "I welcome that. The shots I was getting tonight will go down at a much higher rate on Monday… it's just basketball."
2:44 [this was actually the second question in the interview, spliced here by Anthony Slater] • On if he liked the looks they got despite shooting 16-for-50 on threes: "Yes, you know who you're talking to?"
AVAILABILITY/SHOOTAROUND PICS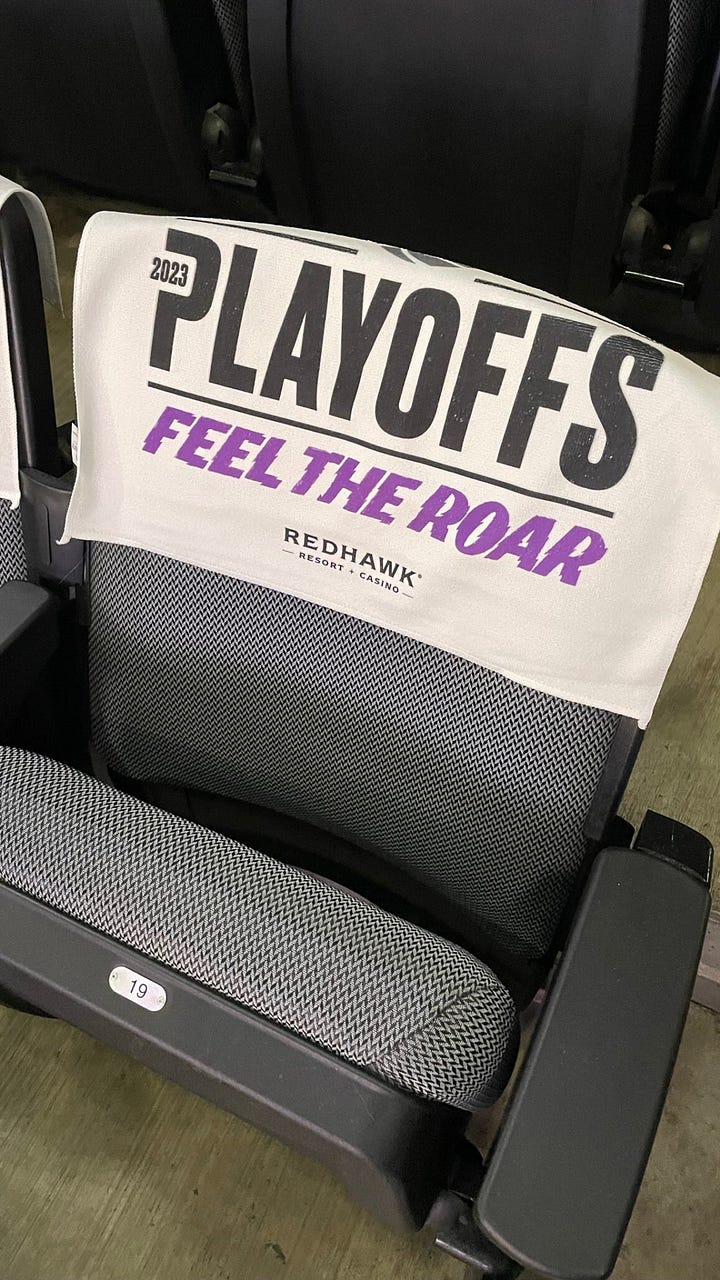 Golden 1 Center will go with rally towels for Game 2.
• Kevon Looney on their ability to make adjustments: "coaching staff does a great job of drawing up adjustments… Steph and Draymond… adjustments on the fly… know how much one game can change a series and one quarter."
• On series experience: "Anything can happen in one game as we can see with the play-in… that's why avoiding the play-in was so important."
• On how the rest of the league views him: "I don't think the numbers really favor me… teammates and coaches know what I bring to the court… the fans notice too, but as far as analytics, (no)."
• On if he thinks Steph could play 48 minutes: "he's super-human so he probably could… the way the league is, nobody plays that much… don't need him to do that but if Steve asks I'm sure he can pull it off."
• On which arena is louder, Sacramento or Boston: "I would have to Boston right now."
• On how the loud arena affects them: "Just play-calling… be a little bit louder… kinda hard to hear across the court… you can feel the difference when the crowd goes crazy and their team gets confident."
• On what adjustments they have to make for Game 2: "We just gotta be a lot more physically… a lot of size on the wing… gotta hit them first."
• On feeling loose down 0-1: "that's the way we are… kinda loose but disciplined… can't be tense all day… great job of keeping the vibe light but when it's time to lock in, we're locked in."
• On enjoying the chess match of a series: "enjoy it a lot… see the nest of everybody… work on your counter moves… see how good you really are."
• Jonathan Kuminga after morning shootaround before Game 2: "just gotta start harder and finish the same way and just be more consistent."
• On rebounding better: "they had more rebounds than us, especially offensive rebounds. That's where we gotta be more locked in… help us win the game."
• On how to improve the rebounding: "Just gotta stay locked in especially as a young player… everything that matters,
Doesn't matter if I'm at the three-point line."
• On how rebounding affects him personally: "For me to stay on the floor as much as I want that's the little things I gotta do."
• On the return of Wiggins: "brings more juice on the team."
• On the message and regrouping: "stay locked in… pay attention to details."
• On the arena in Game 1: "I didn't really expect it. They had a great crowd. That kinda helped them too… can't worry about it."
• On what he's learned in last year's playoffs: "I didn't play that much… know everything that's going on on the floor… the crowd… locked in."
• On having a leg up with playoff experience: "Yeah… pay attention to more details."
Klay: "Bump that E-40!" at Warriors morning shootaround + Wiggins + J.Poole (questionable) before G2
• Gary Payton II media availability at team hotel, day before Game 2, on Game 1 recap: "rowdy in there last night… watch the tape… they were rebounding pretty hard… accountability."
• On the Kings' physicality: "They're not known for it… hyped, energetic… come back second game, do what we're supposed to do, hit back."
• On what enabled the Kings to win Game 1: "Second chance points… that's what really made the difference."
• On De'Aaron Fox: "He hit a few threes… midrange started coming along… build confidence."
• On trying to help E-40 in his altercation: "I didn't see what happened… 40's like an uncle to me… as long as he's good… I got word that he's fine… it's a little weird. I guess it's a little playoff intensity… fans are gonna be fans. I really didn't expect it."
• On the mindset going into Game 2: "Just gotta hit back, better yet, hit first."
• Steve Kerr media availability at team hotel, say before Game 2, on the biggest adjustment to make: "Boxing out and making sure we're physical enough on the glass… when the shot went up we let our guard down… 9 or 10 additional field goal attempts… throw the schemes out the window… who's gonna get the long rebounds."
• On Monk getting into the paint: "we got out of sorts a little bit in transition… giving him angles we could've done a better job with but give him credit."
• On the arena in Game 1 and Mike Brown: "Atmosphere was so incredible… put the pieces together perfectly."
• On Harrison Barnes: "One of my all-time favorites… one of the foundational figures that started all of this… helped us win 73 games and set a record… the work ethic, just the identity of what he represented… versatility defensively… high character, great teammate… helped establish who this team would become."
• On if Wiggins can play a full game tomorrow: "Idk, I haven't talked to Rick yet today… go through some treatment today… haven't talked to Wiggs yet… I thought he got a little bit tired which is to be expected… pretty good for his first game back."
• On if the issue is the size: "We played Dray and Looney for 32 and 34 minutes… we did stay big… it didn't feel like it was a size — when you watch the tape the shot goes up and you're looking at the ball… you have to find the free man and go hit him, go box him out… has nothing to do with size."
• On the defense: "it started with transition… led to some early buckets… early in the game, guys played their butts off… you look at our defense just in terms of forcing misses and getting into our coverages… we did a good job, but when you give up 17 extra chances it gets a little tough."
• On the rushed shots: "Our team kinda always walks a fine line… (want them to be) uninhibited… we can go from good to great… we know that, watching the film. We have to make them guard for longer stretches… doesn't matter who we're playing… instead of settle for the first open three… swing side to side."
• On how important Game 2 is: "Every game is important. I don't ever saying anything is a must-win until you have three losses, then it's actually must-win. But we've been through everything in the last decade… take it a day at a time… watch film, recover… whatever the result is you go back to work again… until your season's over. Everything else is hyperbole."
• On the familiarity with Mike Brown making it easier or harder: "I don't think it makes a huge difference. He knows our team really well. There's a couple things that we saw last night that we anticipated. And Mike's great. He's got a great eye for the game… at the same time, the players are out there and making plays… finish our defensive possessions with box-outs then we're sitting up here up 1-0 and we're feeling pretty good. But that's how it goes, there's always what-ifs."
• On defending Sabonis: "Did a pretty good job on the dribble handoffs… we took away some of their pet actions and they went to more pick-and-roll with Fox, but you know these series, for everybody it's whack-a-mole. You take away one thing, something else pops up. All these guys are great players on both teams. You never stop and think, alright we solved one problem and now we gotta take care of this one. Tomorrow could be totally different and it probably will be for both teams… clean up the things you can."
• On what got away from them: "second half, they really went to more pick and roll and he got in the middle of the paint and started knocking down his midrange stuff and once he knocked down a few of those he got confident from the three-point line… kinda have to tip your hat… what you really fear is him getting right to the front of the rim… we can make things harder for him."
• On how potent the Kings offense is:"Yeah, Number One-ranked offense for a reason."
• On the role for Kuminga this series: "Yeah he did some good things… another athletic defender to put on the point of attack whether it's Fox or Monk… I'd like to see him rebound, he didn't have a rebound last night… and for our whole team… we can keep talking about everything but it still comes down to rebounds… really good job in a lot of ways and he can get better."
• On Kuminga not rebounding as much because he's guarding a perimeter player: : "He's just a really young player… he's still learning as he goes. There's stuff on tape and we'll point out certain things to him… gotten dramatically better over the course of this season."
• On a sense of having seen this movie before, we know how to do this: "Yeah! (Laughter) I'm not even going to expound on that."
• On taking out Steph late in the third quarter: "we played it how we're gonna play it last night. 48 hours in between Games 1 and 2, I think he played 38 minutes. We just didn't do a very good job while he was out. I don't regret resting him… work so hard with the ball in his hands but also defensively. Playing Steph 40+ minutes isn't the answer. The answer is handling the non-Steph minutes better."
• On if there's any different thinking when there's two days in between games: "Maybe. We'll see once we get there."
• On Steph and Draymond being out together late first and third and tweaking that: "we've already talked about all that with the staff… then you watch the tape and you go, alright, couple missed free throws and a mistake in transition and it's a five-point swing and then a couple of missed box-outs and it's like, was that rotational? Not really. We gotta box out better. We gotta get back better. And if we do those things then we're not even talking about rotation patterns right now. You gotta get those guys out at some point, you gotta get them both rest… we just gotta clean up the other stuff."
• On the fast pace: "that's how we like it, that's how they like it."
• On the outside of the arena: "I didn't see it."
• On how he knows if he'll play Steph an entire quarter, if it's game feel or matchup-based: "It will depend on how he's feeling, how the game's going. The one thing that we've settled into is, he's gonna get one break each half. He's not gonna get two breaks each half like he was doing in the middle of the season. So that break could come at the end of the first with two minutes left, it could come at the top of the second, but either way we're gonna sit him ten minutes per game. That's what I think is best for him and the team."
BTS #Warriors G1 Sacramento: Wiggins, Steph Curry, Klay 💦 Usain Bolt; E-40 kicked out; beam lighted
PICS FROM WARRIORS-KINGS GAME 1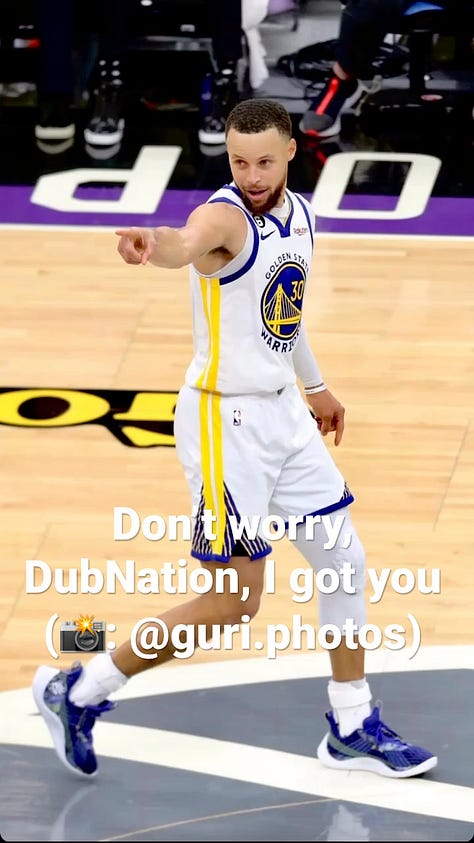 Per usual, there are more pictures on our YouTube Stories, accessible only via the YT mobile app.
Warriors-Kings G1: Wiggins back! Steph Curry! Klay! Live chat, commentary, analysis, 2nd screen, PVO
• Andrew Wiggins on how he felt: "made some good plays early… second half didn't make as much shots but still competed."
• On Kerr saying maybe he was tired late: "Maybe it looked that way but I felt good though."
• On how he approached coming off the bench: "I approached it the same way… gotta do whatever the team needs me to do… step on the floor, I'm gonna compete."
• On his shot: "That last one felt amazing… I know I'll make those shots… I believe in myself and what I can do… I know the next one is going in."
• On cutting: "moving without the ball… Warriors basketball… you never stop playing."
• On what Kerr said to him after the buzzer: "Welcome back. He's just happy having me back."
• On how he felt coming back: "It felt good… a lot of shots I missed felt good… I rushed a few… every game is an adjustment."
• On making every shot in scrimmage: "The scrimmages were important just getting back in rhythm… play like myself, especially for conditioning… I played pretty good, making my shots, attacking the rim, making plays for others."
• On Fox 29 points second half: "he's a helluva player. You see the ball go in a couple times… once a player gets going it's tough to stop… every game is different… we'll have to adjust."
• On how surprised he was the corner three didn't go in: "I was surprised… big shot… won't stop me from shooting the same… I practice and shoot a lot of corner shots… better and better."
• On the atmosphere: "I love it when the fans are loud and into the game. That's playoff basketball."
• On his four blocks and them being a career high: "Nice… energy and trying to stay involved… I take pride in defense."
• On coming back to feel the playoffs: "Um, tbh, I just came back because I felt like my situation has gotten better… worked out perfectly because I don't wanna miss this moment."
• Marc Spears exclusive with Andrew Wiggins, from postgame locker room: https://andscape.com/features/golden-state-warriors-andrew-wiggins-forever-grateful-for-team-support-during-absence/
"You want to keep part of your life private, but it's hard, because you've been in the light," Wiggins told Andscape after the Warriors lost 126-123 in Game 1 of their first-round playoff series against the Sacramento Kings on Saturday night. "And there's nothing you could do about it. That's just how it goes, I guess. You make it to a certain level, then everything is not going to be private."

…

"Mentally I'm good. I'm in a great place," Wiggins said. "I've never been one to mentally not be all the way there or be off track. I try to stay pretty level-headed. What I missed the most was just competing, being out there with the team, playing in an environment like this. The fans are into it. The game is close. It's playoff basketball."

Said Warriors guard Stephen Curry: "He's a big part of everything we do. When you go into a season, you want to be as fully healthy as possible because that's the way all the pieces are meant to fit. We haven't had it for a very long time and we tried to hold down the fort. Now we have that look back."

…

"In this organization, I feel like I've been blessed, just being here and all that time they gave me off to be with my family," Wiggins said. "They didn't have to do that, and they did it. And they didn't rush me back. It was my decision to come back, so I just feel like that just says a lot about this organization. From my heart, I can say everyone here cares. This whole organization cares. There still can be a lot of good people out there.

"I'll never forget that. A lot of teams aren't doing that, so I'm forever grateful."

…

"I've known 'Wiggs' for a while since high school," Looney said. "I know what he is about and I know he loves the game. He doesn't really miss games. He takes that seriously. He takes care of his body. So, for him to step away, that means it's a serious situation. We know he's a private person. We want to [support] him because if we were in the same situation, we'd want the same thing to happen.

"He's a champion. We know what his heart is like. Nobody could ever question should be here or not. We know what he is built of and made of. We're trying to support him and be there for him. It was huge for our franchise to do the same thing. You don't see that often. Everything usually leaks. So, for that to stay under locks is big time for our team and our franchise."

…

Said Green: "I was very happy to see that stayed in-house so long. Initially, none of us knew. Maybe for a week. And then, me and Steph knew. And just for everyone to keep it in-house like that, I thought that was big, especially for his trust."

…

"You got to watch what you say, watch what you do, watch who you talk to," Wiggins said. "You just got to be really smart. There are just people, phones and cameras always watching. So, you always got to stay on your toes and do the right thing. Whatever I do, certain things I just know is going to be out there."

…

"It was my first game back," Wiggins said. "It's only up from here."
• Donte DiVincenzo postgame locker room, on the fourth quarter: "they were crashing hard. Couple possessions we had some missed tags."
• On the key being that third quarter late: "some of their other guys outside of Fox… turn the water off a little quicker… limit them to one shot."
• On having Wiggins: "Big time… just great to have around in our locker room… it's bigger in the locker room than it is on the court and that's saying a lot."
• On what went wrong: "In transition matching up… make them beat us one on one."
• Stephen Curry postgame on the Kings being inexperienced and the fourth quarter: "kinda what the playoffs are about, guys making plays. That first game is kind of a feeling out process… (Kings) got the crowd back into it and then we responded… high energy game from start to finish… good look in the corner… on the road the learning lesson is just every momentum swing matters… would love to have won tonight but good learning lesson."
• On the box-and-1 Mike Brown deployed on him: "We did pretty well creating good shots… have to have patience with it… right spacing… can't rush the possession to create that look… gotta assume there will be more of it in Game 2. I only got two shots (against it)."
• On Wiggins: "His 3pt shot looked pretty solid… thirty minutes… pretty fresh… I liked the way he looked and I know it's only gonna get better."
• On how hard it is to be thrown back into the fire: "it's tough just dealing with your own emotions… adrenaline… anxiousness… but the one thing you do have is the experience… intensity… build confidence from there… take that momentum and turn that into even more energy into Game 2."
• On meeting the moment on the road: "three quarters of the game our defense was sound… Malik Monk got going and Trey Lyles got some momentum threes… for the most part I liked how we played… execution… shore up our defensive rotations and looks… shoot the ball better and rebound… gotta win one in this building at least."
• On if he liked the buzzer beater attempt: "hard to catch… feel who's behind you… I haven't seen the video to see if I had more time… you kinda live with that one."
• On Wiggins being willing to take clutch shots: "very confident and that's again part of the experience of knowing what this stage is like in the playoffs… find Klay, Klay drives, we got an advantage… wide open, we live with that one. They keep giving us that, we'll take it."
• On liking the chess match: "It's what we live for. We thrive in these situations. It's so different than the regular season because you're playing the same team… brings the best out of us… a lot of confidence… just win Game 2 and get back in the series."
• On his sub pattern: "Idk man, you play 37… get a little breather… yeah, idk. I was waiting for you to say it."
• On Wiggins making them whole: "When you go through all of the decisions to put a roster together, all the pieces have to fit… blocking shots, his athleticism… he's very low-maintenance… systems that we run… comfortable with that… when you go into a season you want yourself to be as full as possible… hold the fort down and now we have that look back… execute and put it all together for 48 minutes… the challenge now that we have to do it in Game 2."
• Draymond Green postgame Game 1, on anything wrong with limp: "a little bruise but nothing major… once I got up and down a couple times it was fine."
• On the offensive rebounds by Kings: "find a body and box out… who wants the ball more… keep dribble penetration in front of you… our defense was good, we just need to clean that up."
• On Wiggins: "He was super-aggressive… you can live with that (missed shots)… after two months of not playing an NBA game was big."
• On having Wiggs: "our go to guy when we need stops on the defensive end… get his legs underneath him, he'll continue to get better and better… athletic ability… great to have him back. He changes the dynamic of this team."
• On the fourth quarter and the Kings holding them off: "would like to not see a foul call there… physical the whole time but that's not why we lost the game… we missed a couple shots that we'll make."
• On Fox: "watch the film and go figure it out… able to get downhill quite a bit… once the easy ones… his threes started falling… see the ball go in a couple times… the rim starts to look bigger… gotta go back to the film… just take on the matchup. He got off on just about anybody… take the matchup personal."
• On the atmosphere: "it was fun… also what you expect… a city that has not seen playoff basketball in sixteen years… loud. They were able to feed off the crowd… we're used to playing in hostile environments."
• On Wiggs: "probably even better than the scrimmages… he didn't miss a shot in the scrimmage… couple shots that he normally makes didn't fall… I'm living with those… he'll keep shooting them and they'll go in… I like our chances."
• On Monk 14 FTs: "we gotta stop Malik from getting downhill… we talked a lot about him as a three-point shooter… we could do a much better job on him and we will."
• On Lyles: "Him and Malik off the bench was the reason they won the game. You gotta match their energy… force."
• Steve Kerr postgame Game 1 on the quick shots: "We took some bad ones but I didn't think shot selection was bad… the issue was the offensive boards… a lot of them in the second half… allowed their shooters to get open… late third quarter."
• On Fox: "He was great… four threes in the second half… if he's gonna shoot threes like that it's gonna be a tough night… 32% all season… you have to play the odds… I looked more at Malik Monk getting 14 free throws… that's a huge killer… or Lyles… transition breakdowns… you can't getive a shooter an open look… next one is more likely to go in
• On Wiggins and his minutes: "We're whole… he was fantastic… we'll take that shot all day long, left corner three, that's his spot… have him finish every quarter… rest at the top of every quarter… four blocked shots… comes down to rebounding. 17 offensive boards… it's tough."
• On Wiggins instincts and talking to him after the buzzer: "I just told him how happy I was to have him back… back in our locker room… gives him a little bit of a refuge being on the court… great to be back in the fight. I know we came up short but it was a great game… thrilled to be back… get a shot… do what we gotta do… playing against a helluva team."
• On Steph-less minutes: "When he went out late third, that's when we gave up the flurry of offensive boards… not out there to protect you with a couple of buckets."
• On limiting Sabonis: "forced him into some tough shots… some good things but not enough to win the game."
• On Looney sagging off Sabonis, him shooting jumpers: "dribble handoff game is one of the two top threats. It's Fox in pick and roll (and that)… we'll look at the tape… all in all to come out here, ten point lead… had a chance to win at the end, we're in a really good place… seven game series."
• On Draymond: "No issue (with injury)… I didn't even know he was in the tunnel… sometimes a few minutes less, sometimes you can nitpick that stuff… we'll bounce back."
• On no Steph and Dray pick and roll at the end: "they played a lot of box and one… we'll look at the tape."
• On Malik Monk: "We weren't in tune with him early… attacked the rim… do a better job especially in the first half."
• On Kings' resiliency: "They did a good job. They won the game. They beat us by two in the fourth."
Andrew Wiggins, Jordan Poole and Jonathan Kuminga pregame workouts 💦 before Warriors-Kings Game 1
• Steve Kerr pregame Game 1, on the plan for Andrew Wiggins: "None of your business. He'll play. He'll play tonight."
• On the curiosity of the Kings in postseason: "No… we've seen them four times this year, watched them on tape a ton, so we know who they are… great respect… there's a reason we're on the road."
• On Wiggins' preparation: "playing every day, shooting, in the training room, in the weight room, conditioning… all of the above."
• On De'Aaron Fox's game translating to the playoffs: "idk how different the playoffs are… a bit of a myth… both teams are gonna be more on top of the other's actions… both teams wanna play with a lot of pace… I don't think the game changes that much for anybody."
• On if there's an offensive comparison for Kings, from the past: "They look like we did when we had Andrew Bogut… Sabonis, shooting everywhere… ball movement… flow… counter-actions… the puzzle fits. The staff has done a great job of suiting that offense to that talent."
• On comparison to last year's vibe: "regular season is behind us… relatively healthy with Wiggs coming back… vibe has been fantastic."
• On if he has to caution his team on over-confidence: "No… especially starting out on a road… no way you let your guard down… a team you've seen four times, won your division… full respect and they've earned that."
• On starting on the road and focusing more: "It's a different vibe for sure. You sense an opportunity right away… let's go take one… set a good tone for the rest of the series… doesn't guarantee anything… at home you gotta hold serve… a little bit of a sense of freedom… let her rip, let's go get it done."
• On what he learned in his first playoff experience: : "They had payoff experience… new experiences (were conference finals)… I had to help them get ready for what's coming, the hoopla… they were tested already (in 2015)."
• On this series being a win-win for Northern California: "Yeah, we don't care about Northern California. We care about the Warriors… not like we're gonna be out there with pom-poms and let's go Kings… if for sure be thrilled for him, but there's none of that geographic pride."
• On expectations for the crowd: "Gonna be awesome… always been an amazing fan base… still a love for basketball (when the Kings weren't winning)… this place is gonna be rowdy."
• Mike Brown pregame Game 1 on being ready: "Ton of excitement… they've been locked in all week, so we'll see how it all translates on the floor."
• On hitting the ground running: "it's a long basketball game. Golden State is not gonna win it in the first minute, we're not… as close as we can for 48 minutes."
• On living in Sacramento: "have friends that live up here… they talk about how special this place is… Even before the season started we thoroughly enjoyed the Sacramento area. Really, it's underrated… Arco Arena days… fans… passion… it's much appreciated that we're able to be a part of this."
• On how to prepare for Wiggins coming back: "you're talking about a team that has — basically their whole team has championship experience… adversity at the highest level… we're not gonna expect him to be rusty… shooting the ball unbelievably well… he helped us, when I was with the Warriors last year, win a championship… defend a lot of different players."
• On how up-tempo he expects: "S/O to (Anthony Slater who had a son) AJ… we wanna play fast, we don't know any other way. They like to play fast too. They've been in all types of games… be who we are and that's play extremely fast… hopefully it's faster in the playoffs than the regular season… naturally seems to slow down, but we're gonna try to let it loose."
• On Barnes, Delly and Barbosa addressing the team at dinner and any other announcements: "No, I had my car washed today. A buddy of mine came in from Cleveland… just had dinner at the house. Nothing really special. Those guys were really good at addressing the team… he also coached… Delly… HB… diverse group to hear from… any little bit helps."
• On having a head start on adjustments with familiarity with Kerr: "I don't think so. Shoot, these guys know me, too… all the years I've been in the playoffs… they knew us inside and out and vice-versa. I know that's been the talk… these guys are good. We're game planning and preparing like any other team we would face… if we don't (execute) it's gonna be tough… we gotta go take it from them."
• On growing from his first playoff experience: "from Bernie Bickerstaff… Pop… Steve Kerr… I learned from Pop… during the season, that's when you really kick your team's behind… in the postseason you kinda flip a switch… encourage them and love them… make sure that they believe… not too tight. You gotta have appropriate fear… I feel pretty relaxed… we'll see if it can unfold that way."
• On any Gipper speech: "understand how important that is… we have to play with a physicality on both ends… hit first, second and third… play with pace."
👍👍💛💙
LetsGoWarriors is a reader-supported publication. To receive new posts and support my work, consider becoming a free or paid subscriber.